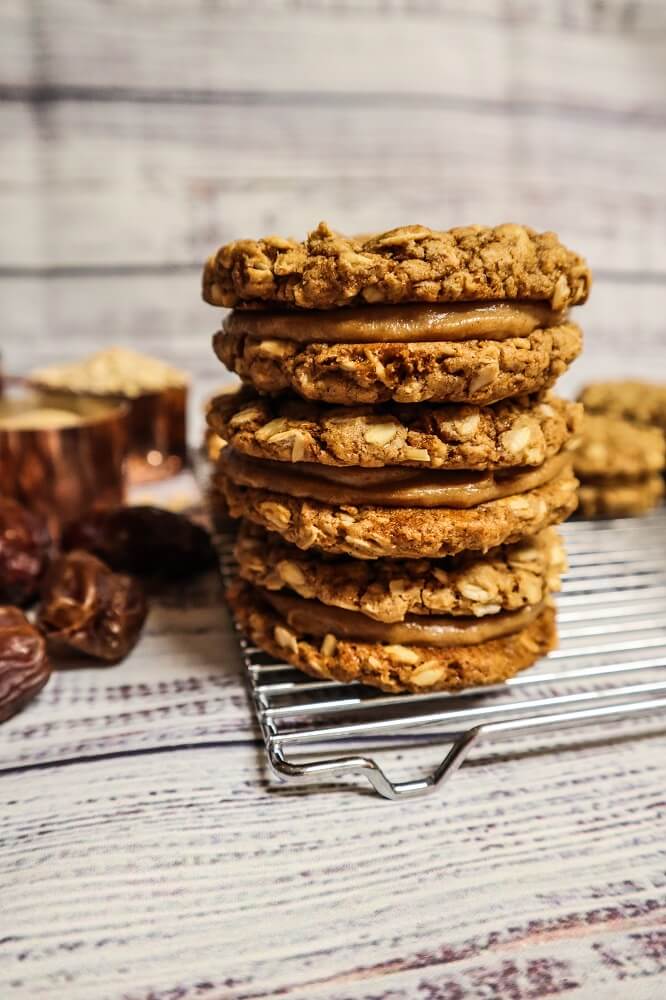 Vegan Caramel Oatmeal Cookie Sandwiches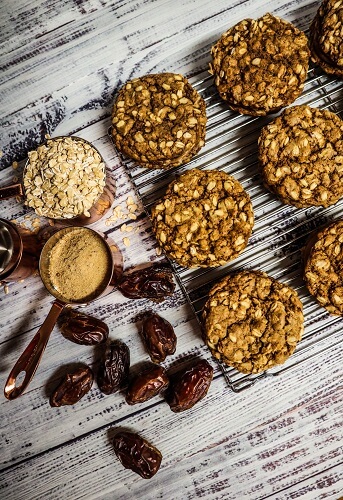 My Mom asked me last weekend if I could make some date bars in cookie form.  Like the oatmeal mixture on the outside and date caramel in the center.  We decided that making some oatmeal caramel cookie sandwiches were in order.  I have always loved oatmeal sandwich cookies.  Ever since I had those oatmeal cream pies as a kid in my lunches.  Funny they call them oatmeal cream pies when they are cookies.  But anyway, they were the best thing ever to my middle school self.  I have since made a veganized healthier version of them but never with caramel before so I thought this was a great idea!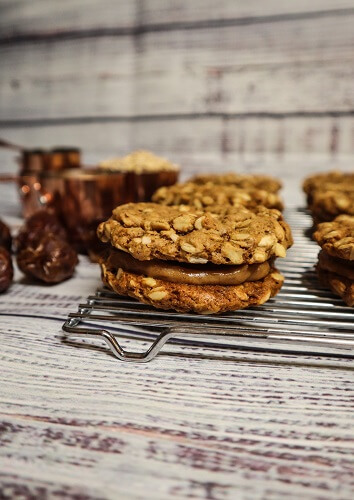 For the cookies I used a completely oat base with both oat flour and rolled oats.  I always have a large supply of oats on hand because they have been my go to breakfast for about 18 years. I sweetened them with coconut sugar and a little cinnamon and vanilla. I also added a little almond butter along with the coconut oil to give them a nice soft texture.  The dough was sooo good even before baking.  I think eating cookie dough is one of my favorite parts of the cookie baking process!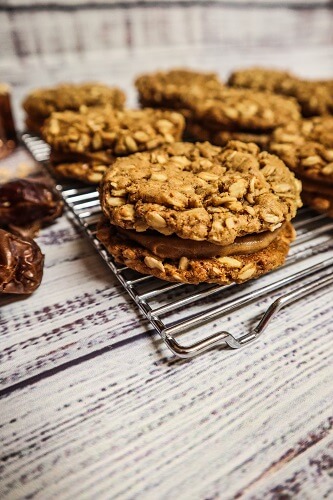 They smelled amazing while baking, just like the oatmeal cookies my Mom and I used to make when I was little. Once they were all cool it was time for the filling!  Although I could have made a more traditional caramel with sugar and all, I made a date caramel.  It is much less work than actual caramel and still delicious as well as being better for you.  Dates are plenty sweet even without adding anything.  I call them nature's caramel!  So I whipped up a quick and easy delicious date caramel.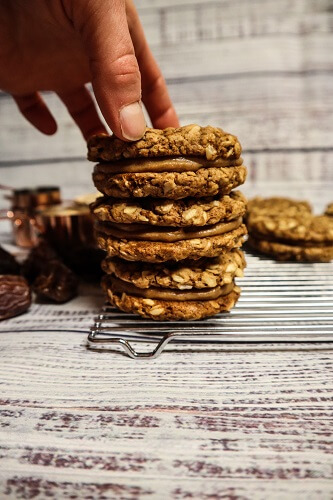 When the cookies were all assembled, I could not wait to try them!  They were soft and chewy with nice texture from the oats, and that hint of cinnamon nutmeg and vanilla was lovely.  The caramel was nice and gooey, plenty sweet and the perfect thing to pair the cookies with!  They reminded me of those oatmeal cream pies I used to eat, only better because they had caramel instead of the vanilla marshmallow fluff that was in the other ones.  Next time you are craving something sweet, give these a try!
Vegan Caramel Oatmeal Cookie Sandwiches
Makes about 18 sandwich cookies
Ingredients:
1/2 cup virgin coconut oil, warmed to liquid
1/4 cup almond butter
1 1/2 cups coconut sugar
2 Tbsp ground flax seed mixed with 1/4 cup plus 2 Tbsp filtered water
1 Tbsp pure vanilla extract
1 1/2 cups oat flour or whole wheat pastry flour
1 tsp baking soda
1/4 tsp nutmeg
1/2 tsp cinnamon
3/4 tsp sea salt
3 cups old fashioned rolled oats
Frosting:
1 1/4 cups soft, pitted medjool dates
1/2 cup almond butter
1/2 cup filtered water
1 tsp pure vanilla extract
pinch sea salt
Directions:
In a large mixing bowl, mix together the coconut oil, almond butter, and sugar until well blended. Add flax mixture, vanilla, and beat until well combined (the mixture will become very thick).
Mix in the flour, soda, cinnamon, nutmeg, and sea salt until well blended. Mix in the oats until well combined.
Heat the oven to 350F degrees with the rack set at the middle position. Line 2 baking sheets with parchment paper.
Roll the dough into small 1 1/2 inch balls, and spread them out on the 2 cookie sheets with plenty of room in between, and flatten them out slightly. Bake for 10-13 minutes or until golden, but not over baked. Let cool on sheet a few minutes, then remove to a wire rack lined with parchment to cool completely.
To make the filling, combine all ingredients in a blender and blend until smooth. If it seems a little too thick (since dates vary in moisture levels) just add a tad more water. You want to be able to pipe it, but still have it be thick enough it maintains shape when piped.
Place the caramel in a pastry bag.  Flip half of the cookies over, and pipe the caramel onto them.  Top with the rest of the cookies.
Enjoy!  Store any leftover cookies in an airtight container in the refrigerator.
(Visited 1,088 times, 1 visits today)