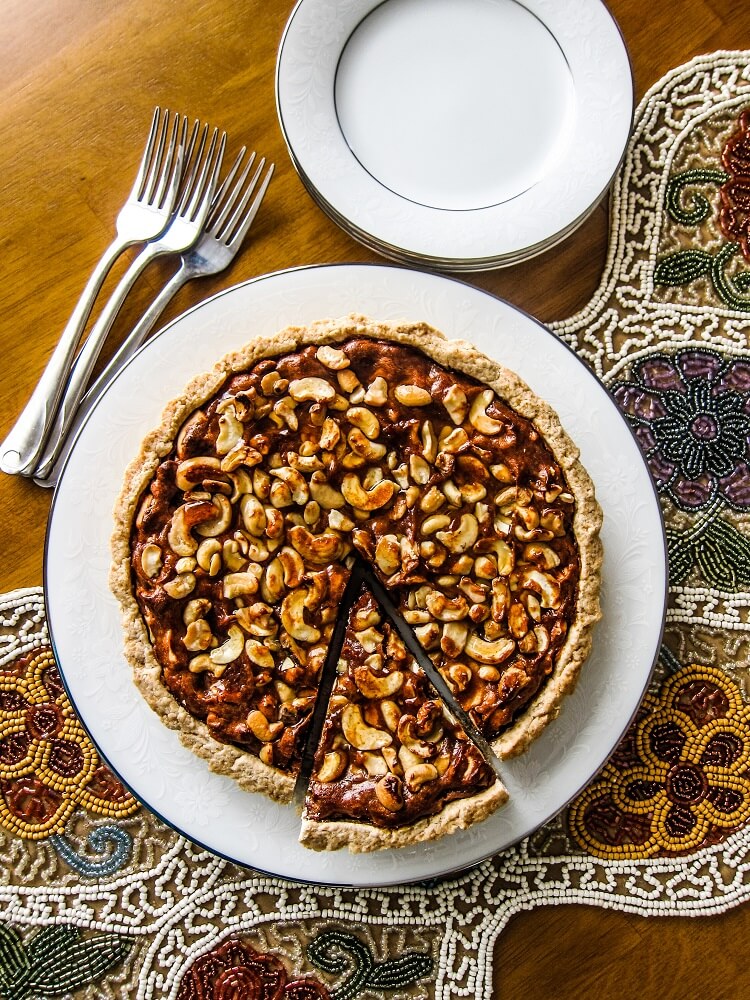 Vegan Caramel Cashew Tart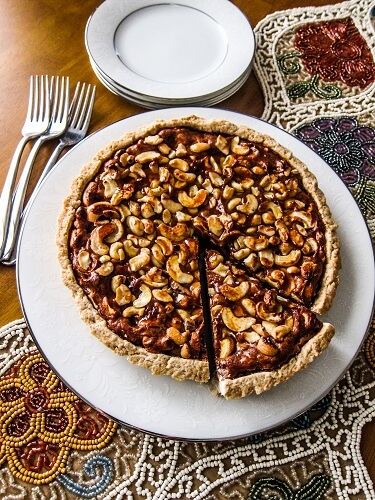 About 10 years ago for Easter I made this amazing caramel cashew tart. I had made it because my Mom loves anything similar to pecan pie with nuts and caramel baked into a crust and cashews seemed more Spring like than pecans so that is what I chose. It had loads of butter and cream in it and plenty of refined sugar and was definitely not by any stretch vegan. I don't know why I hadn't thought to recreate it before now, but finally this year I did! It is not Easter yet, but that tart popped into my mind and I decided to make it veganized.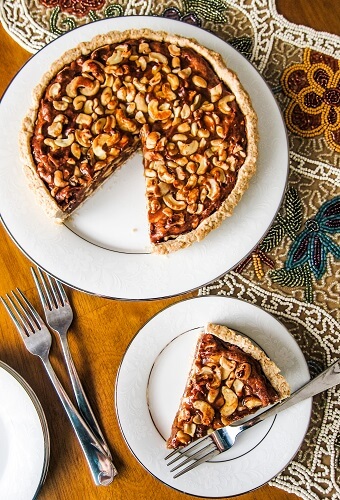 I like to think that my veganized versions always improve upon the original classic versions of things that I used to make and luckily that is usually the case. This one was definitely better than the original! I used my classic gluten free pie crust for the base to keep it simple (since it is easy to make) and let the filling shine.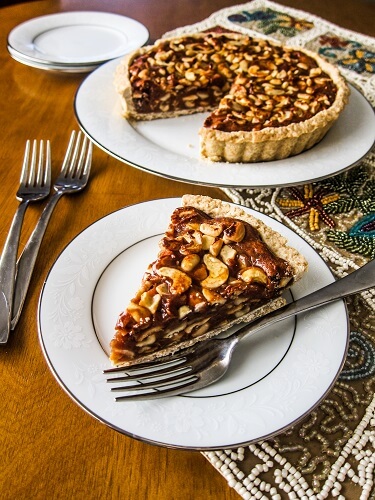 For the filling instead of refined sugar caramel, I made a date based caramel. Dates are nature's caramel after all, and they are my go to ingredient when making any kind of vegan caramel sauce, candy or filling. I love that they are so naturally sweet without being processed. I combined them with some luscious Dastony cashew butter that I recently received from Raw Guru and boy was the caramel heavenly. The cashew butter added a nice richness and of course I was keeping with the cashew theme!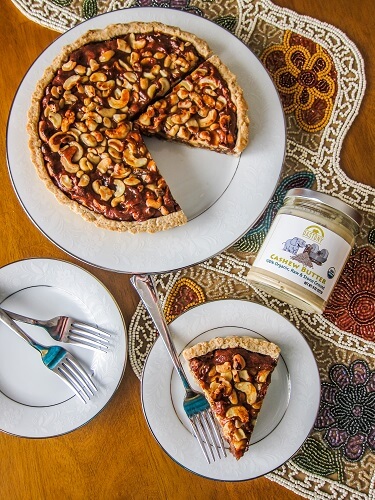 I could not stop tasting the caramel...it was kind of addictive, but I needed to leave enough for the tart so stirred in the cashews and I poured it into the crust before I ate too much. It smelled sooo good while baking! The only bad part about the whole process was waiting for the tart to cool so I could cut into it. But it was well worth the wait. It was so heavenly! The gooey cashew caramel vanilla filling with the crunchy cashews in the buttery crust was crave worthy! If you are a fan of cashews, definitely give this a try!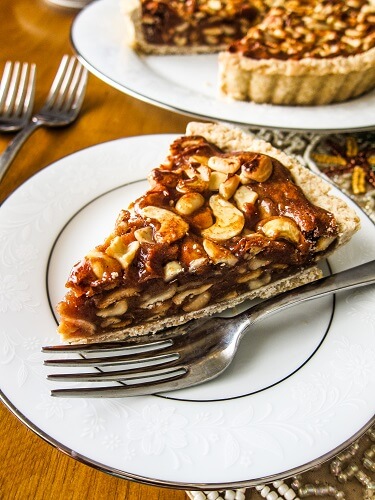 Vegan Caramel Cashew Tart
Makes one 8 inch tart
Ingredients:
Crust:
Filling:
1 1/2 cups soft pitted medjool dates (if they are not soft, soak them in filtered water for 30 minutes and drain well before using)
1/2 cup raw cashew butter
2 Tbsp maple syrup
1/4 tsp sea salt
2 tsp pure vanilla extract
1/2 cup filtered water
2 Tbsp coconut butter or oil
1 3/4 cups toasted cashews, plus more for the top
Instructions:
Preheat the oven to 375F degrees, and oil an 8 inch removable bottom tart pan.
To make the crust, in a large bowl, mix together flour, sugar, and sea salt. Cut in coconut oil with a pastry blender or 2 knives until it is in pea sized pieces. Mix in just enough water to create a smooth dough that holds together but isn't too sticky. Add more water if needed, and knead slightly until a smooth dough is created. Roll out into a 9 inch circle using floured parchment underneath and floured rolling pin. Fit into the prepared pan, using the parchment to assist. Set aside.
To make filling, combine all ingredients in a high speed blender or food processor except the cashews. Process until smooth, then scrape into a bowl and stir in the cashews. Spoon the filling into the crust and top with more cashews to make the top look pretty.
Place pies in the oven. Bake for about 30 minutes until the crust is starting to brown lightly. Remove from oven and let cool completely on a wire rack.
Remove the bottom of the pan, and enjoy!
(Visited 1,264 times, 1 visits today)