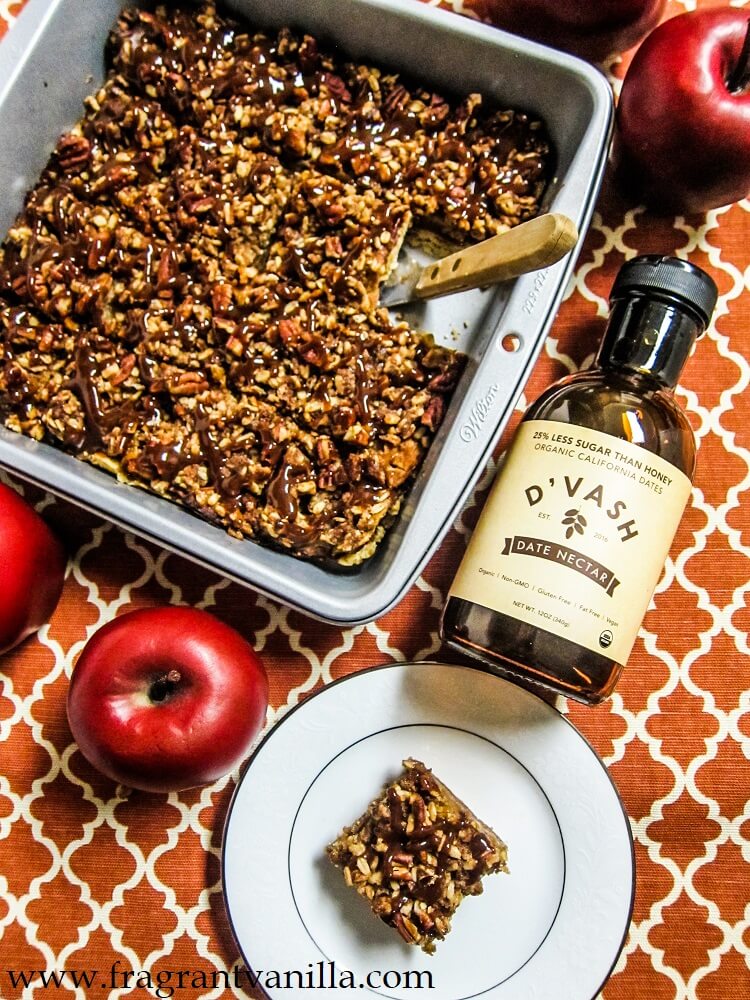 Vegan Caramel Apple Pie Bars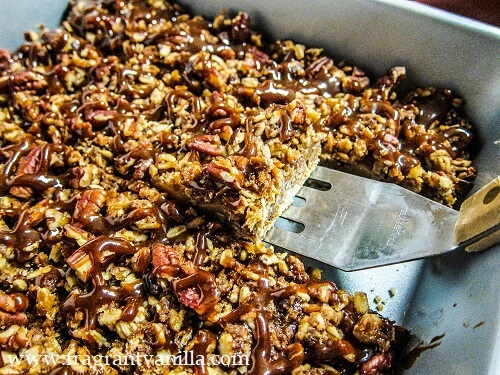 The leaves are just barely starting to change colors on the trees, there is a slight chill in the air, and you can smell the aroma of bonfires in the evenings.  Fall is definitely here!  I am bringing out my cozy warm clothes, relishing in being able to run in chilly morning air with beautiful sunrises, and baking up a storm.  Because this is my favorite season to bake.  I haven't made it to the apple orchard yet, maybe next weekend.  But I have bought some delicious local apples at the grocery store I work in the deli at.  I couldn't resist.  I mean, there is nothing like biting into a local apple full of flavor that was just picked recently and hasn't traveled half way around the world to get to you.  So, I had a big bag of them, and I have been making all things apple.  I have made a couple pies, an apple spice cake and some delicious caramel apple pie bars that I am sharing with you today because they were so delicious!  Actually, my Mom asked me to make her some bars to bring to a party with her friends, and I thought apple pie bars would be just the thing it being Fall and all.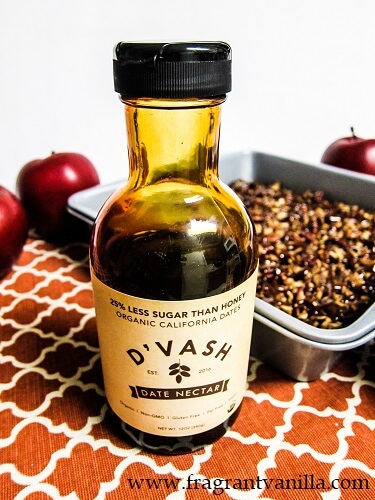 I used a special ingredient in them that I think you will all enjoy as well, D'vash Date Nectar! I don't know about you, but I love sweetening things with dates.  They are about as natural as you can get when it comes to sweeteners, and they are the only ingredient in D'vash Date Nectar. The only thing about sweetening with dates the way I normally do is that you have to blend them, but with this, you eliminate that, and it is more concentrated and sweet.  You can use it in place of honey, agave nectar or maple syrup in recipes.  So, I used it in these bars to make them more caramel flavored as well as to make a delicious caramel to drizzle over the top.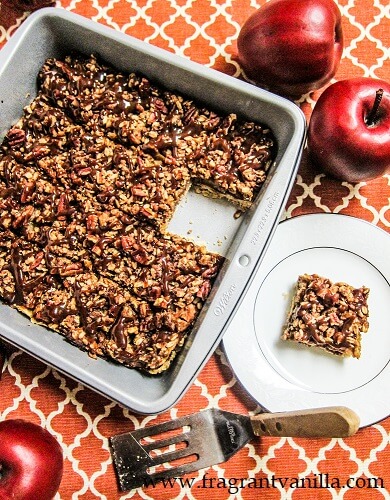 I made a pie crust for the bottom, a sweet apple filling, and topped it off with crunchy oat topping (which is my favorite way to top an apple pie) and the D'vash Date Nectar caramel.  These were so good!  If you would like to buy some D'vash Date nectar for yourself, you can use this special coupon code on their WEBSITE to get a 10% discount: DVASH_FRAGRANTVANILLACAKE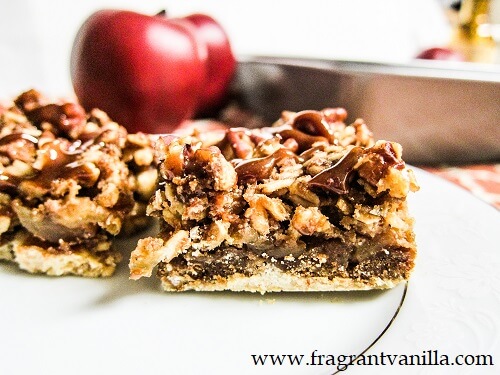 Not only that, they have free shipping for orders about $20 on their website if you want to stock up and buy a few. Also, they have been kind enough to allow me to give one of their bottles of nectar away, so be sure to enter my giveaway below!
Vegan Caramel Apple Pie Bars
Makes 16
Crust:
1/2 cup coconut oil, softened
1/4 cup coconut sugar
1/4 tsp sea salt
1 cup gluten free all purpose baking flour
Filling:
3 medium or 4 small apples, sliced 1/4 inch thick
1/4 cup gluten free all purpose flour
2 Tbsp D'vash date nectar or maple syrup
1 tsp cinnamon
1 tsp lemon juice
Topping:
1/2 cup gluten free old fashioned oats
1/2 cup chopped pecans
1/4 cup coconut sugar
1/4 tsp ground cinnamon
1/4 cup gluten free all purpose baking flour
3 Tbsp coconut oil, softened
Caramel:
1/4 cup D'vash date nectar or maple syrup
1/4 cup almond butter
1/4 tsp sea salt
1 tsp pure vanilla extract
Instructions:
Preheat the oven to 350F degrees, and line a 9x9 inch square pan with parchment.
Mix together the crust ingredients, and press into the bottom of the prepared pan.  Place in the oven and bake for 15 minutes until set.
Meanwhile, mix together the apple filling and set aside.
Mix together the streusel filling in a bowl, and scrunch together with hands until it clumps up.  Set aside until crust is done.
Remove the crust from the oven and spread the apples out over it (making sure they are all flat and evenly distributed), then sprinkle with the streusel.  Place back in the oven and bake for about 1 hour to 1 hour and 5 minutes until the streusel is lightly browned and apples are tender.  Note, since some ovens vary in temperature, check the bars after about 45 minutes and if they are starting to get too dark, tent them with foil so that they do not burn.
Once the bars have finished baking, remove them from the oven and allow to cool completely.
When the bars are cool, whisk together all of the caramel ingredients, and drizzle it over them.
Cut into 16 bars, and enjoy!
Stock up on D'vash Date Nectar with this special coupon code on their WEBSITE to get a 10% discount: DVASH_FRAGRANTVANILLACAKE
(Visited 209 times, 1 visits today)