Vegan Caramel Apple Pancakes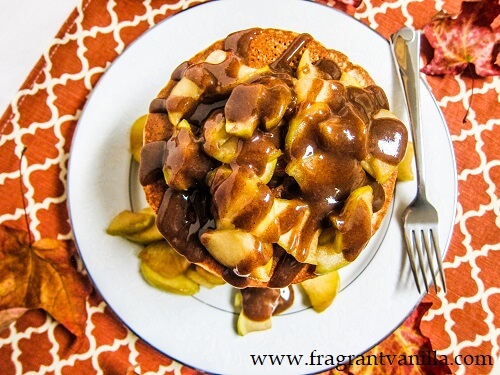 As far as I am concerned, last weekend was the perfect Fall weekend here in Minnesota.  Cool and 40F degrees in the AM, which is perfect for running through the crunchy leaves (one of my favorite parts of fall), and 70F degrees and sunny in the afternoon, which is ideal weather for visiting the local apple orchard.  Which is exactly what I decided to do!  Eric and I hit up a local new winery, 7 Vines Vineyard for their grand opening first, because it was close to the apple orchard that we were going to go to, and why not enjoy some wine AND apples.  On the way to the winery, we saw a giant line of cars that was about a mile long trying to get into the apple orchard, so we decided that we should probably go to a different one on the way back.  I am one of those people who really can't stand crowds, and did not want to wait in line an hour to get in.  Luckily, the winery was not as packed but still busy, and we got to enjoy some delicious red wines.  I know there are delicious wines from all over the world, but I like to try and support local businesses.  Plus, nothing beats sipping your wine with a view of the vineyard, especially on a day like that where the weather is perfect.  So, we ended up going to another smaller apple orchard, Victoria Valley Orchard on the way back and not the one with the traffic jam, and I was happy I did.  It is actually right up the street from where I work, so very convenient location for me to visit, and it is family owned.  Their apples are just as good as the other larger orchards, but you don't have to fight the crowds.  We even ran into a flock of turkeys in there, which were probably thinking that they were the luckiest birds in the world getting to feast on apples that had fallen to the ground.  It was all in all a good day, and I got my apples so I was happy.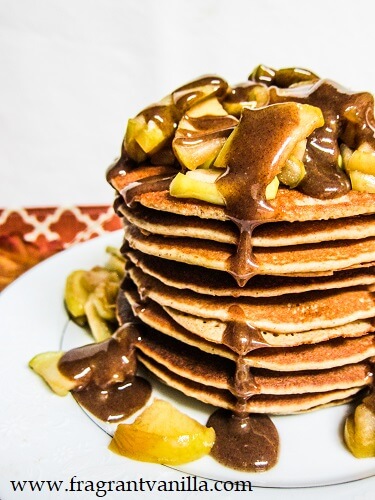 So what am I going to do with all of the apples?  Well, I wanted to try making an apple wine, and of course I have to make some more apple desserts like pies and crisps. I know you can get apples year round, but when you can get fresh local apples they just always taste so much better. I also decided to make some Vegan Caramel Apple Pancakes.  Because I hadn't made pancakes in a while and they just sounded so good!  For the batter I used applesauce, cinnamon and nutmeg to give them that spiced apple flavor and I planned to top them off with sauteed apples too.  I used almond butter in place of the oil because I actually prefer it.  So, these are actually oil free!  They smelled amazing while cooking, kind of like the apple doughnuts that you smell being made when you visit some of the local apple orchards.  I also made a gooey caramel to top them off instead of just syrup.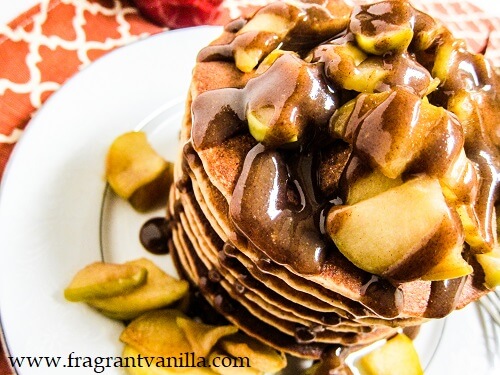 They turned out so good!  This is the perfect lazy Saturday morning treat.  Or dinner treat...since I made them actually in the evening. My Mom made pancakes sometimes for dinner when I was little and I always felt like I was getting something special.  So, I like to carry on that tradition.  If you have a bunch of apples, and are looking for yummy ways to use them, give these delicious pancakes a try!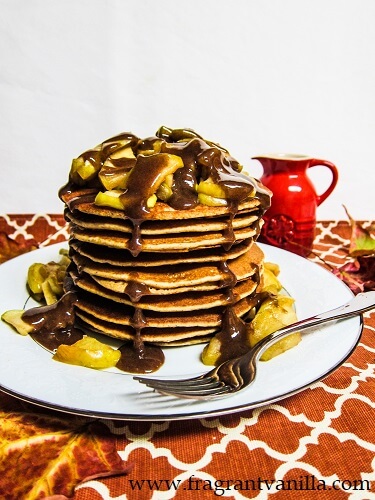 Vegan Caramel Apple Pancakes
Makes 12
Ingredients:
1 1/2 cups gluten free all purpose flour
2 tsp baking powder
1 tsp cinnamon
1/8 tsp nutmeg
1/2 cup applesauce
3/4 cup filtered water
1/4 cup almond butter
2 tsp pure vanilla extract
1/4 tsp sea salt
3 Tbsp maple syrup
Topping:
2 large apples, sliced
2 Tbsp maple syrup
1/2 tsp cinnamon
pinch sea salt
Caramel:
1/4 cup almond butter
1/4 cup maple syrup
2 Tbsp filtered water (or as needed)
pinch sea salt
1 tsp pure vanilla extract
Directions:
In a food processor, combine all pancake ingredients and process until just blended, pour into a bowl and set aside.
Meanwhile, to make the apples, place them in a non-stick skillet over medium heat with the maple syrup, cinnamon and sea salt and sautee until they are tender and starting to turn translucent (stirring often), about 10 minutes. Set aside.
To cook pancakes, preheat oven to 110 degrees. Heat a large ceramic non-stick pan over medium heat. Once hot, add the batter in 1/4 cup amounts (I did 3 at a time, but it depends on your pan), and let cook for about 2-3 minutes on the first side until set and starting to brown, then flip with a spatula, and cook another 2-3 minutes.
When cooked, place on a plate and keep warm in the oven while you repeat the process with the remaining pancakes.
To make the caramel, whisk all ingredients together until smooth (adding a little more water if too thick to pour) and set aside until you are ready to serve.
To serve, stack the pancakes on a plate, top off with the apples and caramel, and enjoy!
*Note: If you do not own a non-stick pan, you may need to lightly oil your pan to prevent sticking, if you do not mind these not being oil free.
(Visited 139 times, 1 visits today)