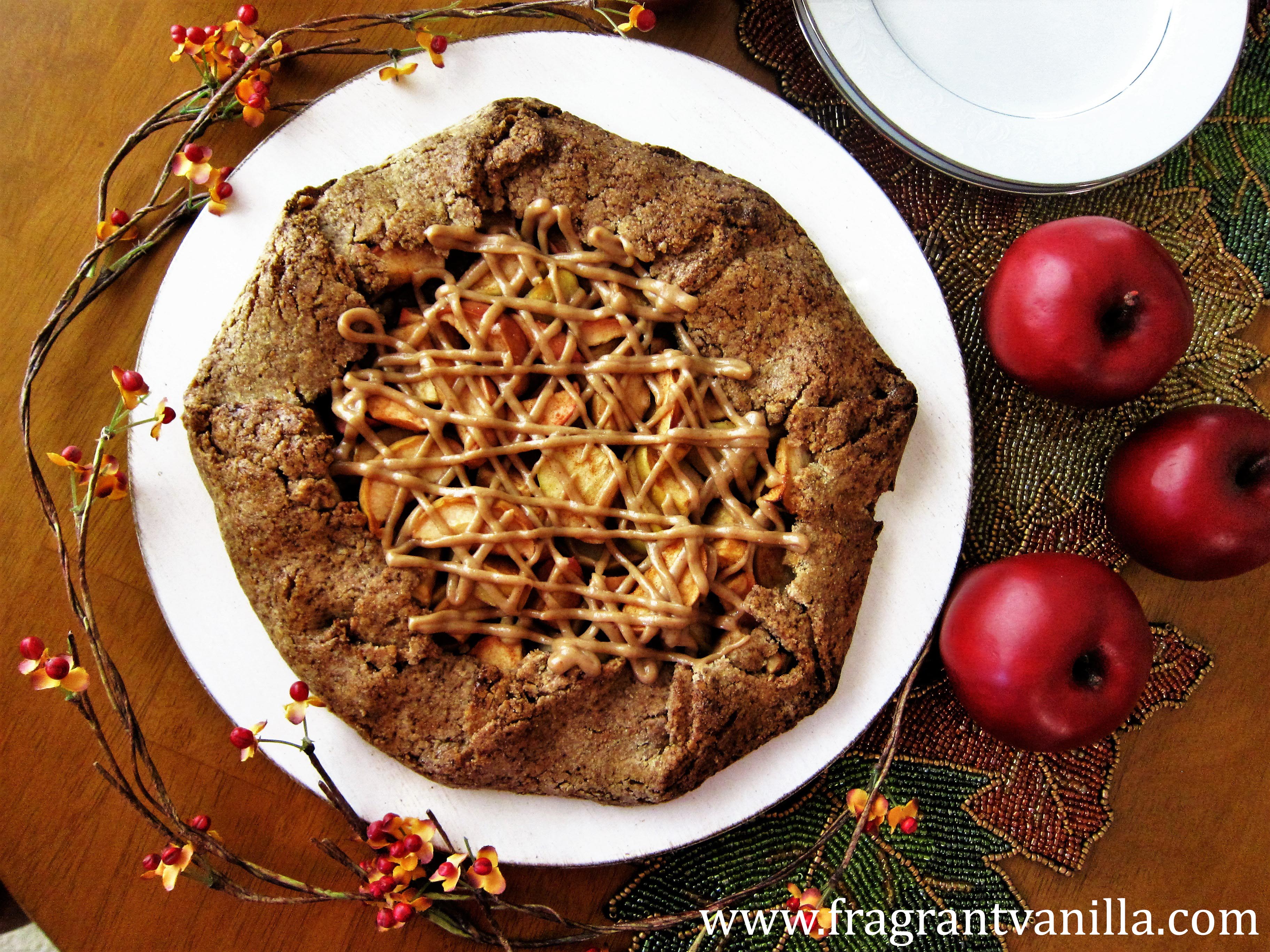 Vegan Caramel Apple Galette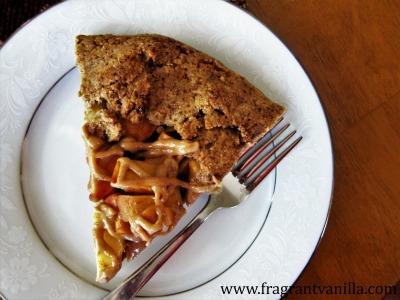 The weather has been just glorious here lately!  I am loving these cooler crisp fall mornings and warmer sunny afternoons.  To be honest I wish it could be like this year round.  40-50F degrees in the morning and 60-70F degrees in the afternoon is awesome!  Sunday was just like that.  It was nice and cool for my 10 mile run, and it was nice to not be sweating profusely and have more energy.  I always feel energized when the weather is cool, it makes me feel as if I can run farther and faster.  Also, the leaves are beautiful, and they are starting to flutter to the ground like confetti.  Running through the crunchy leaves makes me happy.  Since it was such a beautiful day, I made a trip to Alexis Bailly Vineyard with Eric, and it was the perfect weather for a wine tasting and then a walk along the river in downtown Hastings.  Fall days like this are what I look forward to all year round!  Also, I did some baking this weekend, a delicious caramel apple tart!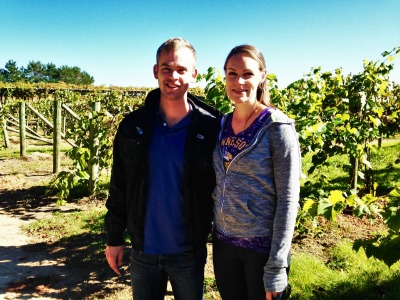 My Grandpa had given me a bunch of locally grown apples a few weeks ago, and I have been making loads of apple goodies.  I wanted to make something a little more classic that I could share with him and my family and that is why the apple galette came to mind. It is much easier to make than pie being rustic, and almost impossible to mess up.  Not only that, it is as good as pie, bakes faster and you don't have to worry about 2 crusts.  Galettes are one of my favorite fruit desserts.  In my pies and galettes, I like to use a mixture of nut flour and regular (well either oat or gluten free usually in my house) flour to make it extra delicious.  Trust me, this is the type of pie dough that you sample and go, this is delicious!  It tastes kind of like cookie dough in my opinion.  Yes, I taste my dough every time.  That way I can make sure it will be good once baked, and I am not missing an ingredient like the coconut sugar.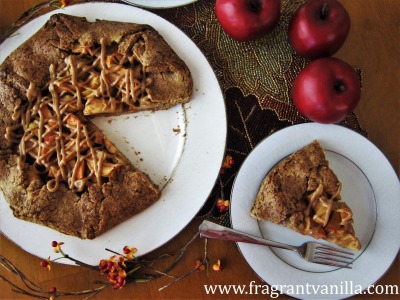 I kept the filling really simple and classic to allow the apples to shine.  They were very flavorful apples, a mixture of Honeycrisp and Haralson my favorites for baking. It smelled amazing when I pulled it from the oven. I made a date caramel to top it all off once baked, and it was delicious!  I served it with a Golden Chai Spiced Coconut Milk Gelato I recently made and it was crave worthy!  Thumbs up from everyone else I shared it with too, our plates were cleaned fast.  If you are looking for a delicious way to showcase those fall apples, give this a try!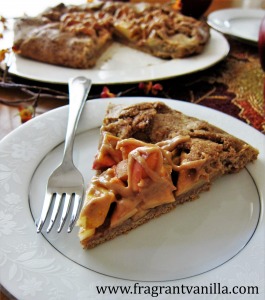 Vegan Caramel Apple Galette
2 galettes
Ingredients:
Crust:
3 cups gluten free oat flour (gluten free all purpose flour will work here too, I use Bob's Red Mill)
1 cup pecan meal (or almond meal)
1/4 cup coconut sugar
1 tsp sea salt
1/2 cup coconut oil, in its solid form
1/4 cup raw pecan butter or almond butter
cool filtered water as needed
Filling:
2 large apples, sliced thinly
1/3 cup coconut sugar
1 Tbsp pure vanilla extract
juice of one small lemon
1/2 tsp cinnamon
a pinch of sea salt
coconut sugar, for topping
Caramel:
3/4 cup pitted dates soaked in filtered water for 3o minutes and drained (1/4 cup soaking water reserved)
2 Tbsp raw pecan butter or almond butter
1/8 tsp sea salt
1 tsp pure vanilla extract
Directions:
To make the crust, in a large bowl, mix together flour, meal, sugar, and sea salt.  Cut in coconut oil and nut butter with a pastry blender or 2 knives until it is in pea sized pieces.  Mix in just enough water to create a smooth dough that holds together but isn't too sticky.  Add a touch of water if needed, and knead slightly until a smooth dough is created.  Divide into 2 pieces and shape into rounds (if it is too soft, refrigerate for about 15 minutes to firm it up slightly.  You want it pliable, but not super soft or it will be hard to shape).
Roll each out into a 14 inch round using parchment underneath and floured rolling pin.  If it tears, no worries, just press it back together and patch it up.
Preheat oven to 400F degrees.  To make filling, mix together all ingredients in a large bowl.
Arrange the apples over the crust leaving a 1 inch boarder, then carefully fold up edges to cover the edge of the fruit. Brush sprinkle with a little coconut sugar.  Place in the oven.  Bake for 45 minutes (checking after 20 and if they are very brown, if they are tent with foil) until bubbling and fruit is tender.  Remove from oven and let cool on a wire rack for at least an hour.
To make the caramel, combine all ingredients in a food processor or blender, and blend until smooth (pass through a fine meshed strainer if there are any chunks left).  If the caramel is too thick for drizzling add a little more water.  Drizzle over the top of the galette, and serve!
(Visited 92 times, 1 visits today)