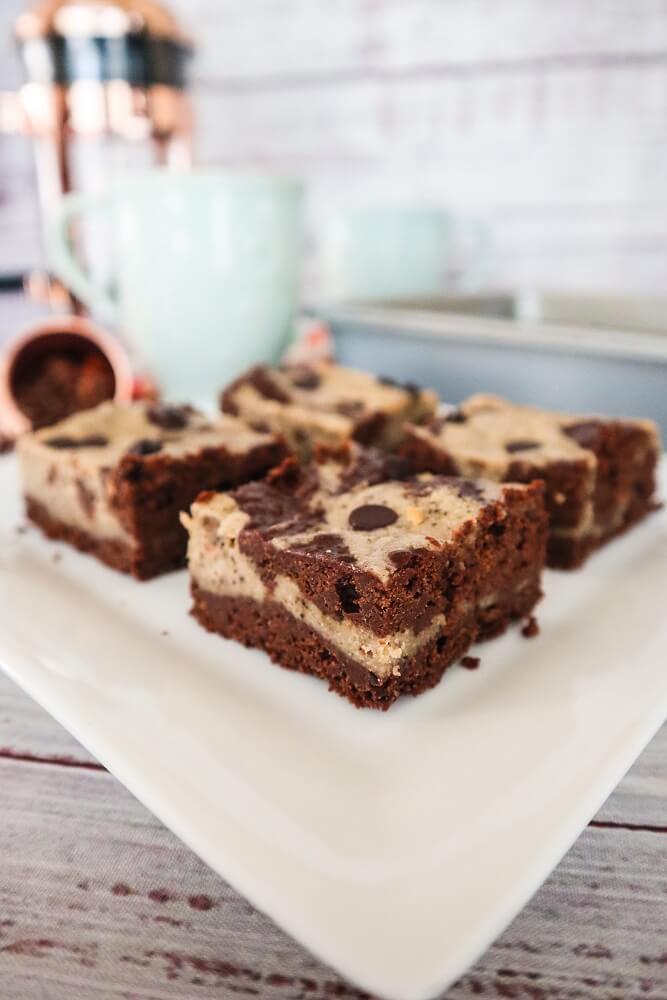 Vegan Cappucchino Cheesecake Swirl Brownies
I am a coffee fan. It always smelled amazing to me even if for the first part of my life I thought it actually tasted gross.  But that may have been because the only time I would try it would be some event at church or something and I tried it plain with nothing in it.  Now as an adult I guess I am somewhat picky about the type I drink.  I like medium or light roasts, dark sometimes tastes too burnt to me.  Also, my favorite coffee beans are from local roasters here in Minnesota.  My favorite is Dogwood Coffee.  I make my coffee at home during the week or have some at work, usually with a bit of oatmilk.  But on weekends Eric and I like to go out for coffee dates and order something a little more fancy. I was enjoying some coffee last weekend and was thinking about how good it would be with brownies to enjoy it with.  So I decided to make some!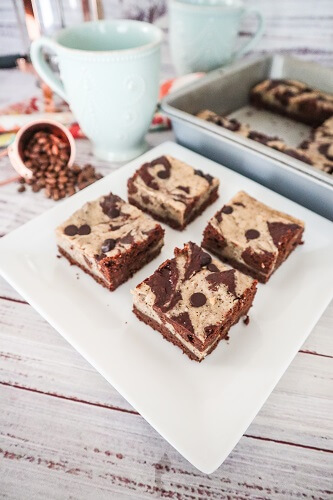 I thought why not make the brownies have a little bit of coffee flavor as well, so I made cappucchino cheesecake swirl brownies!  I know brownies are so good on their own, but I usually can't resist swirling something delicious with them or flavoring them with different things.  It is so much more fun that way! My favorite is a cheesecake type filling.  Vegan of course!  Cheesecake is also one of my favorite desserts so I love incorporating it into other things.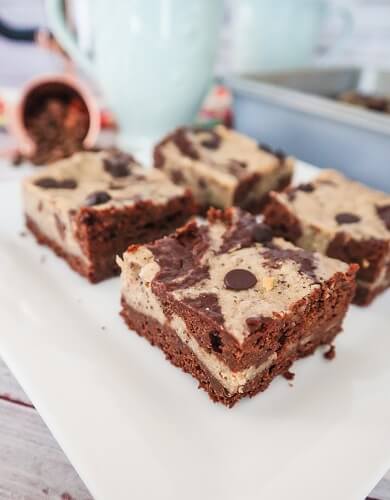 For these I made my classic brownie base, which is rich and fudgy just how I like my brownies!  But this time I added a bit of coffee to it as well, because why not have a coffee element in both the brownie and the cheesecake part!  The batter was so good even before I baked it (I know because I enjoyed the last bit as I scraped out the bowl). For the cheesecake part I used a combination of coconut cream and cashew butter to make it creamy and give it a cheesecake like texture. I scented it with vanilla and coffee and it was perfect!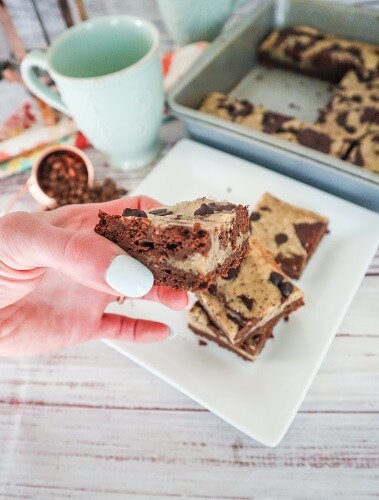 These baked up beautifully!  They filled my kitchen with the most heavenly aroma!  I love the smell of brownies baking, one can't possibly be in a bad mood while smelling that, or if you were it lifts your spirits!  Such a happy aroma!  I could not wait to try them.  Once they were cooled down and I was able to cut them I dove in. They were so heavenly!  The perfect partner for a cup of good coffee, they were intensely chocolaty with the scent of coffee and vanilla, the cheesecake swirl rich and delicious!  If you are a coffee and chocolate fan, definitely give these a try!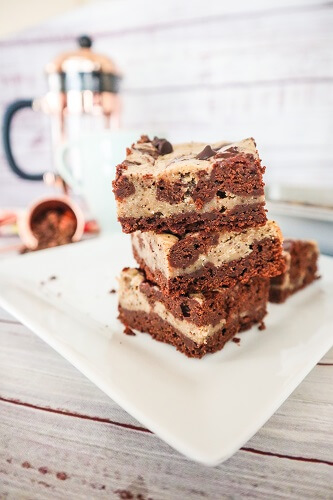 Vegan Cappuchino Cheesecake Swirl Brownies 
Makes 16
Cheesecake swirl:
3/4 cup unsweetened coconut cream (from the top of a chilled can)
1/2 cup cashew butter
2 Tbsp maple syrup
2 Tbsp cornstarch
1 Tbsp espresso powder
1/8 tsp sea salt
1 tsp pure vanilla extract
Brownies:
1/4 cup avocado oil

1/2 cup apple sauce

1 cup coconut sugar 

2 Tbsp ground flax seed mixed with 1/4 cup plus 2 Tbsp filtered water

2 teaspoon vanilla extract

1 cup organic whole wheat pastry flour

1/2 cup cacao powder or unsweetened cocoa powder

1 Tbsp espresso powder

1/4 teaspoon sea salt

1/2 tsp baking powder
1/4 cup vegan dark chocolate chunks
Ingredients:
To make the swirl, combine all ingredients in a blender and blend until smooth.  Pour into a bowl and set aside.
To make the brownies, pre-heat the oven to 375F degrees. Whisk together the sugar, avocado oil and applesauce until well combined and the sugar is starting to break down.
Add the flax water mixture, and vanilla and beat until smooth.
Add the flour, cacao powder and sea salt and beat until smooth.
Scrape the batter into a greased 8x8 inch pan, then pour the swirl over it, then drop the jam by the tsp over that. Sprinkle with the chocolate chunks.
Place in the oven, and Bake for about 30 minutes or until set (but do not over bake).
Let cool completely before cutting into bars.
(Visited 1,026 times, 1 visits today)