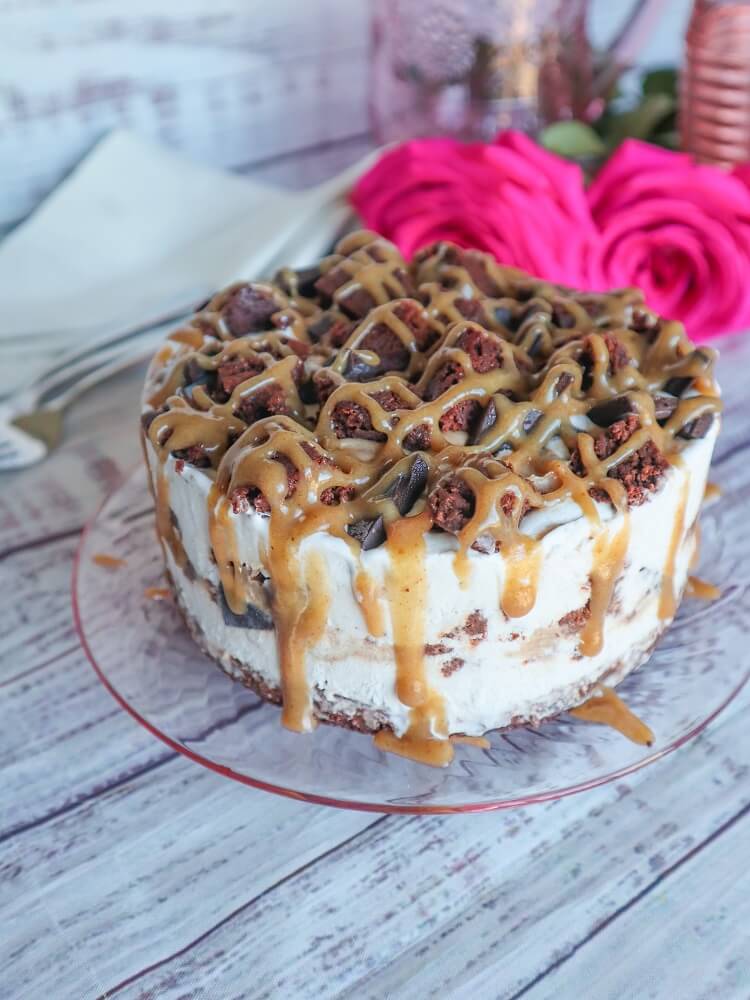 Vegan Brownie Caramel Ice Cream Cake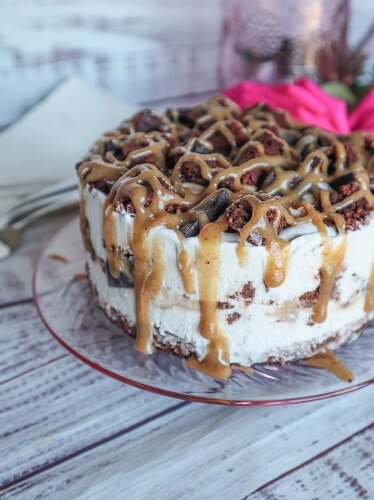 It has been warm every day here in Minnesota, and although I am somewhat getting used to it, ice cream still always sounds good.  I like a dish of regular ice cream, but this week I decided that what sounded really good was an ice cream cake!  I always loved Dairy Queen ice cream cakes growing up, especially that gooey fudge in the middle and crunchy cookies (because I am a big texture person).  So now when I make an ice cream cake I love add ins!  This time I made a Vegan Brownie Caramel Ice Cream Cake and it turned out awesome!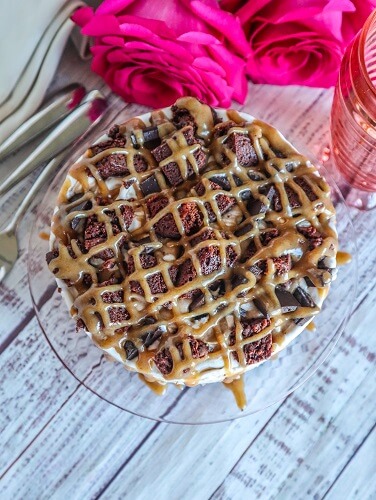 I had a few pints of vegan vanilla ice cream on hand and rather than just scoop it into a bowl with toppings like I usually do, it became this cake. Do I usually make my own ice cream?  Yes.  But I was gifted this ice cream, and I feel like when you are making a cake with ice cream it is a lot easier to make it with store bought for one less step. I used vanilla but honestly if you are a chocolate lover I feel like this would be awesome with chocolate as well!  For the crust, I decided to make it brownie, and what I ended up doing was one batch of brownie batter, half of which became the crust, and the other half was to be crumbled into the cake.  It worked out perfectly, and Eric and I enjoyed a few of the leftover scraps that didn't make it into the cake as I waited for it to set up.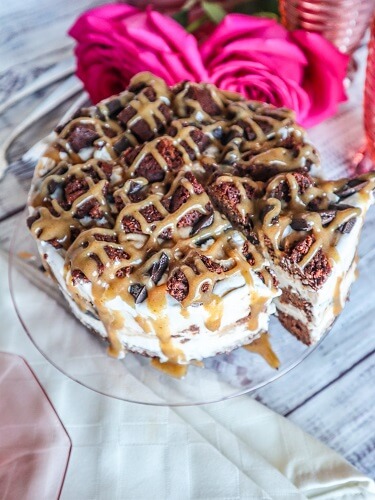 I decided to make a date caramel to swirl into the cake. It was either that or fudge, but honestly date caramel is my favorite and I already had other chocolate elements to this cake. Date caramel is really easy to make in a high speed blender, for mine I just used dates, cashew butter, maple syrup, sea salt, vanilla and water and it came out lovely!  The last element of the cake was adding in chocolate chunks for another addition to texture elements.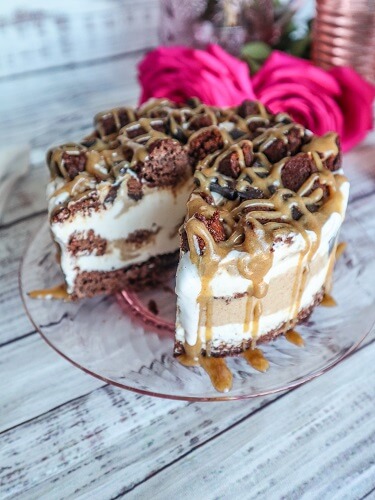 This cake turned out heavenly!  This is perfect for summer, and I think I would have enjoyed this much more than an ice cream cake as a kid for my birthday.  Maybe you have a birthday coming up, and you could make this Vegan Brownie Caramel Ice Cream Cake for it (or have someone else make it), or you could make it because ice cream cake is amazing!  Either way, you should definitely give this a try if you are craving something sweet!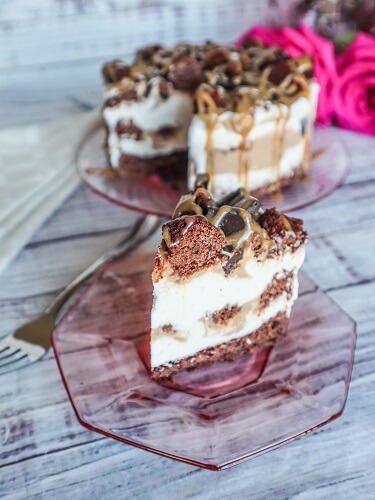 Vegan Brownie Caramel Ice Cream Cake
Ingredients:
Brownie Crust and chunks:
1 cup brown sugar
1/4 cup melted coconut oil
2 Tbsp ground flax seeds
1/4 cup filtered water
1 tsp pure vanilla extract
1/2 cup cocoa powder
1/2 cup flour
1/4 tsp sea salt
1 tsp baking powder
Caramel:
2 cups soft, pitted medjool dates (if they are not soft, soak them in water 30 minutes and drain before using)
1/3 cup raw cashew butter or almond butter
2 Tbsp maple syrup
1/4 tsp sea salt
1 tsp pure vanilla extract
1/2 cup filtered water
For assembly:
2 1/2 cups vegan vanilla ice cream, softened (I used store bought this time)
1/2 cup chopped dark chocolate chunks
Instructions:
Preheat the oven to 350F degrees, and line 1 6 inch spring-form cake pan, and one regular 6 inch round cake pan with parchment.
In a bowl, whisk together the sugar and coconut oil.  Then in a smaller bowl, mix the flax seeds and water, then add to the sugar mixture along with the vanilla extract and whisk until smooth.
Add the cocoa powder, flour, sea salt and baking powder and mix until smooth.
Pour into the two prepared 6 inch pans, and place in the oven.  Bake for about 25 minutes until the brownies are set and starting to pull away from the sides.
Remove from the oven and let cool.
Chop the brownie in the regular 6 inch cake pan up into 1/2 inch cubes and set aside.
Meanwhile, to make the caramel, combine dates, cashew butter, maple syrup, sea salt, vanilla and water in a high speed blender and blend until smooth. Set aside.
When ready to assemble, pour half the ice cream over the brownie base in the spring form pan, smoothing it out to the sides.  Drop some of the caramel over it by the Tbsp and swirl with a knife.
Sprinkle some of the brownie pieces over that, and half the chocolate chunks.
Spread the remaining ice cream over that, then repeat with the caramel (you may have extra for serving), brownie chunks and chocolate chunks.
Place in the freezer and allow to set for at least 4 hours until firm enough to slice.
Slice into pieces and serve!
(Visited 410 times, 1 visits today)