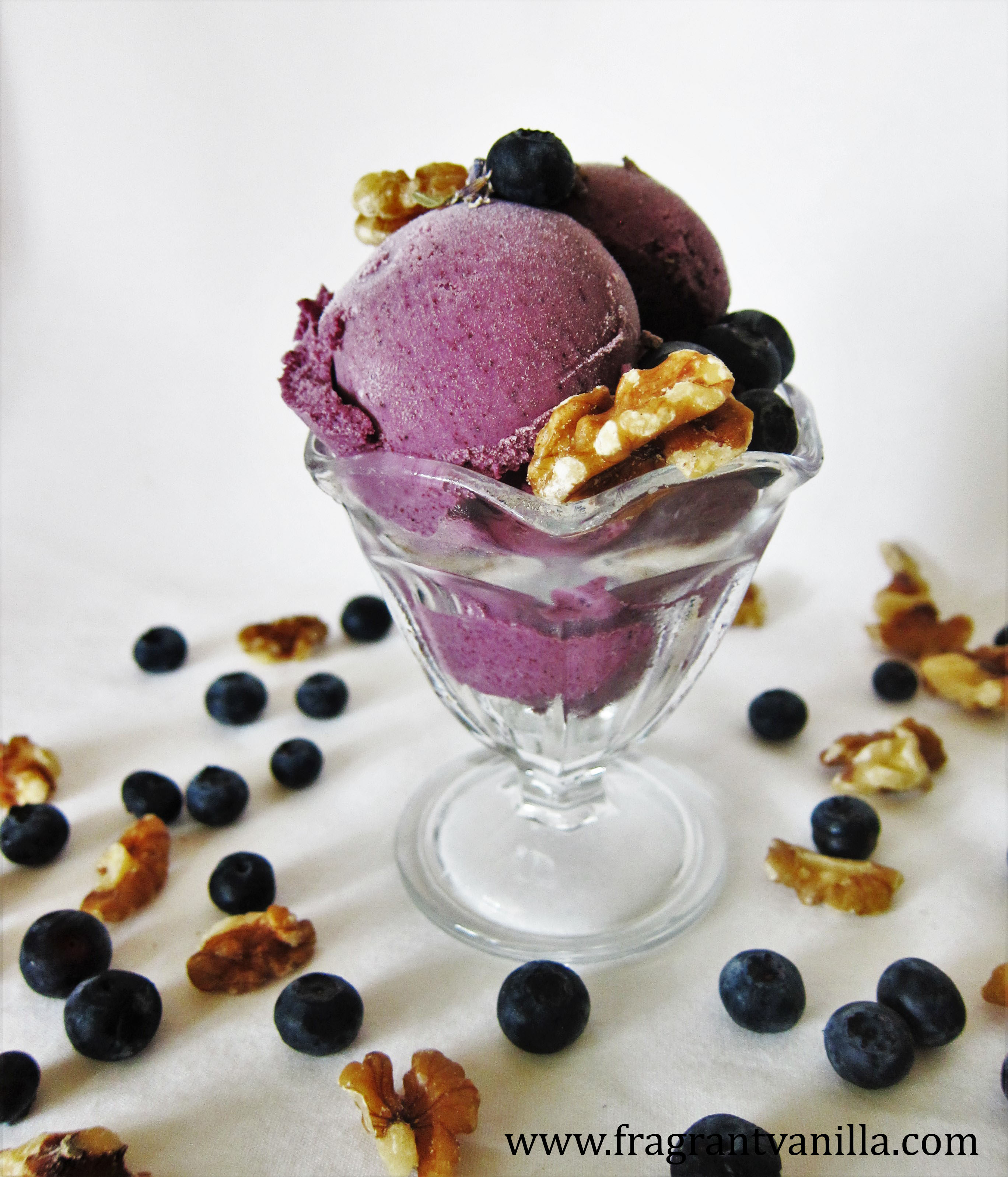 Vegan Blueberry Walnut Lavender Ice Cream
When I was younger, my Dad and I would go on trips up to Northern MN, and we would always stay in this little town with an ice cream shop.  I never went to ice cream shops back home besides Dairy Queen and that really doesn't count.  This was a small town classic ice cream shop with about 20 flavors of ice cream, many flavors of which I had never heard of.  The best ice cream I tried there (and I tried a few, because every time we went there I got double scoops) was a blueberry cheesecake.  With ribbons of jammy blueberries in a cheesecake ice cream with graham cracker bits.  It was fabulous!  I remember standing on the dock watching the sun set while enjoying it, and it was all pretty amazing.  I think sometimes the experience while you are eating something plays into how good it was too.  Anyways, now as an adult, I am glad I have an ice cream maker so I can make all sorts of different ice cream flavors of my own.  Because I used to dream about making up ice cream flavors as a kid.  Now I can!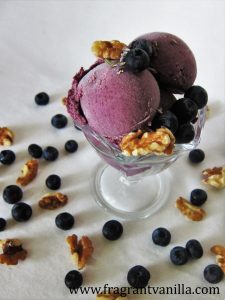 I made some blueberry ice cream the other night, and it was not blueberry cheesecake but it was delicious.  I was not in the mood to make something super complicated or with lots of steps, so I wanted a blend, chill and serve sort of ice cream.  I made blueberry walnut lavender.  It may sound like an odd combination, but trust me, it was amazing.  I knew I wanted a coconut milk base with blueberries, but I decided to add in the walnut butter for a little more richness to make it have the texture of dairy ice cream.  It gave it this little bit of a nutty flavor that wasn't super noticeable, but it was good.  The lavender gave it a floral note and it was subtle but delicious.  I love lavender with blueberries.  It was something I discovered about 10 years ago and I have loved it ever since.  Even if I am not using lavender in my actual berry dessert, sometimes I just sprinkle some flowers on top to make it pretty and add something special.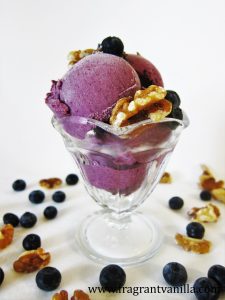 This ice cream is only 6 ingredients and it doesn't need more.  It is just right as it is!  I enjoyed some by itself, but I am also saving some for a blueberry cobbler I hope to make soon.  I am one of those types of people who always has to have cool ice cream with their warm fruit dessert.  It just makes it that much more enjoyable.  If you could create any ice cream flavor what would it be?  I have over 100 flavors on this blog, and I don't plan on stopping anytime soon creating more!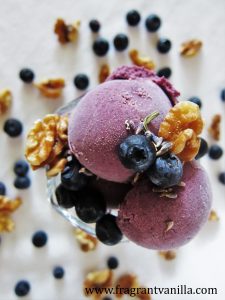 6 Ingredient Vegan Blueberry Walnut Lavender Ice Cream
Makes 3 cups
Ingredients:
1 15 oz can full fat organic coconut milk
1/2 cup raw walnut butter
1 1/2 cups fresh organic blueberries
1/4 cup soft, pitted medjool dates (if they are not soft, soak them in filtered water for 30 minutes before using)
1/4 tsp sea salt
1 1/2 Tbsp dried lavender flowers
Directions:
Combine all ingredients in a blender and blend until smooth.
Pour into an ice cream maker and process according to directions. Alternatively, if you do not have an ice cream maker, pour it into a bowl, and whisk every half hour until it is to the consistency of a thick malt.
Once it has finished the freezing process, pour into a freezer safe container with a lid, and continue to freeze until firm enough to scoop (at least 4 hours or overnight). If it becomes too firm, simply let it sit out for 15 minutes before serving.
(Visited 86 times, 1 visits today)