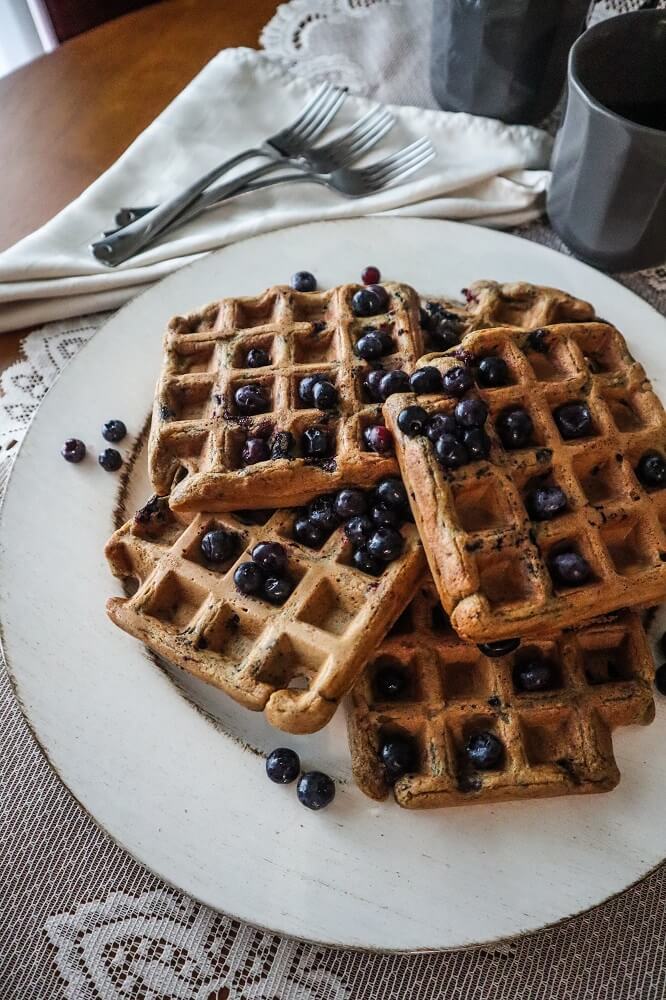 Vegan Blueberry Vanilla Waffles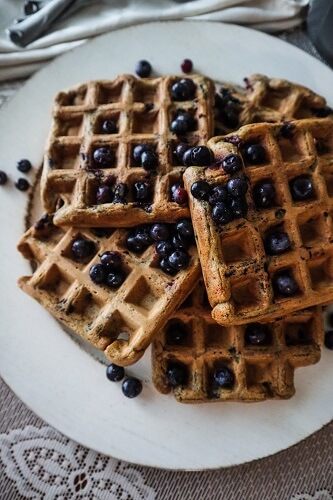 Last month when Eric and I visited his Dad in Michigan we went blueberry picking and ended up with loads of berries to bring home.  I ate a bunch right away, but froze about half for using later, since I always like to have frozen fruit on hand for recipes.  I have been wanting to make waffles with some of them ever since I got back because blueberry waffles used to be something I enjoyed when I was younger. Even if they were the frozen kind.  I figured I could make a way better version now!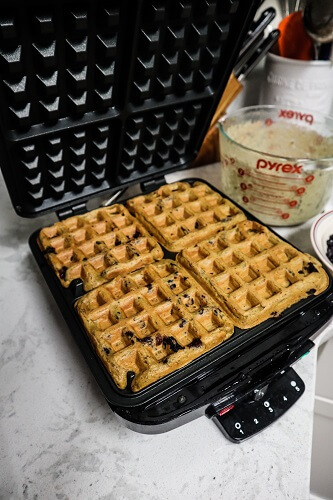 I finally got around to it on my day off earlier this week.  Waffles just sounded good. The funny thing is, I never actually make them for breakfast, usually just for a snack, or dessert, or even dinner. My Mom used to sometimes make pancakes or waffles for dinner when I was little and I always thought that was awesome. So I made these in the late afternoon to enjoy.  I wasn't exactly sure how they would come out since I used frozen and thawed berries, but they were a success!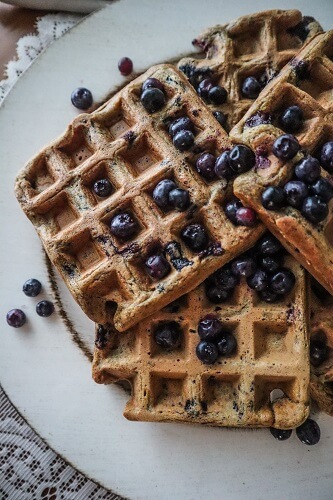 I made a vanilla scented waffle batter and used coconut milk since it tends to be a little richer to help the waffles get that nice crunch on the outside. Plus a touch of avocado oil to give them that buttery flavor. If you wanted to make them oil free, you could just leave it out, but then use full fat coconut milk (in its liquid state mixed well) instead of the light. Also, these are not gluten free, but you can make them gluten free if you like, using Bob's Red Mill Gluten Free AP Baking Flour instead of the whole wheat pastry. I have tested this brand in waffles and know it works well (if you have a favorite brand you know works though, go for it with that one).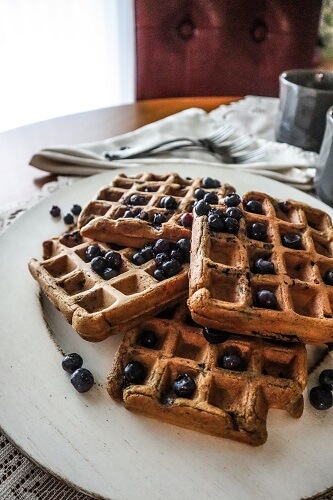 The batter tasted like blueberry muffin batter. Took me back to my childhood when my Dad used to make blueberry muffins on weekend mornings and I always wanted to lick the bowl.  These smelled amazing while cooking, and I could not wait to try them. The finished waffles actually tasted like blueberry muffins, and I served them with additional blueberries because one can never have too many when they are really delicious ones!  If you are in a waffle making sort of mood, give these a try!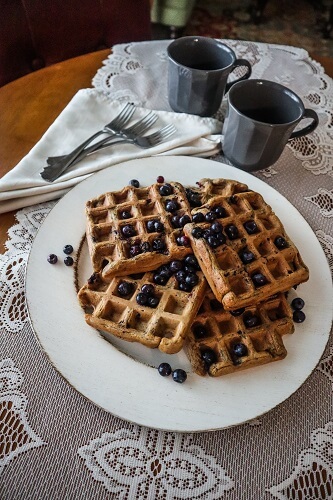 Vegan Blueberry Vanilla Waffles
makes 8 medium sized belgian waffles
Ingredients:
Batter:
2 cups organic whole wheat pastry flour
1/4 cup maple sugar or coconut sugar
1/2 tsp baking soda
1 tsp baking powder
1/2 tsp sea salt
1 tsp pure vanilla extract
3 Tbsp ground flax seed, whisked together with 1/2 cup filtered water
2 Tbsp avocado oil or another neutral oil
2 cups light coconut milk
1 cup fresh blueberries (or frozen, thawed and drained well) plus more for serving
Instructions:
To make the waffles, whisk together the flour, sugar, baking soda, baking powder and sea salt in a large bowl.
Then whisk in the flax mixture, oil, and coconut milk together until smooth. Fold in the blueberries.
Heat your oven to 150F degrees and oil, and pre-heat waffle iron. Once it is heated, pour about 1/3 cup batter onto the waffle iron or until the iron is just covered (but not so much that it will ooze out) and close it.  Cook according to waffle iron package directions.  Remove from the waffle maker and keep warm in the oven while you make the others.  If you have a waffle maker the size of mine (regular belgian waffles), you may have more than 8 waffles.
Serve the waffles with additional fresh blueberries!
(Visited 334 times, 1 visits today)