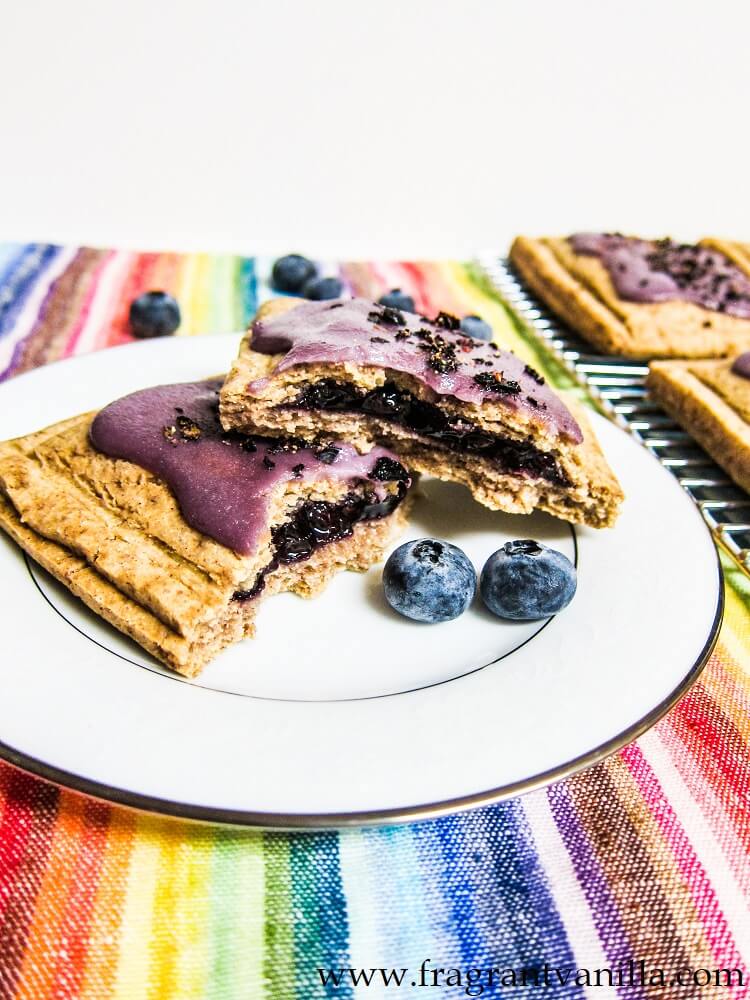 Vegan Blueberry Pop-Tarts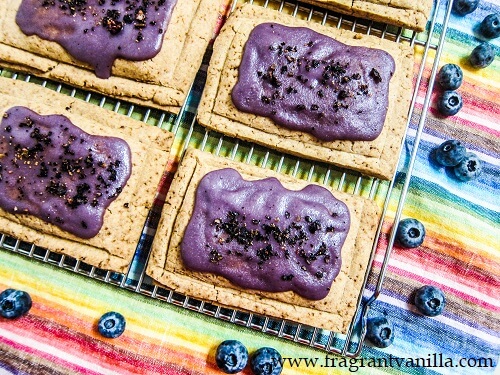 Pop-tarts were all the rage when I was little.  I remember a few of my friends bringing them to school for a snack every morning, and begging my Mom to get some.  My Mom let me get some, but I wasn't allowed to have too many, because she tried to get me to eat healthier.  The Pop-tarts were ok, I think I liked the cinnamon sugar ones more as opposed to the fruit ones because they tasted artificial to me. But what I ended up really liking were toaster streudels.  Those greasy little frozen fruit toaster pastries that you squeeze cream cheese glaze on after they come out of the toaster. I would have eaten a whole box if my Mom let me.  Anyways, I like the concept of Pop-tarts, they are portable and cute, and I have made some as an adult that were way better than any I had as a kid.  The latest of which was blueberry.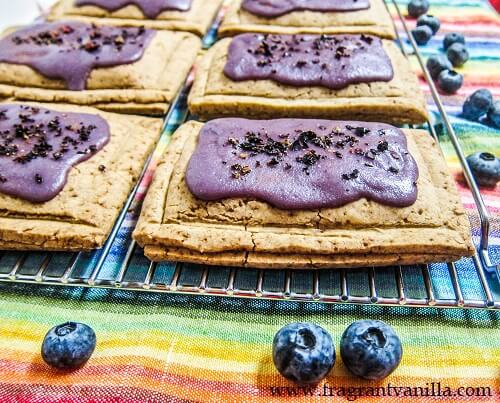 I just randomly decided to make some after work on Wednesday.  It was a hectic day with lots of stress at work, and I wanted nothing more than to relax and bake something.  Pop-tarts are fun and delicious, so they were perfect.  I figured I could share some with Eric too since he always needs snacks to bring to work.  My pop-tarts are more like mini pies though than those flavorless ones I had as a kid.  They actually are made with my classic pie crust so the crust even tastes delicious and not just the filling.  For the filling though, I made a quick sort of simple cooked blueberry jam and it was perfect!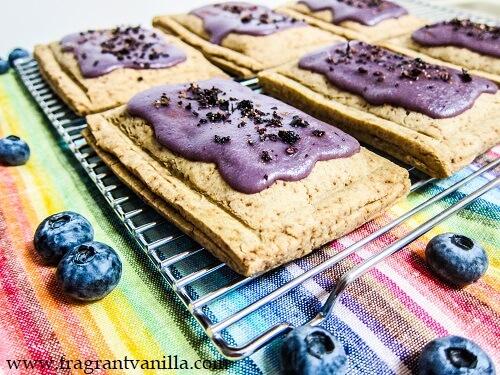 It is kind of relaxing to sit and cut shapes out of dough that you have rolled out as long as you have the time.  Like at Christmas when you are making fun cookies.  These were free form cutting, but sometimes I find meticulous things that I have to rely on myself for accuracy relaxing.  Don't worry, these are not complicated, just straight edges, and if you don't trust yourself, you can always use a ruler to help.  They turned out super cute and more uniform than I expected.  I even glazed them with a purple blueberry coconut butter glaze to make them more pretty and sprinkled some crushed up dried blueberries over them as sort of natural "sprinkles".  These are 100 times better than real Pop-tarts, just sayin'.  You can even freeze them in a bag for enjoyment later if you wish, or if they last that long.  Did you eat Pop-tarts as a kid?  If so, what was your favorite flavor?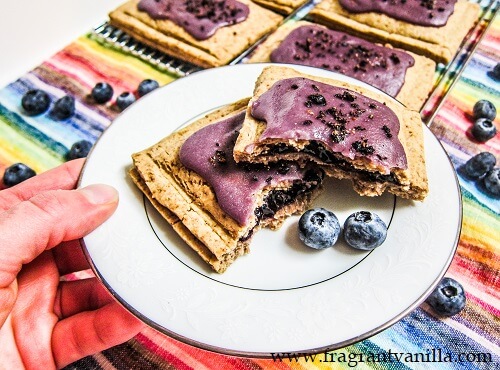 Vegan Blueberry Pop-Tarts
Makes 6
Crust:
1/4 cup coconut sugar or maple sugar
1/2 tsp sea salt
3/4 cup coconut oil in its solid state
about 6-7 Tbsp cold water (or as needed)
Filling:
1 cup fresh organic blueberries
1 Tbsp maple syrup
1/2 Tbsp arrowroot powder (or cornstarch) dissolved in 1/2 tsp lemon juice
Glaze:
3 Tbsp coconut butter, warmed to liquid
1 Tbsp blueberry juice
1 Tbsp maple syrup
pinch sea salt
3-4 Tbsp filtered water or as needed
Instructions:
To make the crust, in a large bowl, mix together flour, sugar, and sea salt. Cut in coconut oil with a pastry blender or 2 knives until it is in pea sized pieces. Mix in just enough water to create a smooth dough that holds together but isn't too sticky. Add more water if needed, and knead slightly until a smooth dough is created.
Roll out into a large rectangle and cut into 12 identical rectangles.  Chill if too soft before assembling.  You want the dough a little pliable, but not so warm that it will break. Preheat oven to 375 degrees.
To make filling, heat the berries and maple syrup in a small saucepan over medium heat, and cook them until they start to burst, about 10 minutes.  Add the arrowroot and lemon juice and cook until thickened.  Remove from heat, and set aside.
To assemble, spread about 2 Tbsp jam over half of the dough rectangles (leaving a boarder so you can attach the dough at the sides). Cover with the remaining pieces of dough (I used a small spatula to carefully move them), pressing the edges and crimping with a fork or the edge of something with a flat edge, like a spatula. Bake for about 30 minutes until the crusts are starting to brown lightly. Remove from oven and let cool on a wire rack until warm.
Whisk glaze ingredients together until smooth (adding more water if too thick, you want it to be pour-able). Spoon some of the glaze over each pop tart, and smooth it out to cover the top. Let set before serving.
(Visited 3,103 times, 1 visits today)