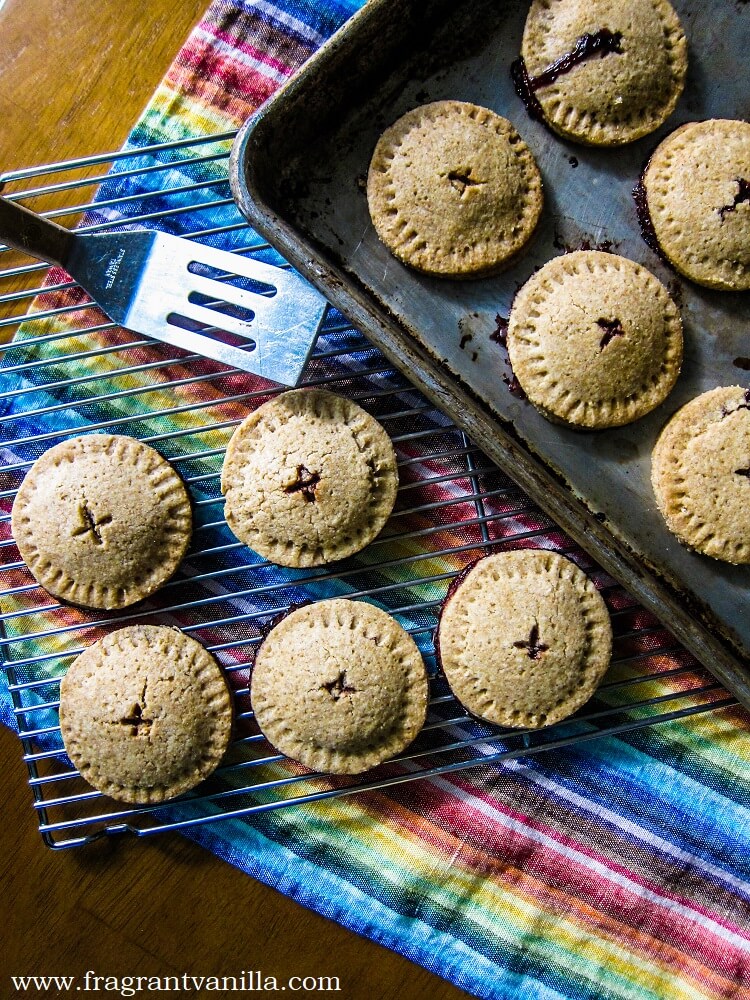 Vegan Blueberry Pie Cookies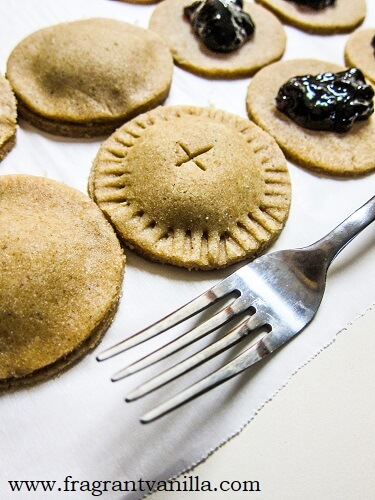 I made some apple pie cookies a while back and they were really good, so when I had some leftover blueberry jam, I thought it would be fabulous in some mini pie cookies!  It is Summer after all, the season of blueberries!  I love any type of fruit pie, but I don't always want to make a giant one for just myself.  Plus these little guys are portion controlled.  You have a couple and you are good.  I am calling them cookies though instead of hand pies because they are the size of cookies.  Hand pies to me are more like pop tart sized.  I like to make a batch of cookies like these, then freeze the extra to enjoy later.  I always have a box of different types of cookies on hand in the freezer to enjoy when I feel like it.  Anyways, back to the blueberry pie cookies.  They were pretty simple to make.  Not fast to make because you have roll out the dough and assemble them, but at least the filling is already made if you have blueberry jam on hand.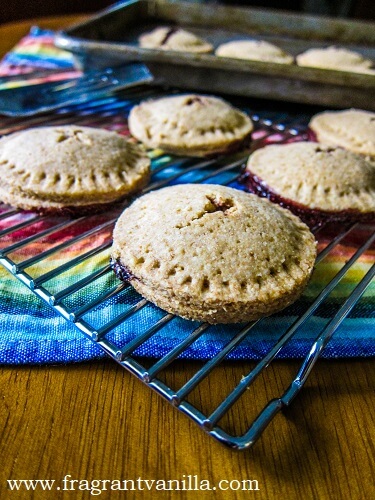 I like to use a fruit sweetened blueberry jam.  But you can use whichever one you want.  Just make sure the jam you use is vegan of course. For the dough I decided to use an organic whole wheat pastry flour, because I like the way it tastes in a pie crust. It is a basic vegan pie crust recipe, and I have been using it for over 10 years.  I used to use vegan margarine in pie crusts, but I don't really like the ingredients in the commercial ones, so I now use coconut oil instead.  It gives the crust a slight sweetness and buttery flavor that I love!  It was kind of fun cutting out the little pie crusts.  Like when I was little and used to play with Playdough and roll it out and cut it into shapes.  I used to pretend I was making cookies and whatnot.  So I guess it is no wonder I love making desserts now!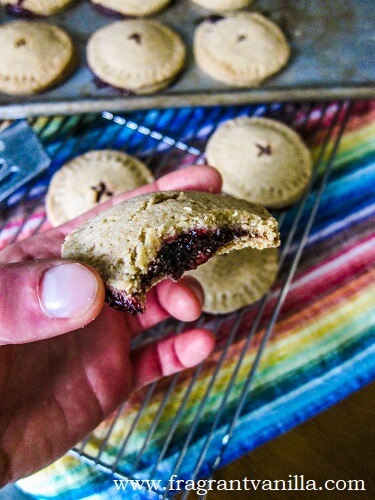 Once I had spooned the blueberries into the crusts, topped them, crimped them shut and they were all ready to go, I could not wait to try them!  But of course they had to bake first and they were completely aromatic while baking.  My whole house smelled like delicious blueberry pie. Once they had cooled enough to try them I was super excited.  Of course they had to still be warm.  They were so good!  Gooey sweet blueberry filling and a nice rich buttery crust!  If you have some jam on hand, you know what to make!  If you want to make these gluten free, you can substitute Bob's Red Mill Gluten Free Baking Flour for the whole wheat 1:1.  They will just be lighter in color.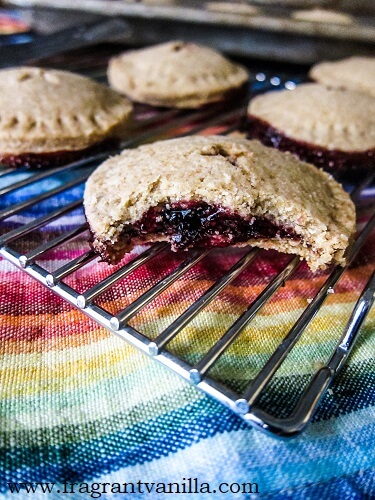 Vegan Blueberry Pie Cookies
Makes 18
Crust:
Filling:
Topping:
coconut milk or aquafaba for brushing tops
maple sugar or coconut sugar for sprinkling
Instructions:
Preheat oven to 375 degrees.
To make the crust, in a large bowl, mix together flour, sugar, sea salt, and spices.
Cut in coconut oil with a pastry blender or 2 knives until it is in pea sized pieces. Mix in  just enough water to create a smooth dough that holds together but isn't too sticky. Add more water if needed, and knead slightly until a smooth dough is created.
Roll out into a large rectangle 1/8 inch thick using parchment underneath and floured rolling pin, and cut into 36 circles with a cookie cutter.
Spoon the jam by the tsp onto half of the prepared little crust circles, and cover with the top pieces of dough (I used a small spatula to carefully move them), pressing the edges and crimping with a fork.
Brush very lightly with a little coconut milk, then sprinkle with a little maple sugar.  Place the pan in the oven.
Bake for about 30 minutes until the crusts are starting to brown lightly. Remove from oven and let cool on a wire rack until warm.
(Visited 649 times, 1 visits today)