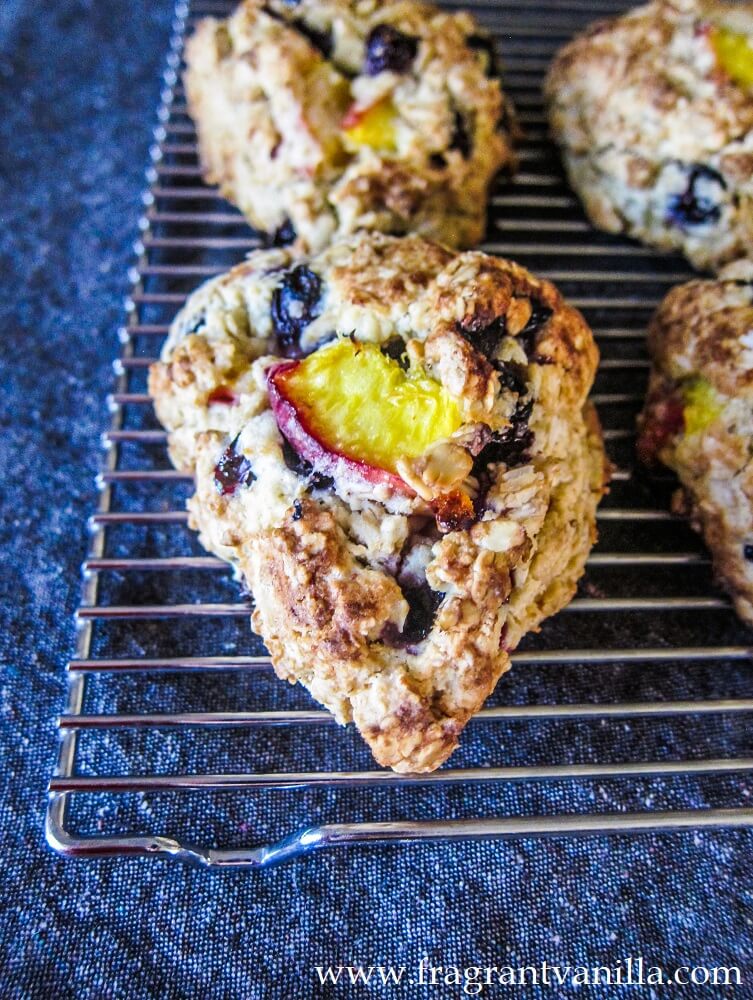 Vegan Blueberry Peach Anise Scones
Have you ever been to a coffee shop or bakery, bought a scone, and it tasted dry, crumbly and just sugary without much other flavor? Well, I have.  Honestly, I thought that I did not like scones at all until I started working at my job in the deli and was taught by one of my coworkers how to properly make them.  Her scones are amazing.  They are rich, flaky, flavorful and delicious.  However they are not vegan so I no longer eat them, but I have been working there since before I became vegan so I had sampled some in the past.  The trick is not to over mix the dough or it will become tough and not delicate and buttery.  Also, it helps if your milk (or coconut milk in my case) and butter (or coconut oil in my case) are chilled so that they create pockets of deliciousness that melt only when baked.  A while back I came up with a veganized version of those work scones, and I think they are just as good and you feel better after eating them.  Mine also happen to be gluten free too, which is another win.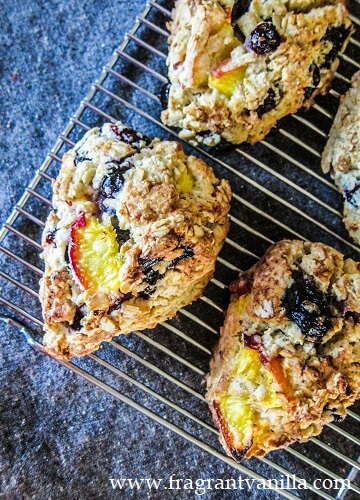 I was in a scone making mood after work one day last week, and I had a ripe peach and some blueberries so I thought why not blueberry peach scones?! I decided to add in some oatmeal as well, since I love the texture, and some anise for sweetness.  It was a delicious combination, and I knew it would be good when I sampled the dough.  I always have to sample my dough for cookies, scones, and brownie and cake batters.  Not only is it delicious and part of the process that I enjoy, but it has prevented me from forgetting to add ingredients like the sugar or sweetener before. This scone dough was heavenly.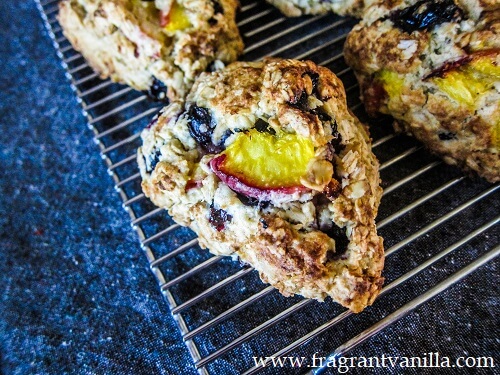 They smelled amazing while baking as well, almost like pie because the fruit started to get a little jammy in the hot oven just as it should.   These turned out just right, not dry or too crumbly.  Just incredibly tender and delicious, the jammy sweet fruit suspended in the flaky rich fragrant dough.  If you are looking for the perfect lazy Saturday morning treat, this would be it!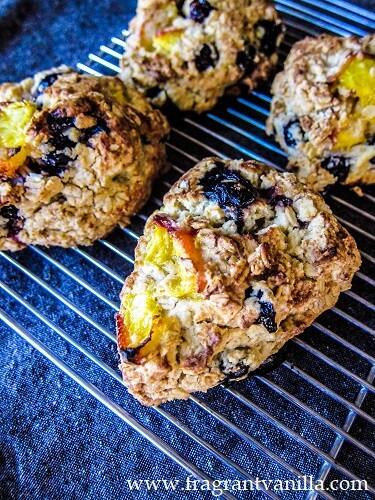 Vegan Blueberry Peach Anise Scones
Makes 8
Ingredients:
1/2 cup coconut sugar
2 1/2 tsp baking powder
1/2 tsp ground star anise
1/4 tsp salt
1/2 cup virgin coconut oil, cut into chunks
1 cup cold full fat organic canned coconut milk (whisked until smooth if chunky)
1 Tbsp pure vanilla extract
1 cup fresh organic blueberries
1 cup fresh organic peaches cut into smaller chunks
coconut milk for topping
coconut sugar for sprinkling
Instructions:
Preheat oven to 425 with the rack set at the middle position.
Line a baking sheet with parchment.
In a large bowl, combine the flour, oats, sugar, baking powder, anise and salt and whisk together.
Add the coconut oil, and cut in with a pastry blender or 2 knives until the mixture starts to clump into pea sized pieces.
In a small bowl, stir the vanilla into the coconut milk. Add the coconut milk to the dough, and stir a few times, but do not over-mix. The dough should hold together when squeezed, but still be clumpy. fold in fruit until evenly distributed.
Place dough on a floured work surface, and shape into a 4 inch wide log. Use a bench scraper to cut into triangles. There should be about 8.
Place scones on the prepared baking sheet, reshaping slightly if necessary.
Brush the tops lightly with the coconut milk (only if they seem dry, you want the sugar to stick), and sprinkle with coconut sugar.
Place in the oven and bake for about 20 minutes or until golden brown (after about 15 minutes you may need to reshape with 2 bench scrapers if the scones are spreading, then place back in the oven).  Remove from oven.
Cool on a wire rack.
(Visited 157 times, 1 visits today)