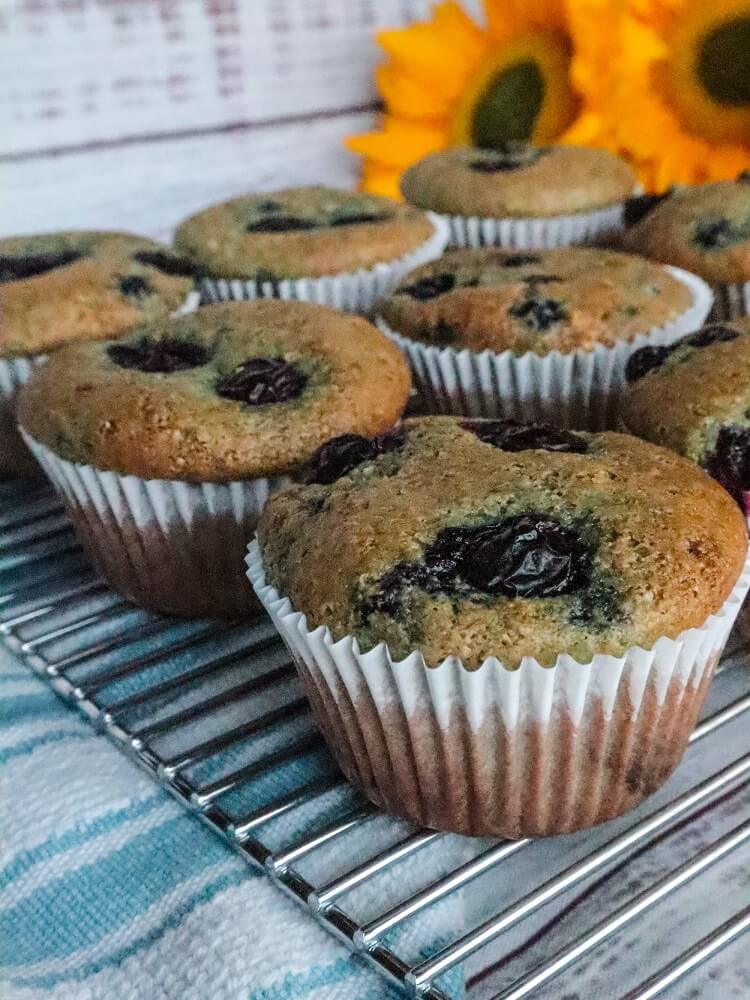 Vegan Blueberry Muffins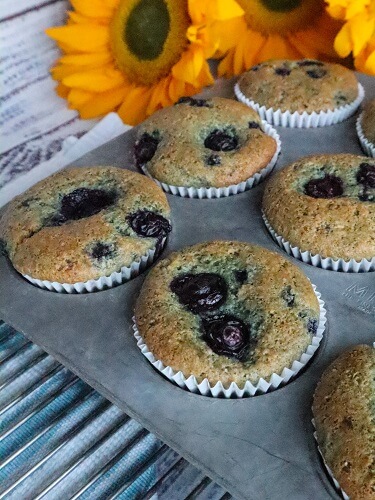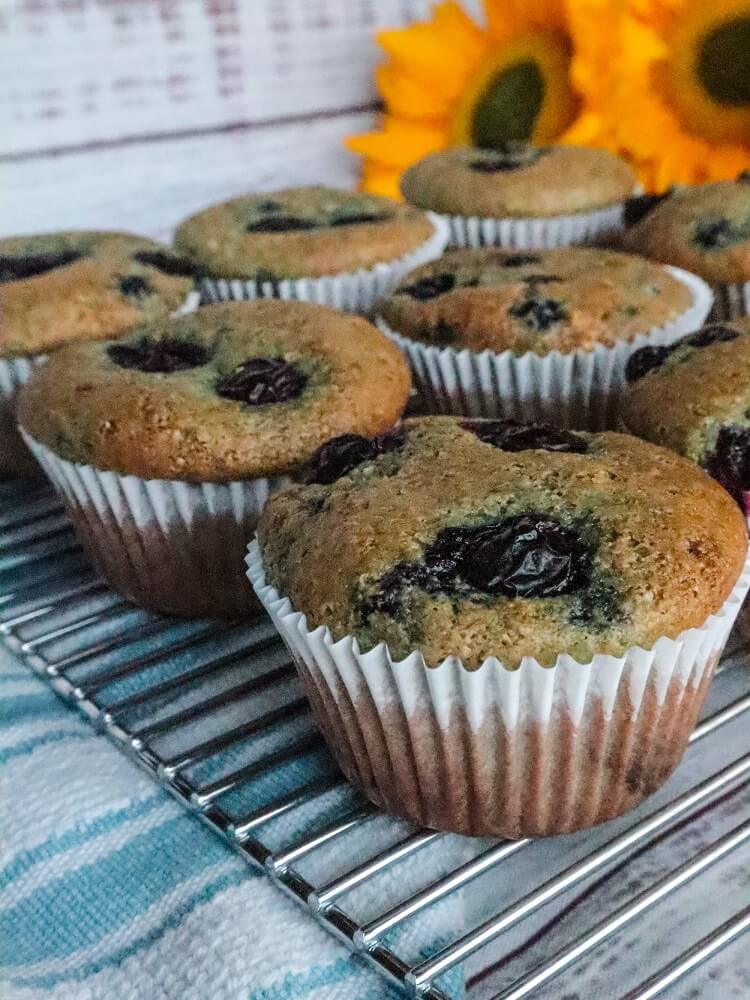 When I was little, on weekends my Dad would sometimes bake blueberry muffins, and I thought it was one of the greatest things ever.  I got super excited when he let me mix the batter and eat the excess batter out of the bowl that didn't make it into the tins. They were always so good when they were fresh from the oven, and completed our Sunday brunch.  Never mind that they were from a boxed mix, they tasted good to me!  I didn't actually make non boxed mix blueberry muffins until I was in college so I never knew the difference.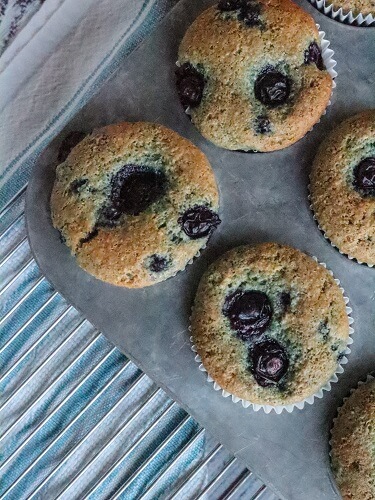 I now make my own, because it is just as easy to just make your own when you have everything on hand and I like to use quality ingredients.  I decided to make some last weekend because they sounded really good and I haven't made any in forever!  I had also been smelling some blueberry scones I made at work next to my work station for a good chunk of the day at work, that might have had something to do with the craving!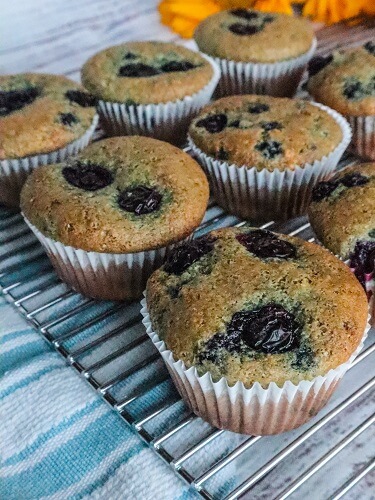 I had fresh blueberries on hand, so it was perfect!  For these, instead of oil  I used a mixture of apple sauce and cashew butter, and it made them taste just as rich and creamy as regular muffins, but without the refined oils.  I added a touch of vanilla and the batter tasted even better than that muffin mix  I grew up eating.  I still love eating muffin batter, and I don't think I will ever grow out of that!  They smelled amazing while baking, and as I pulled them out of the oven.  I could not wait to taste one!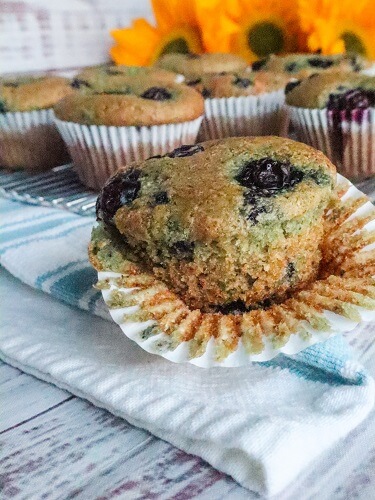 Once they were cool enough to try I took a big bite.  They were sooo good!  Soft and sweet, scented with vanilla with jammy gooey blueberries and a soft cake texture.  I shared them with Eric and he enjoyed them too!  If you are in the mood for some really good classic blueberry muffins, give these a try!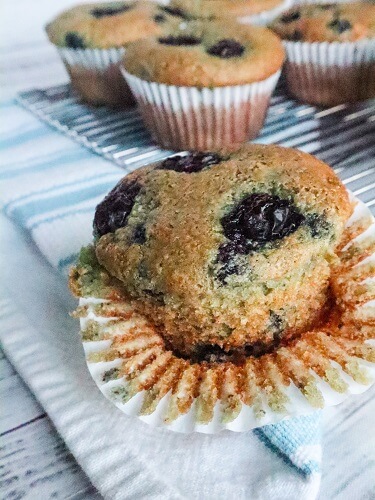 Vegan Blueberry Muffins
Makes 18
Ingredients:
1 cup maple sugar
1/2 cup cashew butter
1 cup apple sauce
1 ½ Tbsp ground flax seed mixed with 4 ½ Tbsp filtered water
1 tsp pure vanilla extract
1 1/2 cups organic whole wheat pastry flour
½ tsp sea salt
½ tsp baking soda
1 tsp baking powder
1 cup blueberries
Instructions:
Preheat the oven to 350F degrees, and line 12 muffin tins with liners.
Whisk together the sugar, cashew butter, apple sauce, flax mixture and vanilla extract in a large bowl.
Add the flour, sea salt, baking soda and baking powder and whisk until smooth.
Add the blueberries, and mix in until well distributed.
Spoon into the muffin tins.
Place in the oven and bake for about 25 minutes or until a toothpick inserted into the center comes out almost clean with a few moist crumbs attached.
Let cool on a rack for at least 20 minutes before enjoying.
(Visited 469 times, 1 visits today)