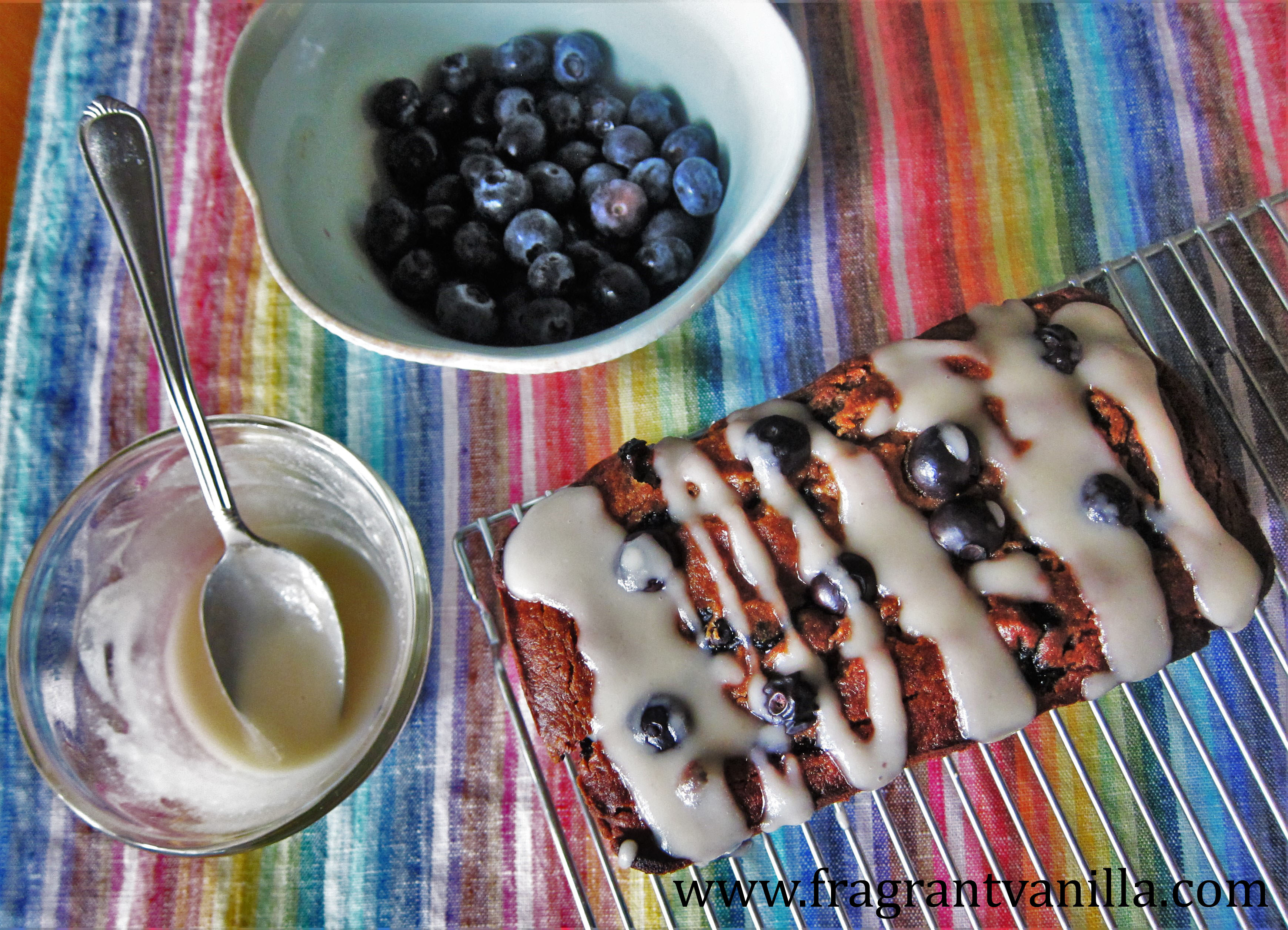 Vegan Blueberry Muffin Cake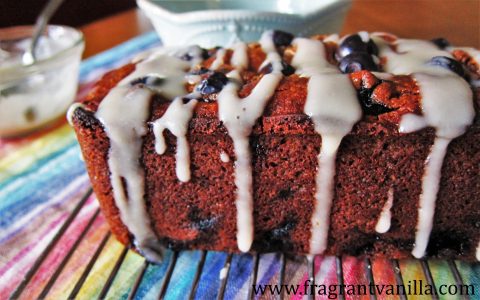 Blueberry muffins remind me of lazy Saturday mornings.  When I was little, I would beg my Dad to let me help him make them. It wasn't that difficult...considering we used the ones from a box.  My Dad did not inherit my Grandma's baking skills.  But I still loved the muffins anyhow.  Especially when still warm and occasionally with strawberry cream cheese which was another favorite thing of mine at that point in my life.  I could have cared less about the other breakfast foods, since meats were not appealing to me even at that age, but the muffins got me excited.  I always had to lick the batter from the bowl as well, even if it was raw and I was always warned against it.  Luckilly now when I make blueberry muffins, I can lick the bowl and know I am safe since I make vegan muffins that contain no raw eggs.  I still love blueberry muffins, and I have to say I don't make them nearly enough.  Well, I had blueberries on hand, and I was going to make some last Monday on my day off.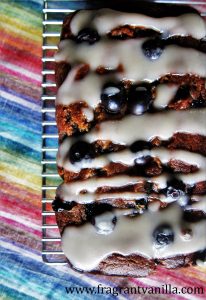 But I decided to make them into a delicious quick bread instead of individual muffins.  So, a muffin cake if you will, which is sometimes what my Mom would do with muffin recipes sometimes, make a loaf instead of muffins.  Sometimes a nice slice of sweet bread is nice spread with nut butter.  I made this bread fruit sweetened with dates, which also kept it nice and soft and moist.  They also gave it an almost caramel like flavor reminiscent of brown sugar without being refined.  That is why I love dates in things!  They are about as unprocessed as you can get when it comes to sweeteners, but they make things taste amazing.  I made this oil free also, choosing to use pecan butter instead of oil.  I have been doing that a lot lately, because it adds a bit of protein besides just oil, and gives the baked good a special flavor that leaves you wondering what is so good but you can't quite pinpoint what it is.  I also added a touch of lemon for a pop of flavor and it was just what the bread needed to be extra delicious!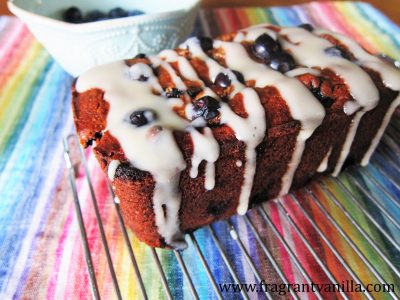 It baked up lovely, filling my home with the most heavenly aroma of blueberry muffins.  A comforting aroma that reminded me of Saturday mornings past (even though I was baking these on a Monday night not Saturday morning).  I decided to glaze the bread with a light lemon glaze, and it was perfect!  The blueberries had baked into it as little jammy bursts of flavor in the soft moist cake.  It tasted like the most delicious blueberry muffins I had ever had!  This is really quite easy to make, so don't reach for that boxed muffin mix...try this out instead!
Vegan Blueberry Muffin Cake
Makes 1 mini loaf
Ingredients:
Batter:
1/2 cup soft, pitted medjool dates, soaked in filtered water for 30 minutes and drained
3/4 cup filtered water
2 Tbsp raw pecan butter or raw almond butter
1 tsp pure vanilla extract
1 Tbsp lemon zest
1/4 tsp sea salt
3/4 cup all purpose gluten free flour
1/2 tsp baking powder
1/2 tsp plus 1/4 tsp baking soda
1 Tbsp lemon juice
1 cup organic blueberries
Glaze:
3 Tbsp coconut butter, warmed to liquid
1 Tbsp lemon juice
1 Tbsp maple syrup
filtered water as needed
Preheat the oven to 375F degrees, and oil a mini loaf pan*.
To make the batter, combine the dates, water, pecan butter, vanilla, zest, and sea salt in a high speed blender and blend until smooth.  Add the flour, baking powder, baking soda, and blend until combined (but don't overblend).  Add lemon juice, and blend slowly until bubbles form (you don't want to go fast or you will deflate it).  Fold in the berries, and pour into the prepared pan.
Place the pan in the oven and bake for about 35 minutes until a toothpick inserted into the cake comes out almost clean.  Let cool completely on a wire rack before unmolding.
To make the glaze, whisk together all ingredients until smooth, adding just enough water to create a glaze that can be drizzled but isn't too runny. Drizzle over the cake and serve.
*My mini loaf pans are 5x3 inches and 2 1/2 inches tall.  If yours are smaller, you will get two loaves, and decrease the baking time by half.
(Visited 259 times, 1 visits today)