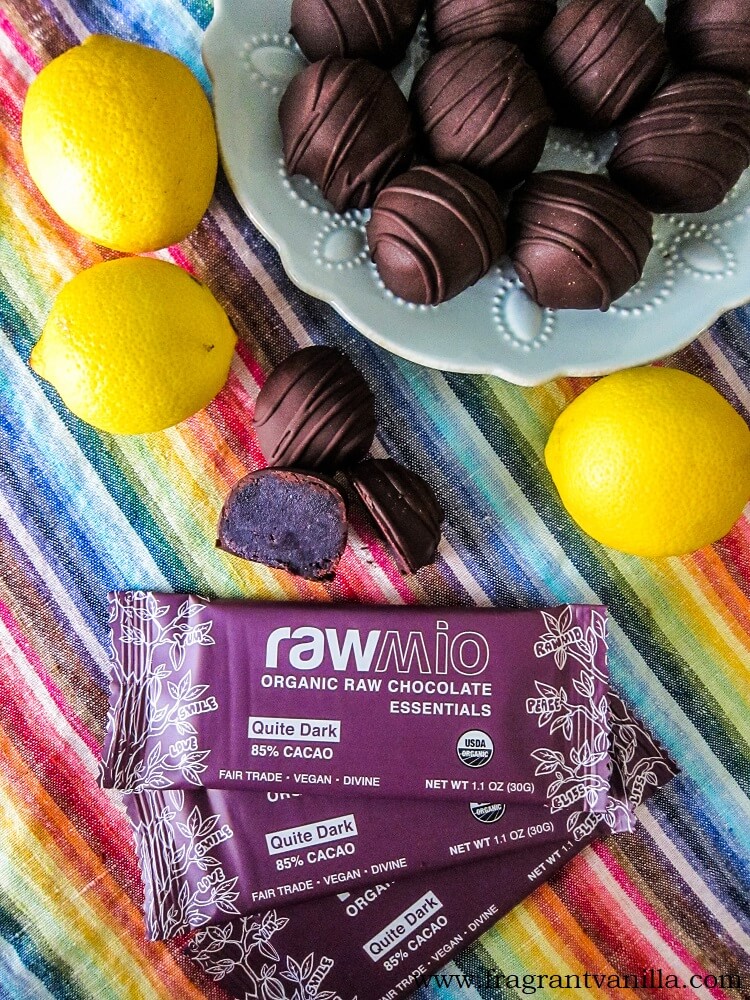 Vegan Blueberry Lemon Truffles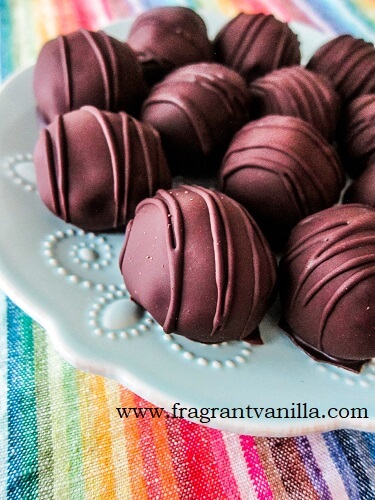 Since finding a lot of extra cacao butter in my cupboard last month (3 lbs), and being sent another lb by Raw Guru I have been making a lot of chocolate and candy recipes.  I hope you all don't mind.  I know I certainly don't as I do enjoy eating them.  I went with peanut butter last time, so I figured something fruity would be good this week.  I wanted something Summery and refreshing, so I went with blueberry lemon truffles. I have always loved berries and citrus in truffles.  When I was little, my Grandma would always give me a box of truffles for each Holiday.  It was a game figuring out what each one was, since sometimes they were not labeled.  But I always considered it a win if I got a chocolate or caramel filled one, or anything berry cream flavored, lemon or lime.  So now as an adult, these are the candies that I recreate the most.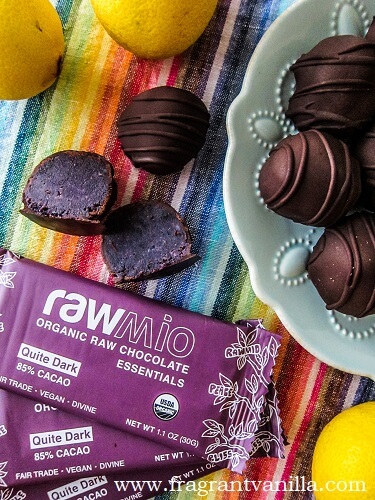 These are actually pretty easy to make if you have all of the ingredients on hand.  For the filling, to make a creamy white chocolate, I combined cacao butter, coconut butter and cashew butter.  It creates the most smooth, rich filling that tastes like white chocolate when you add a bit of vanilla.  Then to flavor it with blueberries, I added freeze dried ones, because I had some on hand.  You may wonder why I didn't use fresh, but I have a good reason not to.  The freeze dried ones work perfect because they don't add excess moisture and help the filling to firm up a bit.  I sometimes add them to things like frosting too if I don't want extra water in it (which makes it too runny).  Anyways, back to the filling. It was so good I was tempted to just eat some with a spoon.  And I did, but I had to leave enough to make truffles too of course!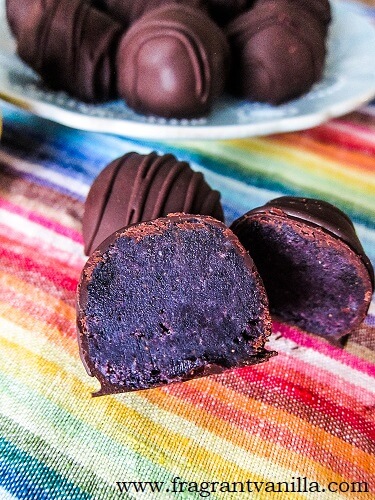 I find it kind of fun shaping truffles like this, it is like playing with play dough.  Once they were all shaped, chilled and ready to go, I dipped them in melted Rawmio Essentials 85% cacao dark chocolate.  It is so good!  For snacking, or for desserts like this!  Raw Guru recently sent me a box of goodies including this as well as a bunch of other chocolate, nut butters and nuts and I was super excited so of course I had to use some in a recipe right away.  I am looking forward to featuring them in upcoming recipes.  Definitely check out their website, their products are amazing!  The truffles turned out sooo good!  Rich and creamy packed with sweet blueberry flavor and a hint of tart lemon to make them refreshing!  It paired so well with the intense dark chocolate coating!  If you are in the mood for something sweet and delicious, make yourself a batch of these!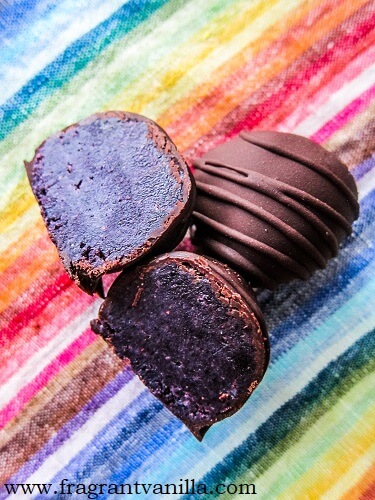 Vegan Blueberry Lemon Truffles  
Makes 10 truffles
Ingredients:
Filling:
Dark Chocolate:
Directions:
Combine all of the filling ingredients but the berries, water, lemon juice and zest over a double boiler, and whisk until smooth.
Pulverize the berries in a blender until fine, then whisk into the mixture in the double boiler along with the water lemon juice and zest. Place in the freezer for about 15-20 minutes until it is firm enough to scoop. Scoop into 10 balls, rolling them with your hands.   Place on a parchment lined tray, and place back into the freezer until firm, about 30 minutes.
Meanwhile, to make the dark chocolate, combine all ingredients in a double boiler, and whisk until combined and melted.
Once the filling has firmed up, dip each chocolate into the dark chocolate, being sure to let the excess drain off, and place back onto the tray (I like to set mine on a fork to allow it to drain better). Once they are all dipped, set them in the freezer until hardened.
Store any leftover truffles in the refrigerator.
(Visited 342 times, 1 visits today)