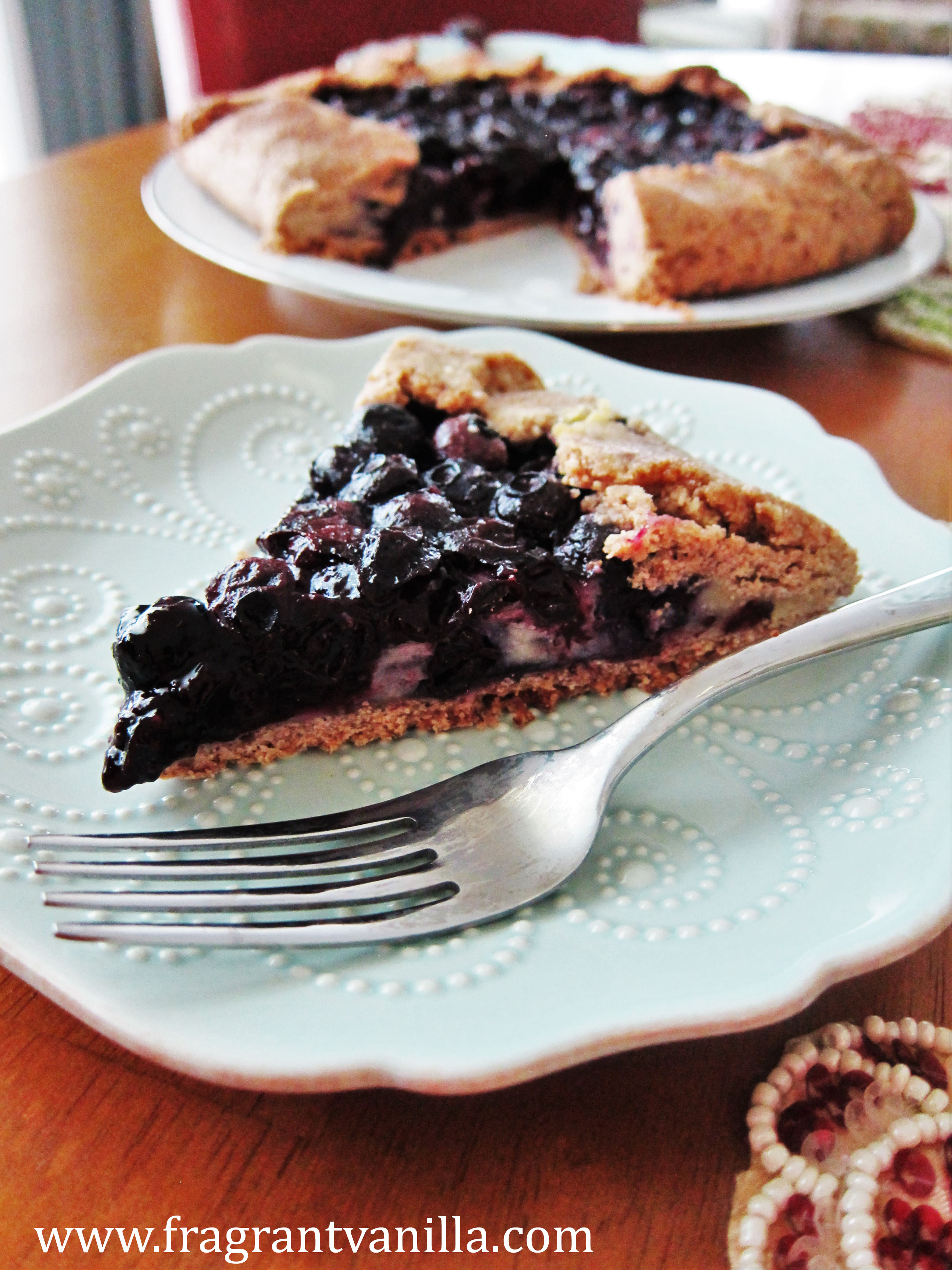 Vegan Blueberry Cream Cheese Galettes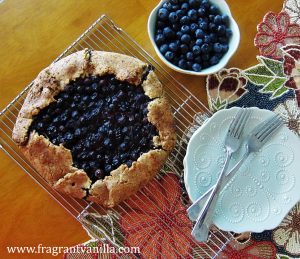 I hope you all had a good weekend, I certainly did!  Usually every year I go to the Minnesota State Fair, but Eric and I are both not wishing to spend a lot of money lately and it ends up costing a lot, so we decided to go on another fun outing instead.  What we decided to do beats walking around in crowds and eating greasy food any day. We decided to make a trip to Taylor's Falls and go for a hike, then visit Wild Mountain Winery afterwards for some wine tasting.  It was a great idea!  Taylor's Falls is always beautiful, and you get the feel of going up north without having to drive too far out of the city, plus the views on the trail are beautiful!  We hit up the winery afterwards, which is always a good way to spend your day off, and tasted some delicious wines.  This is actually my favorite winery, because back in 2012 when they first opened, they had a Facebook giveaway for a case of wine and I happened to win it!  I was super excited.  But not only are their wines delicious, the people who work there are really nice, and you can even walk through the vineyard and get a look at the wine grapes!  It is a very relaxing place to be!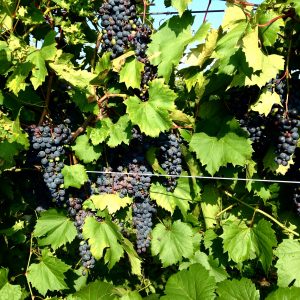 All that hiking and wine had me and Eric hungry, so luckily I had dinner and some fabulous dessert all ready when we got home.  That fabulous dessert I am talking about was a vegan blueberry cream cheese galette.  I was craving blueberry pie, but to be honest I didn't feel like making a fussy pie so I went for a rustic galette instead.  Funny because when I had the idea to make it in my head my Mom asked me, "When are you going to make one of those rustic pies again?"  And suggested that I share when I did.  There was plenty to go around and share and I ended up sharing with several family members since even after Eric and I had big pieces there was more left because this recipe makes two.  I made the crusts for these a little different than my usual, using organic whole wheat pastry flour with pecan meal to make it extra delicious and rich.  Instead of using just coconut oil for the fat in the crust, I used mostly pecan butter and a little coconut oil as an experiment to see how it turned out.  The result was a flaky, buttery and delicious crust!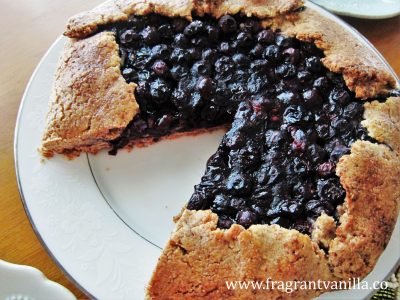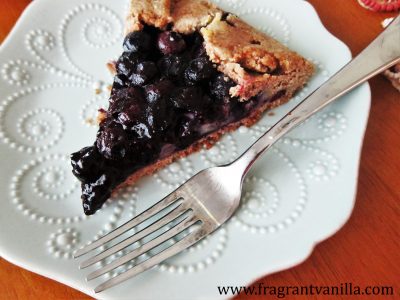 For the cream cheese filling I used a mixture of coconut milk and cashews  which makes the best substitute as far as I am concerned in vegan baked goods.  It is crave worthy when baked into things and this was no exception.  I kept the blueberry part of this galette simple to allow the blueberries to shine.  Once all baked up, it smelled amazing.  It was even more delicious than it smelled too!  You would never know this was vegan by tasting it, and I got a thumbs up from everyone who tried it.  If you have some fresh blueberries on hand, you know what to make!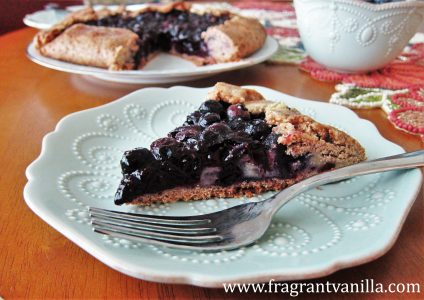 Vegan Blueberry Cream Cheese Galettes
2 galettes
Ingredients:
Crust:
1 cup pecan meal**
1/4 cup coconut sugar
1 tsp sea salt
1/4 cup coconut oil, in its solid form
1/2 cup raw pecan butter***
3-4 Tbsp filtered water or as needed
Cream Cheese:
1/2 cup full fat coconut milk
1/2 cup raw cashew butter
2 Tbsp maple syrup
1/4 tsp sea salt
1/2 tsp cider vinegar
Filling:
2 cups fresh organic blueberries
1/3 cup coconut sugar
1 Tbsp pure vanilla extract
juice of one small lemon
a pinch of sea salt
coconut sugar, for topping
Directions:
To make the crust, in a large bowl, mix together flour, meal, sugar, and sea salt.  Cut in coconut oil and pecan butter with a pastry blender or 2 knives until it is in pea sized pieces.  Mix in just enough water to create a smooth dough that holds together but isn't too sticky.  Add a touch more water if needed, and knead slightly until a smooth dough is created.  Divide into 2 pieces and shape into rounds (if it is too soft, refrigerate for about 15 minutes to firm it up slightly.  You want it pliable, but not super soft or it will be hard to shape).
Roll each out into a 14 inch round using parchment underneath and floured rolling pin.  If it tears, no worries, just press it back together and patch it up. Using the parchment to move it, place on a sheet pan.
To make the cream cheese, whisk together all ingredients until smooth.  Set aside.
Preheat oven to 400F degrees.  To make filling, mix together all ingredients in a large bowl.
Spread the cream cheese over the crust leaving a 1 1/2 inch boarder.  Spread the blueberries over the cream cheese, then carefully fold up edges to cover the edge of the fruit. Brush sprinkle with a little coconut sugar.  Place in the oven.  Bake for 45 minutes (checking after 20 and if they are very brown, if they are tent with foil) until bubbling and fruit is tender.  Remove from oven and let cool on a wire rack for at least an hour.
**To make pecan meal, place 1 cup pecans in the blender and buzz until fine like flour. Almond flour may also be used in this recipe.
***If you do not wish to use pecan butter, 1/2 cup coconut oil may be used instead (along with the 1/4 cup already in the recipe).
(Visited 155 times, 1 visits today)