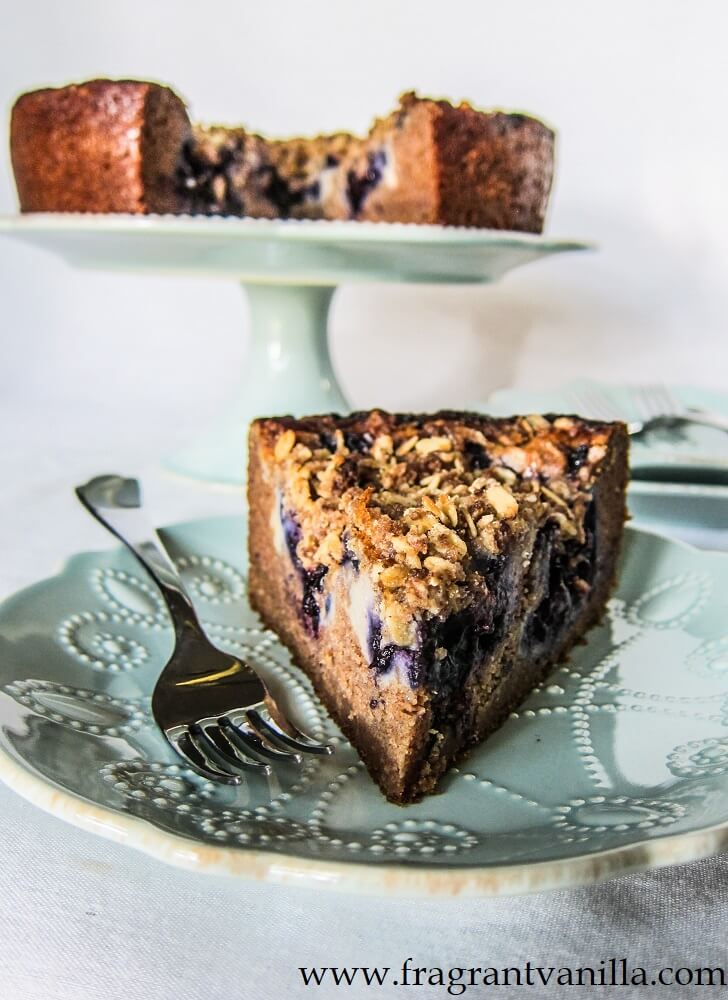 Vegan Blueberry Cream Cheese Coffeecake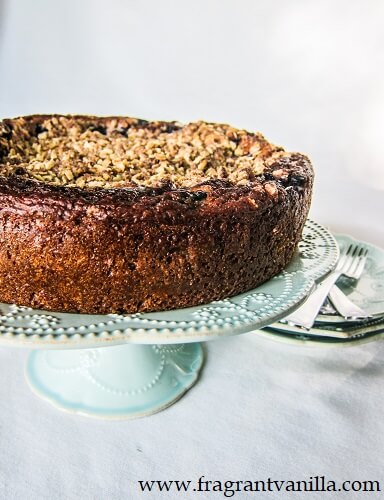 The Minnesota State Fair has been going on the past few weeks, and it seems like everyone in the state is headed out there.  I know most people go there to eat food, but in the past, I have mostly gone to look at stuff.  I love looking at the giant prize winning vegetables and the blue ribbon baked goods.  I have always said to myself  in the past, I should enter something sometime, but of course I never get around to it because I have a whole lot of stuff going on this time of the year usually. I do however gain inspiration sometimes from those baked goods and say to myself, I need to veganize that!  I did not go to the fair this year, but I did make something last weekend that was blue ribbon worthy as far as I am concerned.  The most amazing vegan coffeecake with cream cheese, blueberries, and a streusel topping.  It's funny, I almost didn't even make it.  I knew I wanted cake, but not something that had to be cooled a long time and frosted meticulously.  I thought about making blueberry upside down cake, but then I thought to myself, not enough texture.  I then decided on a blueberry coffeecake.  I am a sucker for a streusel layer on top of a delicious cake.  Then I thought...it would be even better with vegan cream cheese.
All of my favorite things in one cake!  Yes, there were a few steps to making this, but it was so worth it.  The cake batter part is actually sweetened with dates so it stays nice and moist and has an almost caramel flavor as if you had used brown sugar.  Which was always my go-to sugar in coffeecake before I gave up refined sugars. I made a delicious vegan "cream cheese" from a mixture of cashew butter and coconut milk and it was delicious, even before I added it to the cake!  I had some flavorful fresh blueberries and I knew they would be amazing once baked and all jammy and delicious.  I topped it off lastly with a crunchy oat streusel.  It all smelled amazing while baking and I could not wait to try it!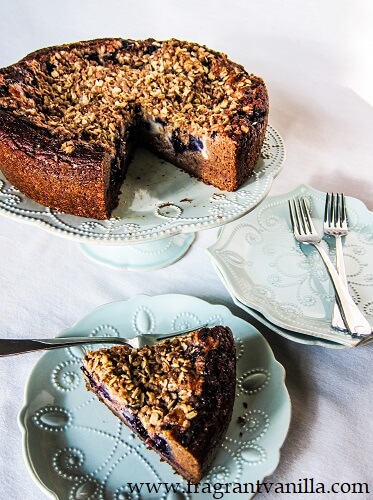 I had to cut myself a large piece because it looked amazing and this is one of my favorite things.  It has it all, crunchy topping, sweet moist cake, jammy blueberries and rich cream cheese.  I would be proud to serve this to anyone, vegan or not.  In fact I shared some with my Mom and she loved it, and Eric, who I gave a big hunk of the cake to, and it was gone in one day.  This is one of those comfort food type things that you have a piece, but then cut a second because it was that good.  If you have some blueberries on hand, this is a must make!  This is the perfect lazy Saturday project, because nothing is better than fresh warm cake on a cool weekend morning. I have a feeling it will get cool here really soon because Fall is coming!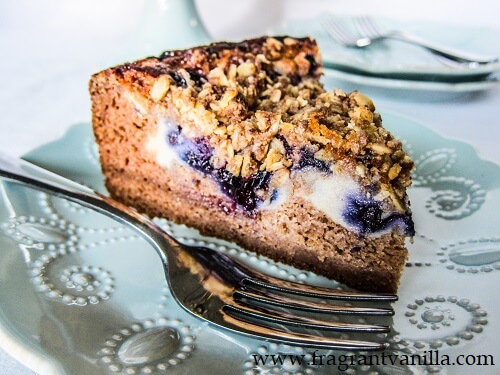 Vegan Blueberry Cream Cheese Coffeecake
Makes 1 9 inch round cake
Streusel:
1/2 cup gluten free rolled oats
1/4 cup coconut sugar
1/4 cup all purpose gluten free flour
1/8 tsp sea salt
3 Tbsp pecan butter or almond butter
Cream Cheese:
3/4 cup raw cashew butter
1/3 cup coconut milk
2 Tbsp  maple syrup
pinch sea salt
1 tsp pure vanilla extract
Cake:
1 1/2 cups all purpose gluten free flour
1 1/2 tsp baking soda
1 tsp baking powder
1/2 tsp sea salt
1 cup packed soft medjool dates, pitted, soaked in water for 30 minutes and 1/2 cup of the water reserved
1/4 cup pecan butter or almond butter
1 Tbsp pure vanilla extract
1 cup filtered water
2 Tbsp apple cider vinegar
1 3/4 cups fresh organic blueberries
Instructions:
For the streusel, combine all ingredients in a bowl, and mix and squeeze together with your hands until it forms little clumps.  Set aside.
For the cream cheese, combine all ingredients in a high speed blender until smooth (if it seems too thick, add a little more water.  You want to be able to pour and spread it over the bottom layer of cake).  Set aside.
Preheat the oven to 375F degrees and position rack in center of oven. Line a 9 inch round cake pan with 3-inch-high sides with parchment paper. Coat parchment paper and pan sides lightly with oil so that the cake doesn't stick to the pan.
Whisk flour, baking powder, baking soda, and sea salt, in a large bowl to blend well. Place dates, reserved water, oil, water, and vanilla extract into a blender, and blend until smooth, then whisk this blended mixture into the flour mixture until well blended. Whisk in the cider vinegar until bubbles form.
Pour the cake batter to the prepared pan then pour cream cheese mixture over that (kind of pouring slowly and not just in one spot so it evenly distributes).  Scatter the blueberries over that, then sprinkle the streusel over the top.
Place in the oven and bake cake until tester inserted into center comes out clean, about 1 hour. Cool cake completely in pan before un-molding and serving.
(Visited 1,661 times, 1 visits today)