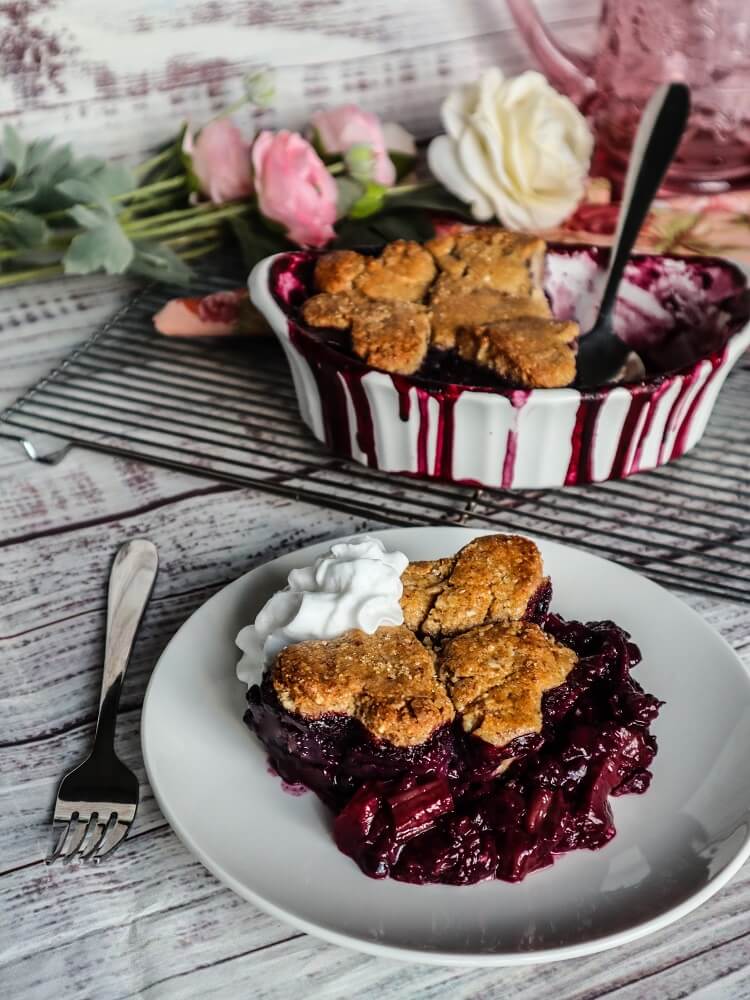 Vegan Blueberry Rhubarb Cobbler with Vanilla Almond Biscuits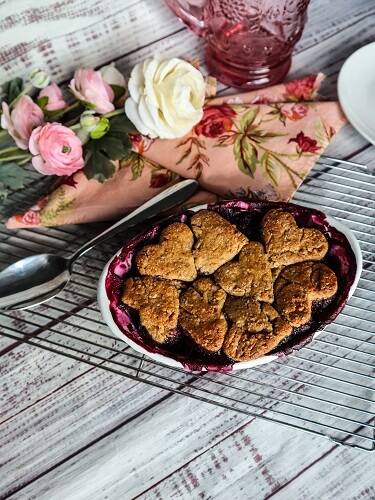 Official summer may just be in a few days, but I am still enjoying the spring rhubarb!  The rhubarb plant in my Dad's garden is still pretty large and I wouldn't want all of that delicious rhubarb to go to waste!  So, I decided to make a Vegan Blueberry Cobbler with Vanilla Almond Biscuits last weekend!  Cobbler is hands down my favorite fruit dessert!  There is nothing like that gooey jammy fruit tender biscuits and some cool whipped cream or vegan ice cream on top!  The combination of textures is so heavenly!  I haven't made one for a while, but I figured I would combine summer fruit (the blueberries) with the spring rhubarb for a delicious combination.  Strawberries and rhubarb get all the attention but I really love any sweet fruit with it to balance out the tartness.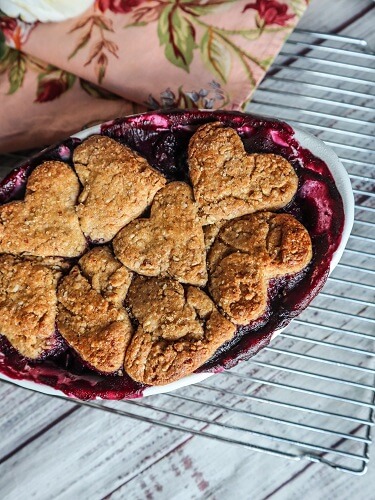 This cobbler really doesn't need all that much sweetener though if you use a sweet berry like blueberries.  I only used 2 Tbsp sugar in the filling!  I kept it simple flavor wise adding just a bit of vanilla.  I thicken it with some flour and it comes out the perfect consistency!  When I make my cobblers, I bake off the filling first, then add the biscuits later.  That way they do not get soggy, and they cook just enough during the last part of baking so that they are crispy on the outside and tender in the middle!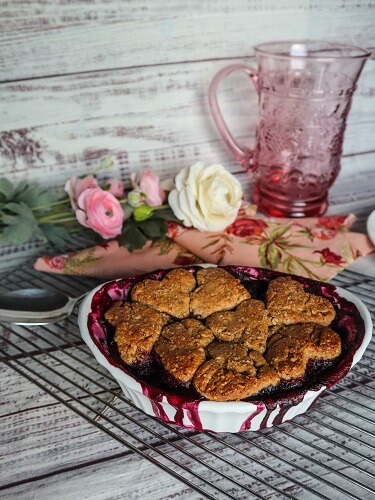 For my biscuits I use my scone dough modified, and this time I added a bit of almond meal for richness and flavor and it was so delicious!  I also flavored these with vanilla as well.  The thing about these versus scones though is that they are a little more forgiving if you over-mix them slightly, which can happen if you are cutting out shapes and pressing the scraps back together and re-cutting.  I cut little hearts out of mine, I think that is my favorite cobbler biscuit shape! But sometimes I am lazy and just cut triangles.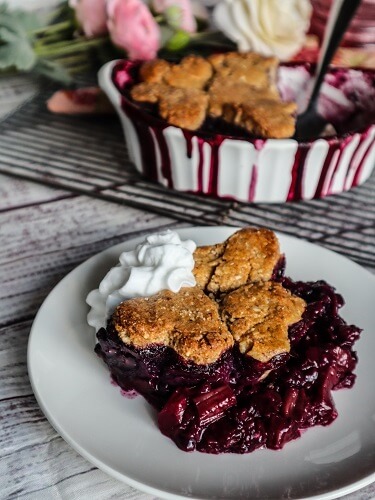 This cobbler baked up beautifully!  I was super excited to try it, but I had to let it cool a little first. Not too long though, because it has to be warm!  I served it with some coconut whipped cream because that is what I had on hand but it is amazing with ice cream as well!  It was so heavenly, the jammy sweet blueberries and tart rhubarb, tender biscuits, and cool cream!  If you would like to make some for yourself, check out the recipe and give this Vegan Blueberry Cobbler with Vanilla Almond Biscuits a try! Check out the Instagram Reel for this recipe on
my Instagram
!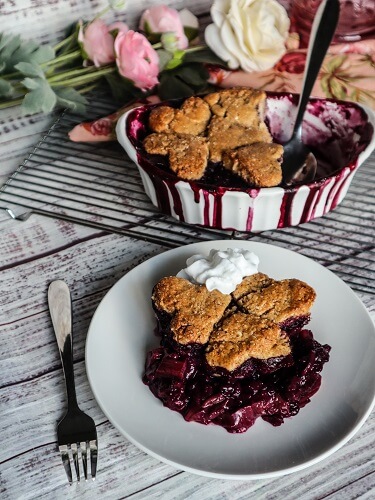 Vegan Blueberry Rhubarb Cobbler with Vanilla Almond Biscuits
Serves 4
Fruit:
1 1/2 cups fresh organic blueberries (or frozen, thawed and drained)
1 1/2 cups fresh organic rhubarb
2 Tbsp maple sugar or brown sugar
2 Tbsp organic whole wheat pastry flour
1 tsp pure vanilla extract
biscuit topping:
3/4 cup organic whole wheat pastry flour
1/2 cup almond meal
2 Tbsp maple sugar or brown sugar
1/2 tsp plus 1/8 tsp baking powder
1/8 tsp sea salt
2 Tbsp solid coconut oil, cut into chunks
1/4 cup cold full fat coconut milk (chilled in the fridge is best), mixed well
1 tsp pure vanilla extract
Turbinado sugar for topping (optional)
6 inch wide ovenproof bowl or pie plate
Instructions:
Preheat oven to 400F degrees with the rack at the center position. Place a baking sheet lined with foil on the rack. Oil a 6 inch wide pie plate or bowl with coconut oil. In a large bowl, toss together the fruit, sugar, vanilla, flour. Spoon into prepared bowl or pie plate, and cover with foil. Place plate on baking sheet and bake for 45 minutes until fruit is cooked through and bubbling.
Meanwhile, when the fruit in the oven is almost at 45 min, to make biscuits, in a large bowl, combine the flour, almond meal, sugar, baking powder, and salt. Cut in the oil with your hands or a pastry blender or 2 knives until the mixture starts to clump into pea sized pieces (I like to use my hands because I can feel when it is properly blended). In a small bowl, stir the vanilla extract into the coconut milk. Add the milk to the dough, and stir a few times. The dough should hold together when squeezed, but still be clumpy. Place dough on a floured work surface, and pat into a 1/2 inch tall rectangle.
Remove baking fruit from oven. Cut small shapes out of the dough using a cookie cutter (or free form it), and place on top of the cobbler. You can re-press together scraps if you have some left over and re-cut them also to use them all up. When all biscuits are on top of cobbler, sprinkle with turbinado sugar and return to the oven.
Bake for about 20 minutes until biscuits are cooked through and lightly brown and toasted on top (keep a close eye on they could burn very quickly). Remove from oven and let cool until warm, and top with some ice cream or coconut vanilla whipped cream and...enjoy!
(Visited 320 times, 1 visits today)