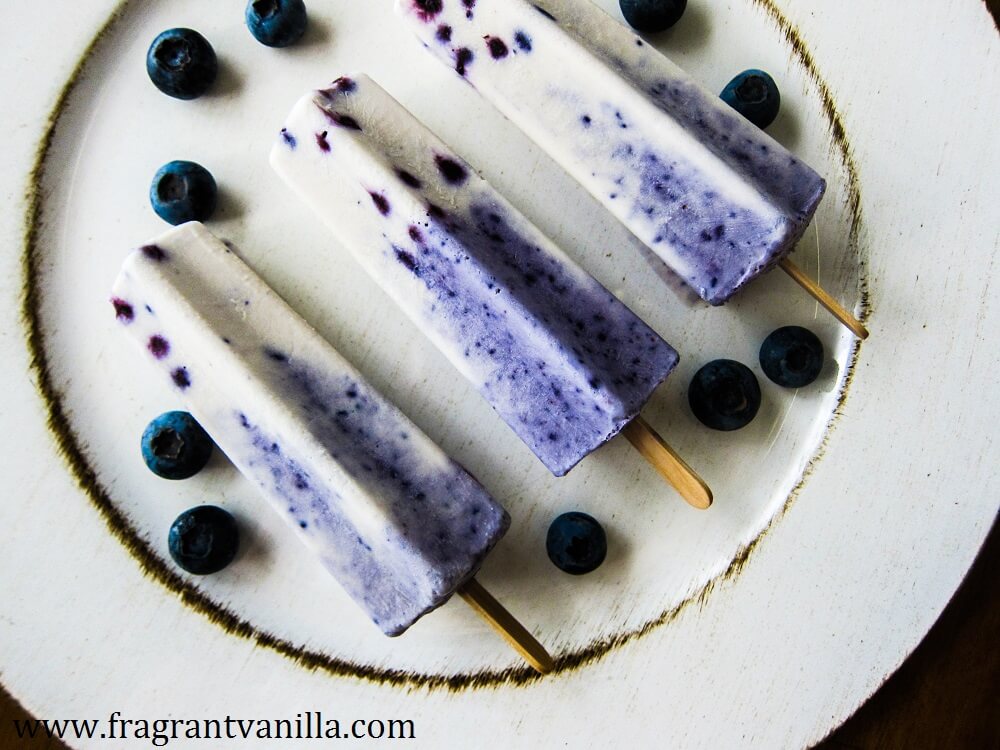 Vegan Blueberry Cheesecake Popsicles
I have been waiting months to make popsicles, and now that Summer is officially here, it is time to make them!  I made some strawberry lemonade ones last week, but this week I wanted something a bit more decadent.  More like sort of an ice cream pop than actual ice.  Although fudge pops are always good, I wanted something more along the lines of vanilla.  I had blueberries on hand, and was in a cheesecake sort of a mood, so blueberry popsicles it was!  There was this little ice cream shop up north that My Dad and I always used to stop at when we went on trips, and they had about 20 delicious flavors of ice cream, all of which I wanted to try.  I usually ended up with 2 different scoops, but after I tried their blueberry cheesecake ice cream, that was all I wanted.  It was so good!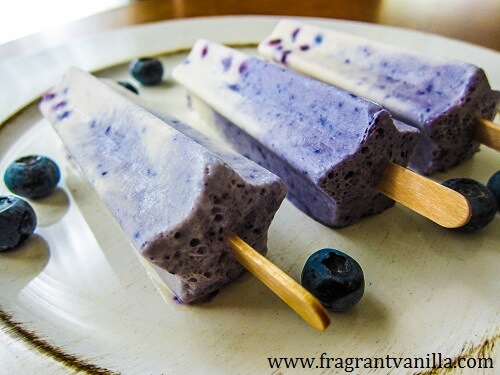 So, I knew these popsicles were going to be good, and better for me since they wouldn't have any refined sugar or dairy in them. For the base, I kept it pretty simple and used a mixture of coconut milk and cashew butter to make it silky smooth with the flavor of cheesecake.  This is actually one of my favorite ice cream bases as well.  I sweetened it with maple syrup added a dash of vanilla and it was wonderful!  Lastly, I added the blueberries to half of it so that these would be pretty two tone popsicles.  They are actually only 7 ingredients including salt, so pretty easy to make.
It was hard to wait to sample them, but since it was night when I made them I had to let them sit overnight to firm up.  They were well worth the wait though!  They tasted just like frozen cheesecake, the blueberries the perfect Summer addition to the rich base, bringing me back to my childhood with that delicious ice cream up North.  If you have a popsicle mold you need to try these babies out soon!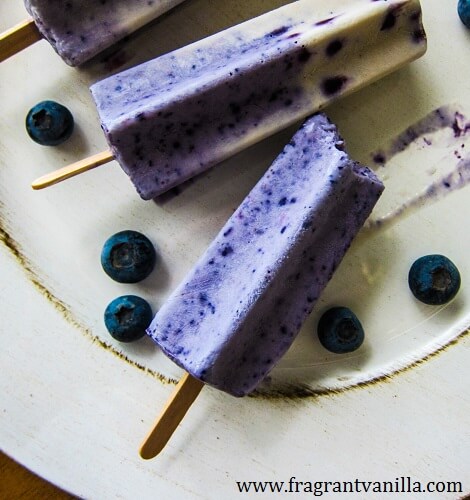 Vegan Blueberry Cheesecake Popsicles
Makes 8
Ingredients:
2 cups full fat coconut milk
1/2 cup raw cashew butter
1/4 cup maple syrup
1 tsp pure vanilla extract
pinch sea salt
1/2 tsp cider vinegar
1 cup organic blueberries, divided
Instructions:
Combine the full fat coconut milk, cashew butter, syrup, vanilla, sea salt, and cider vinegar in a blender and blend until smooth.
Drop a few blueberries into the bottoms of 8 popsicle molds, then pour half of the coconut mixture over that.
Blend the remaining coconut mixture with the remaining blueberries, then pour over the other coconut mixture in the molds.
Place sticks into the molds, leaving about 1 inch at the top, then place in the freezer until completely hard, about 4-6 hours (or overnight).
(Visited 1,015 times, 1 visits today)