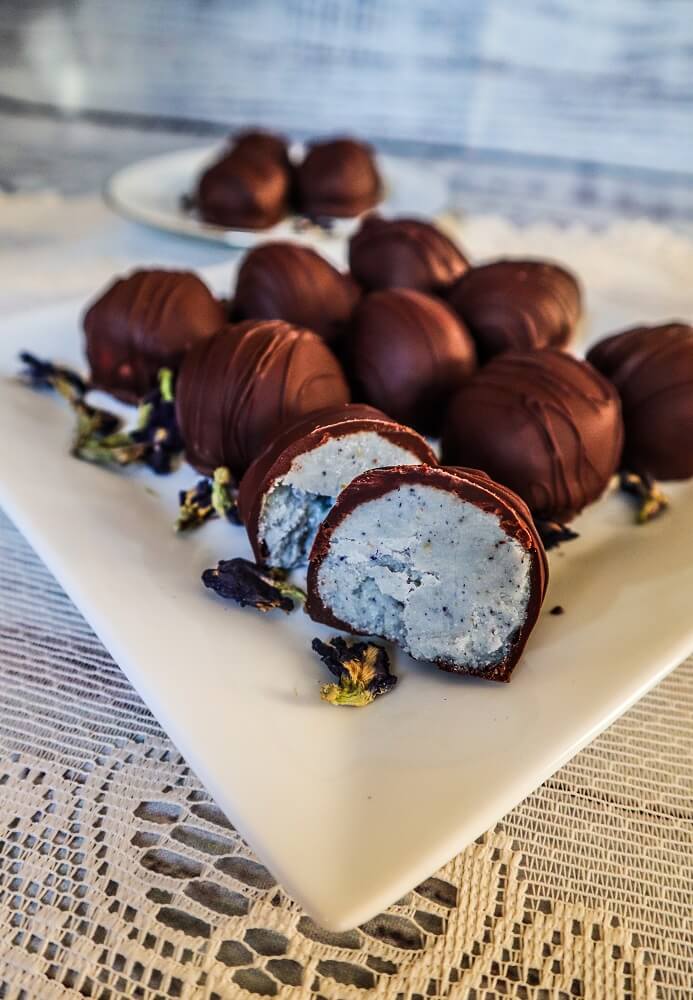 Vegan Blue Moon Truffles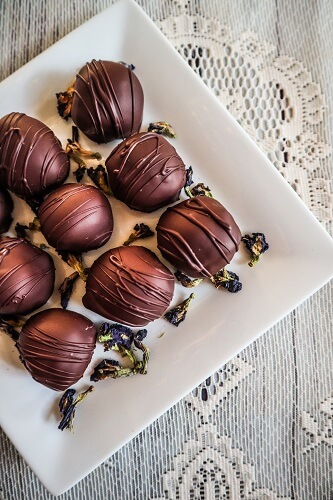 When I was little, my Dad and I would go on a trip up to northern Minnesota every year, and the town we would stay in had this awesome little ice cream shop.  They had the most delicious ice cream I had ever had up to that point in life.  Flavors like blueberry cheesecake, rocky road and blue moon.  The blue moon was something that I had not heard of before visiting there.  It was delicious, with almost an almond extract like flavor.  It had been years since I had enjoyed it then a local ice cream shop called Minnesota Nice Cream had it this past summer in a vegan soft serve version and it was amazing too (I go to that place often in the warmer months).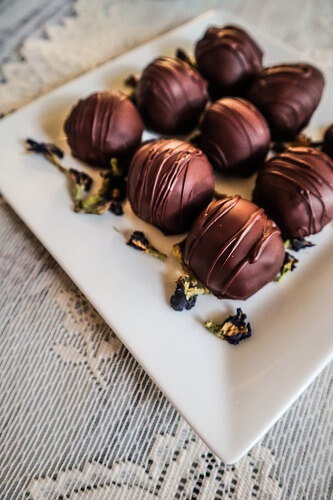 I can definitely say I am a fan of blue moon.  Plus it is pretty to look at, that sky blue hue, and sweet fragrant flavor what's not to love?  Unless you hate almond flavor, then maybe it isn't for you, but my Mom and Grandma loved putting it in things so I grew up loving it. I have only ever had blue moon ice cream though, nothing else blue moon flavored, so I got to thinking there should be some more blue moon in the world.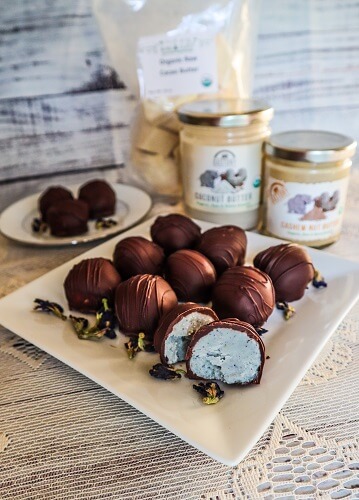 So this week, I decided to make some blue moon truffles. I figured make a white chocolate truffle base and give them the same flavor as the ice cream. For the base, I used Raw Guru cacao butter as the base because it is essential to real white chocolate. That is why I don't like a lot of store bought white chocolate because they use cheaper substitutes like palm oil or something (plus some aren't always vegan of course).  But mine has to have the real stuff. I also added in some Dastony coconut butter and raw cashew butter to make it extra creamy and melt in your mouth.  I sweetened it with a bit of maple syrup, and added in the almond and vanilla extracts to give it that classic flavor.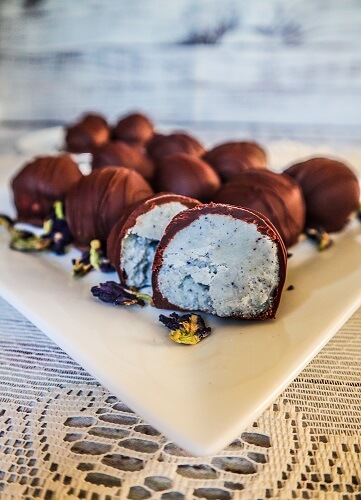 To make it that beautiful blue color, I used butterfly pea flower powder.  I have the flowers on hand for making a lovely tea, but they work great when ground up to color things too. I bought them on Amazon.  The filling was super delicious, and I dipped it in melted dark chocolate.  The truffles were heavenly!  They tasted like the ice cream but with white chocolate on the inside, and it paired so well with the dark chocolate!  If you are in the mood for something sweet, definitely give these a try!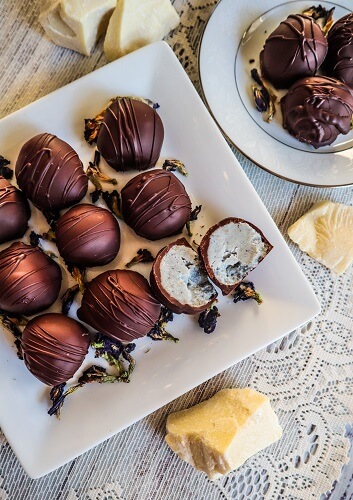 Vegan Blue Moon Truffles
Makes 16
Ingredients:
Filling:
Dark Chocolate:
2 cups chopped vegan dark chocolate or vegan dark chocolate chips
Directions:
Combine all of the filling ingredients in a bowl, and whisk until smooth.
Place in the freezer for about 15-20 minutes until it is firm enough to scoop. Scoop into 14 balls, rolling them with your hands.   Place on a parchment lined tray, and place back into the freezer until firm, about 30 minutes.
Meanwhile,  melt the dark chocolate in a double boiler until smooth.
Once the filling has firmed up, dip each chocolate into the dark chocolate, being sure to let the excess drain off, and place back onto the tray (I like to set mine on a fork to allow it to drain better). Once they are all dipped, set them in the freezer until hardened.
Store any leftover truffles in the refrigerator.
(Visited 1,208 times, 1 visits today)