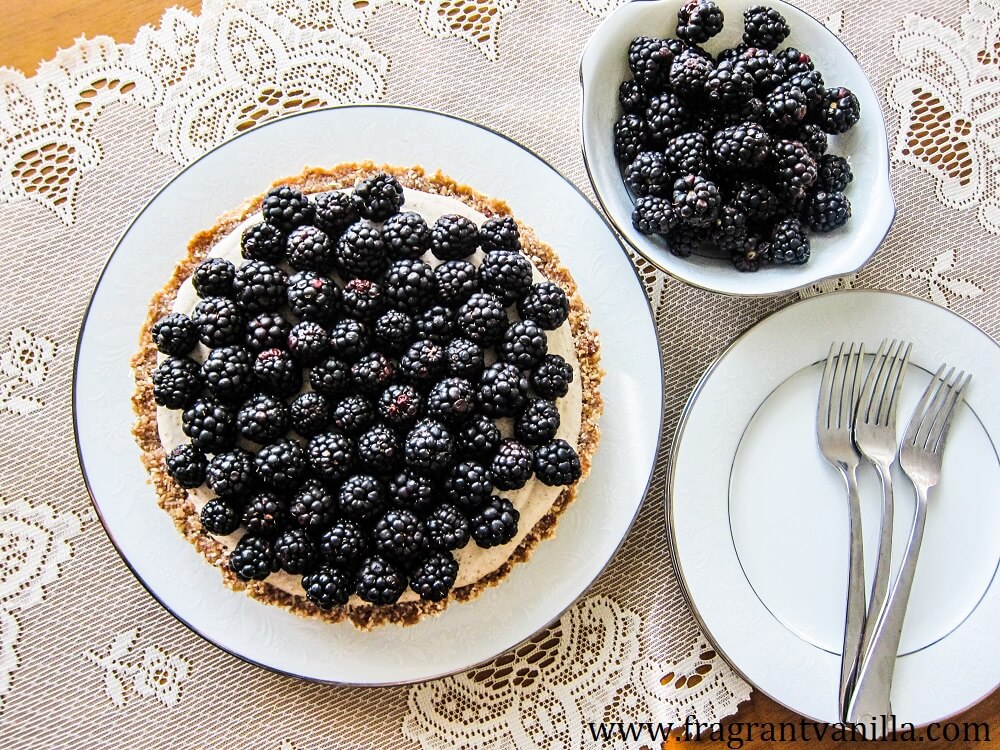 Vegan Blackberry Vanilla Cream Tart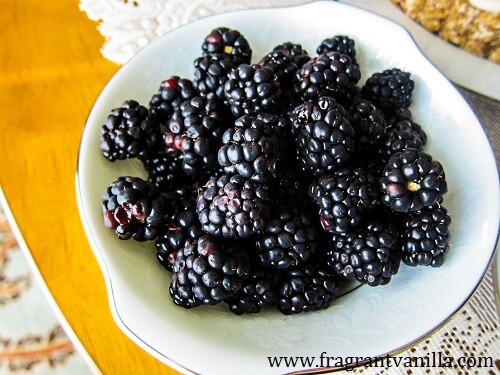 My Mom used to make these amazing fruit tarts with a cream cheese filling and fresh fruit topping, usually berries in the Summer.  They were so delicious!  I think that was one of my favorite desserts growing up, and I would never turn one down.  Not that I ever turned down a dessert.  But berries and vanilla cream are my favorite. My Mom was always good at making desserts.  She asked me recently if I have ever made a veganized version of those fruit tarts, and I haven't so I decided that I needed to make one for Mother's Day weekend.  Because she loved them as well, and I thought it would be the perfect thing to share.
She usually used raspberries on hers, or a mix of fruit, but I went for the blackberries because they were on sale for a good price and they looked beautiful!  I knew they would be perfect to top off the tart.  For the filling, I made a vanilla cheesecake cream with a mixture of coconut milk and cashew butter and it was luscious.  Like, you could eat the whole bowl with a spoon if you weren't careful.  I decided to add a vanilla bean as well, since this was a special occasion.  I love little flecks of vanilla bean in my desserts!  I made a simple no bake coconut oat crust, because I didn't want to heat up the oven and it was delicious.   Plus, my Mom and I both have a love for oats in recipes.
Once it was all assembled, it was simply heavenly!  The perfect Mother's Day dessert, and since Summer is coming, it is the season to make it!  No oven required is a plus, and it is pretty easy to make.  My Mom loved it as well, which is what really mattered this time.  I hope you all had a wonderful Mother's Day!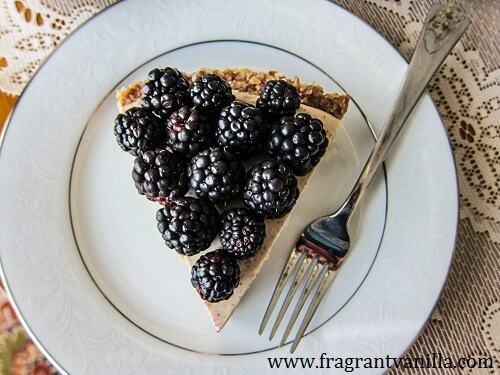 Vegan Blackberry Vanilla Cream Tart 
Makes one 8 inch tart
1 8 inch removable bottom tart pan
Crust:
3/4 cup finely shredded dried coconut
3/4 cup gluten free organic rolled oats
2 Tbsp organic almond butter
1 cup soft pitted medjool dates (if they are not soft, soak them 30 minutes and drain well before using)
1/4 tsp sea salt
filtered water as needed
Filling:
1 1 15 oz can full fat organic coconut milk
1/2 cup raw cashew butter
1/3 cup maple syrup
seeds of one vanilla bean, or 2 tsp pure vanilla extract
3/4 cup coconut butter (NOT oil), warmed to liquid
For assembly:
2 cups fresh blackberries
Instructions:
For the crust, combine all ingredients in the food processor until finely chopped and starting to hold together when squeezed (if it doesn't you may need to add a little filtered water 1 Tbsp at a time).
Press the mixture into a 8 inch removable bottom tart pan greased with coconut oil.
For the filling, combine all ingredients in a high speed blender until smooth.
Pour the filling over the crust and spread evenly.
Place in the refrigerator to chill for about 30 minutes, then top with the fresh blackberries and place back in the refrigerator to firm up completely (about 2-3 hours depending on how warm it has gotten).  This works if you let it sit overnight in the refrigerator as well, just be sure to cover it so it doesn't dry out.
Enjoy!
Tart keeps refrigerated for 1 week in a container.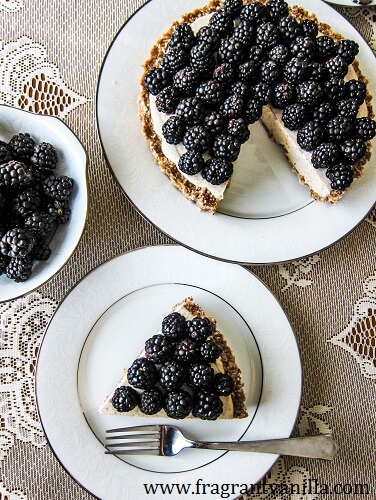 (Visited 238 times, 1 visits today)