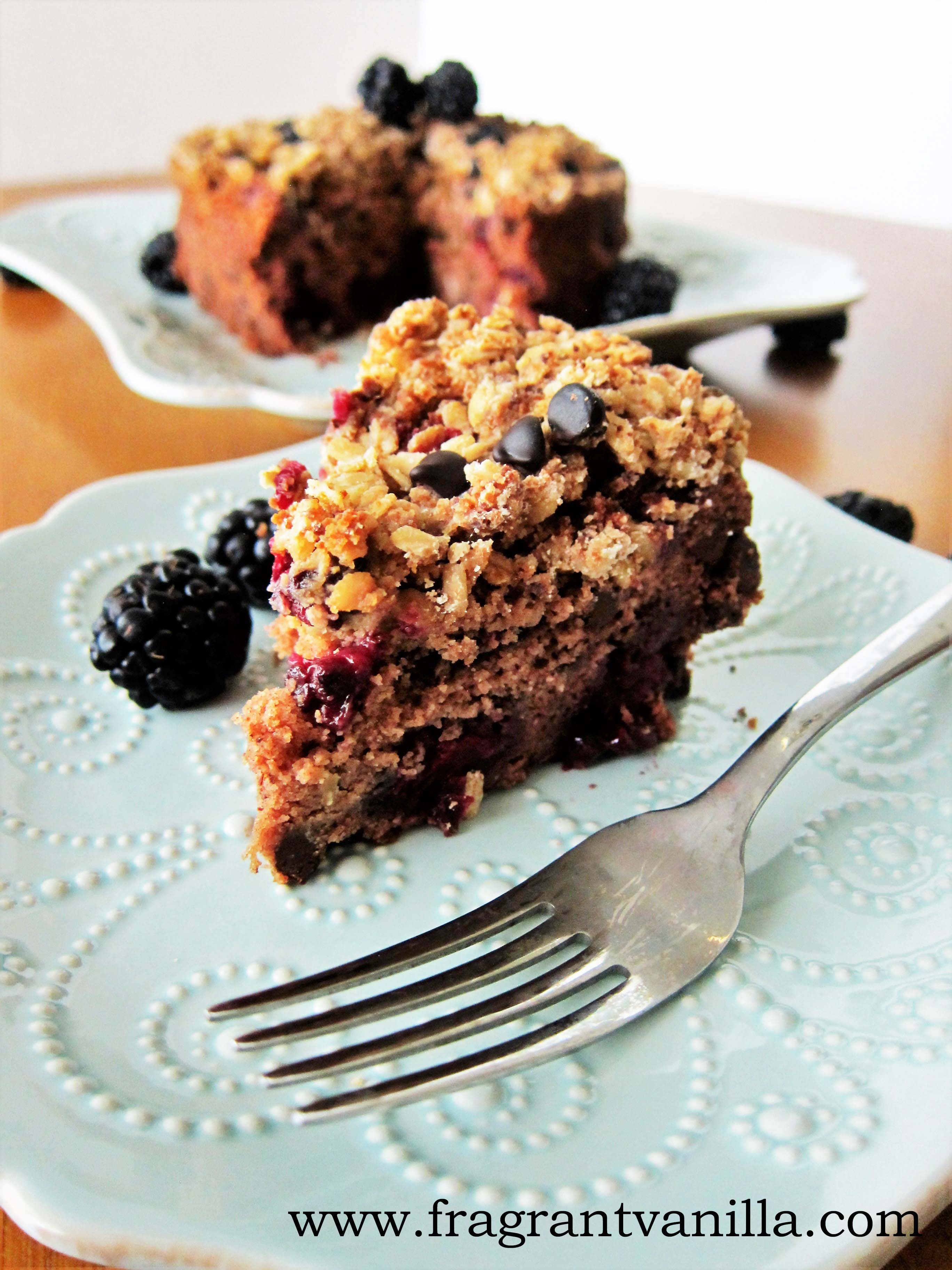 Vegan Blackberry Chocolate Chip Coffeecake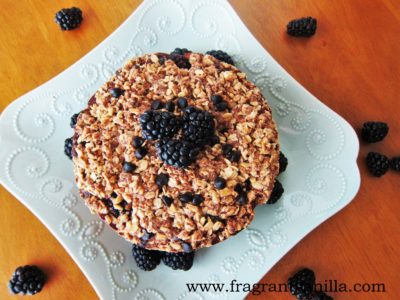 I wanted cake last weekend, but I did not want to have to make one that I had to frost.  I wanted it to be bake and bam!  It was done, and once cooled enough, ready to enjoy.  I knew it was going to be a busy day and I didn't have a lot of time.  So, I decided on coffeecake.  Everyone in my family loves coffeecake, something about the delicious streusel topping, which always has to have oats included.  That is how my Mom always made it.  And, that is how I like it best.  They add a nice texture without always having to use nuts.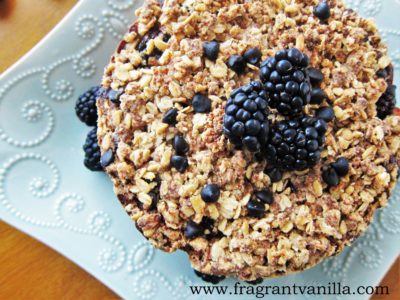 I had blackberries on hand, and I wanted to include chocolate, so blackberry chocolate chip it was.  The batter was sooo good.  I always lick the bowl, part of the perks of being the baker.  It smelled amazing as it baked as well.  The aroma of cakes baking always makes me happy.  Unfortunately I accidentally burned my hand when trying to remove it from the oven, but it was worth it for this delicious cake.  Part of being a cook and a baker, it seems to go in pairs.  I burn myself accidentally at work, then it happens again soon after.  Sometimes I have to just laugh at myself.
The cake was everything I had hoped for.  It was studded with jammy blackberries, and melty rich chocolate chips (I did not cool it as long as advised because I was so anxious to try it).  Sooo good!  I got good reviews from family members as well.  This cake is really simple to make, and perfect for something to enjoy on a Saturday morning when you want something really good that doesn't require a lot of hands on time.  I always make time for making baking, it is my happy time.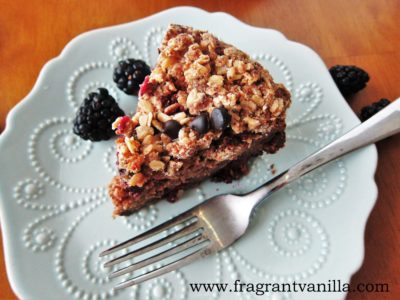 Vegan Blackberry Chocolate Chip Coffeecake
Makes one 8 inch round cake
Streusel:
1/2 cup gluten free oats
1/4 cup coconut sugar
1/4 cup all purpose gluten free flour
1/8 tsp sea salt
3 Tbsp virgin coconut oil
Cake:
3/4 cup all purpose gluten free flour
1/2 cup coconut sugar
3/4 tsp baking soda
1/2 tsp baking powder
1/4 tsp sea salt
1/2 cup applesauce
2 Tbsp coconut oil, warmed to liquid
1 tsp pure vanilla extract
3 Tbsp filtered water at room temperature
1 Tbsp apple cider vinegar
1/2 cup chocolate chips
1 cup cup blackberries
For the streusel, combine all ingredients in a bowl, and mix and squeeze together with your hands until it forms small clumps. Set aside.
Preheat oven to 375F and position rack in center of oven. Line an 8x8 inch square cake pan with 2-inch-high sides with parchment paper. Coat pan sides lightly with coconut oil so that the cake doesn't stick. Whisk flour, baking soda, sea salt, and sugar in a large bowl to blend well. Whisk applesauce, coconut oil, water, and vanilla extract together in small bowl to blend well, then whisk into the flour mixture until well blended. Whisk in the cider vinegar until bubbles form. Stir in the blackberries and chocolate chips. Transfer the cake batter to prepared pan, then sprinkle the streusel over the top.
Place in oven and bake cake until tester inserted into center comes out clean, about 1 hour. Remove from oven and cool cake completely in pan before serving.
(Visited 100 times, 1 visits today)