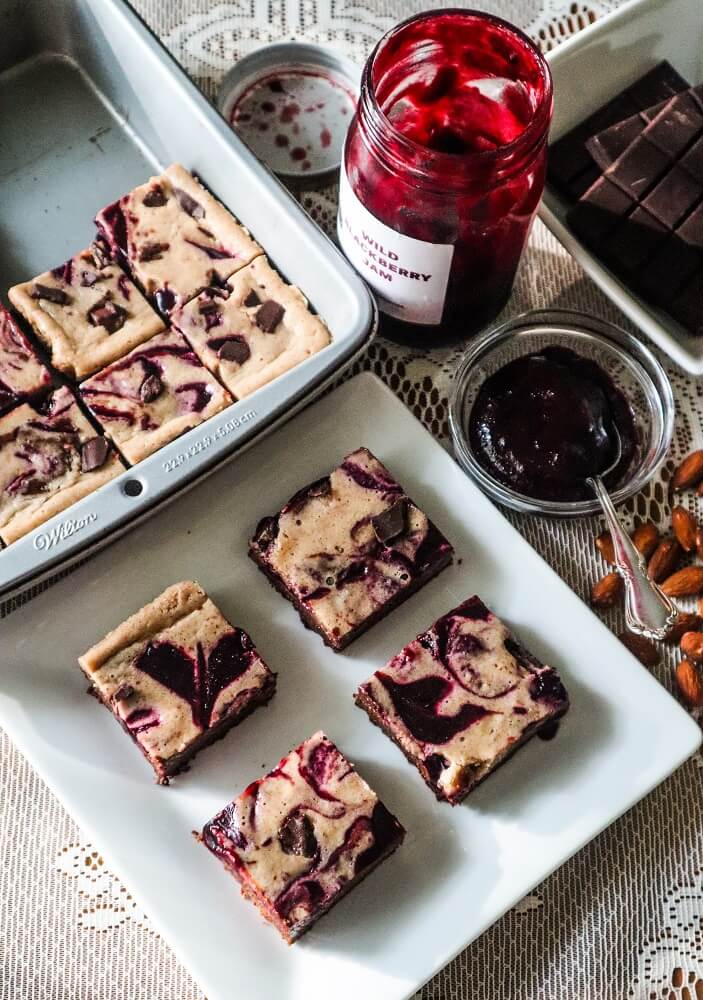 Vegan Blackberry Almond Cream Cheese Swirl Brownies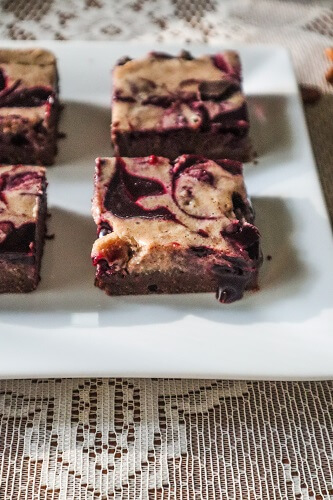 When we visited Eric's Dad last month, he gave us a bunch of his amazing jam.  It is seriously some of the best jam I have ever tasted, made from local fruit he picks in his town in Michigan, and from his own garden.  I love it plain or on toast, but it also inspired me to make some delicious desserts, one of which was these brownies. I was in a brownie making mood, and I couldn't help but think the blackberry jam would be amazing swirled into chocolate.  So I made some!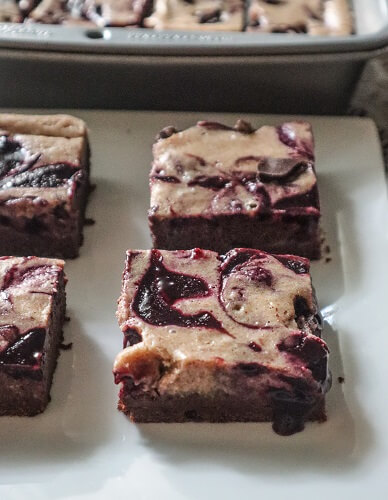 I couldn't just stop there though, I wanted these to be over the top delicious so I decided to add a vegan cream cheese element as well and make them cheesecake swirled.  Because why not?  When it comes to brownies, the more decadent the better, right?!  I used one of my brownie recipes with applesauce in the base to keep them nice and fudgy.  They do still contain a little bit of oil, but if you wanted them oil free, you could replace it with nut butter, such as almond butter which is already in another part of this recipe. I just find that the texture is slightly different that way though, so I prefer a little oil in mine.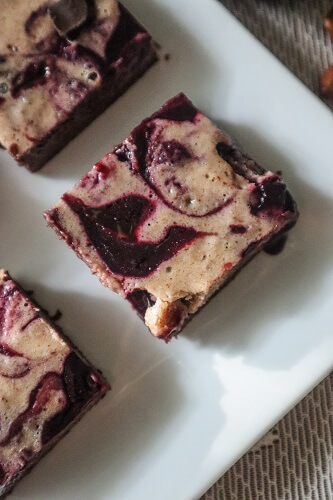 For the cheesecake, I used a mixture of coconut cream and almond butter to make it nice and rich as well as give it that almond flavor I was going for.  It was heavenly before I even added it to the brownies!  If it seems a little runny before you bake it, no worries, it will firm up when baked!  It was so pretty with that purple blackberry swirl!  These smelled amazing while baking! I love the aroma of brownies, it has to be one of the happiest smells on Earth!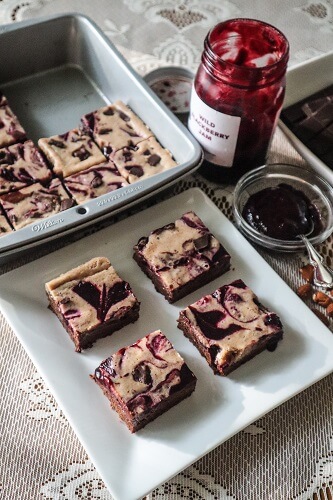 They turned out lovely, but I had to wait until the next day to try them because I made them in the evening. It was well worth the wait though, I had something to look forward to coming home from work the next day. They turned out sooo heavenly!  Rich and fudgy, with plenty of cheesecake and that gooey tart sweet blackberry jam!  If you are in the mood for something decadent and chocolaty, definitely give these a try!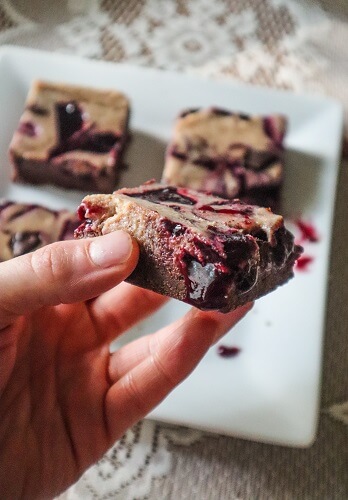 Vegan Blackberry Almond Cream Cheese Swirl Brownies 
Makes 16
Cheesecake swirl:
3/4 cup unsweetened coconut cream (from the top of a chilled can)
1/2 cup almond butter
2 Tbsp maple syrup
2 Tbsp cornstarch
1/8 tsp sea salt
1 tsp pure vanilla extract
Brownies:
1/4 cup avocado oil

1/2 cup apple sauce

1 cup coconut sugar 

2 Tbsp ground flax seed mixed with 1/4 cup plus 2 Tbsp filtered water

2 teaspoon vanilla extract

1 cup organic whole wheat pastry flour

1/2 cup cacao powder or unsweetened cocoa powder

1/4 teaspoon sea salt

1/2 cup blackberry jam
1/4 cup vegan dark chocolate chunks
Ingredients:
To make the swirl, combine all ingredients in a blender and blend until smooth.  Pour into a bowl and set aside.
To make the brownies, pre-heat the oven to 375F degrees. Whisk together the sugar, avocado oil and applesauce until well combined and the sugar is starting to break down.
Add the flax water mixture, and vanilla and beat until smooth.
Add the flour, cacao powder and sea salt and beat until smooth.
Scrape the batter into a greased 8x8 inch pan, then pour the swirl over it, then drop the jam by the tsp over that. Sprinkle with the chocolate chunks.
Place in the oven, and Bake for about 30 minutes or until set (but do not over bake).
Let cool completely before cutting into bars.
(Visited 939 times, 1 visits today)