Vegan Black Tahini Cookies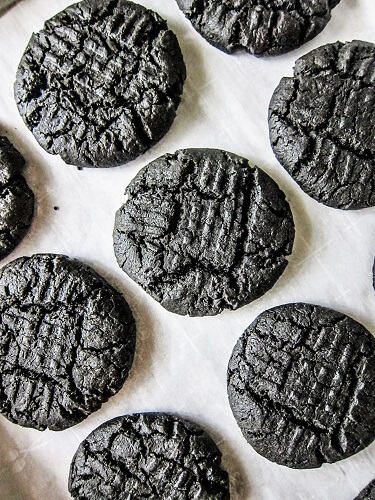 I love tahini. I love it in hummus, or for just drizzling on my salads, or eating with a spoon. What I really love it in though, is desserts! It may sound odd using it in a dessert, but halva is a dessert and it is delicious! It has a flavor similar to peanut butter when baked into things, so I love it in things like cookies. I had a jar of black tahini I bought on hand and I was excited to use it in something delicious! It is beautiful, a rich black color and has that classic tahini flavor. Their tahini is silky smooth too, unlike some that are kind of gritty. The first thing that came to mind to make with the black tahini was some Vegan Black Tahini Cookies. I have made regular tahini cookies before, and they were amazing and I thought the black tahini would be lovely in them!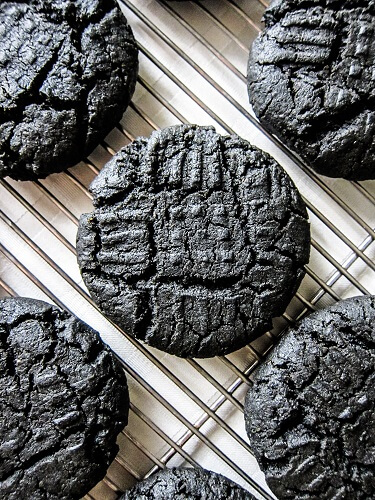 They are really easy to make too, you just mix together all of the ingredients, shape, then bake! No fussy chilling the dough and all that jazz. As much as I like to eat cookies that take a lot of time to make, I don't always feel like going through all that work to make them. These are just the opposite the dough is not fussy at all! The dough was also delicious. I should know, I snacked on enough of it. I have to say one of my favorite things about the cookie making process is eating the dough.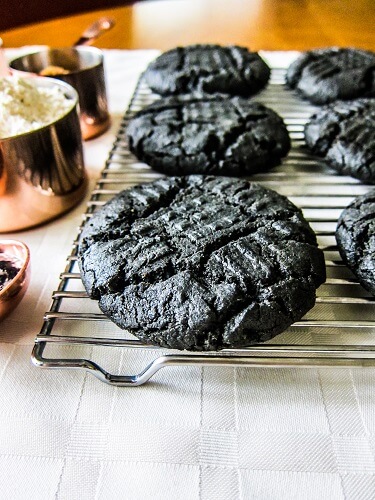 The dough almost looked like it had black cocoa in it. It was a lovely shiny black, and it shaped beautifully. I wasn't sure how the cookies would bake up, or if they would spread at all since it was a pretty humid warm day, but they baked up perfect! They puffed up just the right amount, and kept their shape nicely even when cooling. They smelled amazing as well. I have to admit I didn't wait until they cooled before trying the first one. I mean cookies cooling on a rack are hard to resist!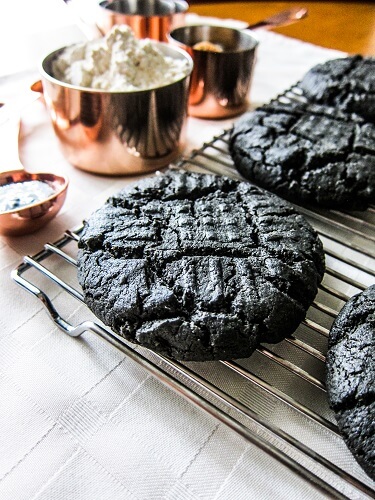 They were super delicious! Sweet, nutty, and soft but rich texture. Almost like peanut butter cookies but no nuts involved! I like to switch it up sometimes, because I eat so much peanut butter normally and tahini is delicious too, plus it is rich in nutrients. These cookies are prefect for those with a nut allergy as well! If you are looking to try something new and easy to make, give these a try! Also, if you like tahini, definitely try some black tahini! It is so pretty! If you are in the mood for some delicious cookies, definitely give these Vegan Black Tahini Cookies a try!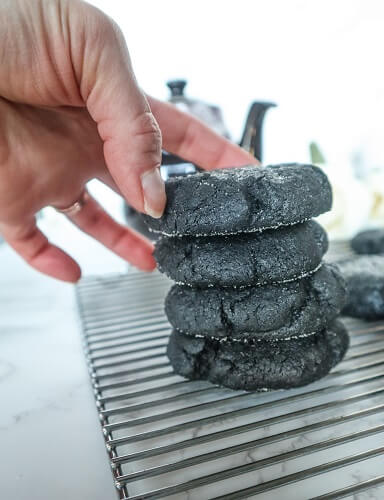 Vegan Black Tahini Cookies
Makes 12 cookies
Ingredients:
1 Tbsp ground flax seed
3 Tbsp filtered water
1 cup brown sugar (or maple sugar or coconut sugar)
1 cup black sesame tahini
¼ cup coconut oil, warmed to liquid
1 tsp pure vanilla extract
1 cup whole wheat pastry flour (AP flour will also work here)
¾ baking soda
½ tsp baking powder
½ tsp sea salt
Instructions:
In a small bowl, whisk together the flax seeds and water. Set aside for 15 minutes.
Preheat the oven to 350F degrees, and line a sheet pan with parchment.
In a large bowl, with a wooden spoon, mix together the sugar, tahini,
coconut oil, vanilla and the flax seed mixture until smooth.
Mix in the flour, baking soda, baking powder, and sea salt and stir until completely combined.
Shape the cookie dough into 12 balls, and spread out evenly on the pan. Flatten them slightly
with a fork, as you would for peanut butter cookies.
Place in the oven and bake for about 15 minutes until they are starting to brown slightly and are
just set.
When they are done baking, remove the pan from the oven and let cool on a rack.
Enjoy!
(Visited 4,837 times, 2 visits today)