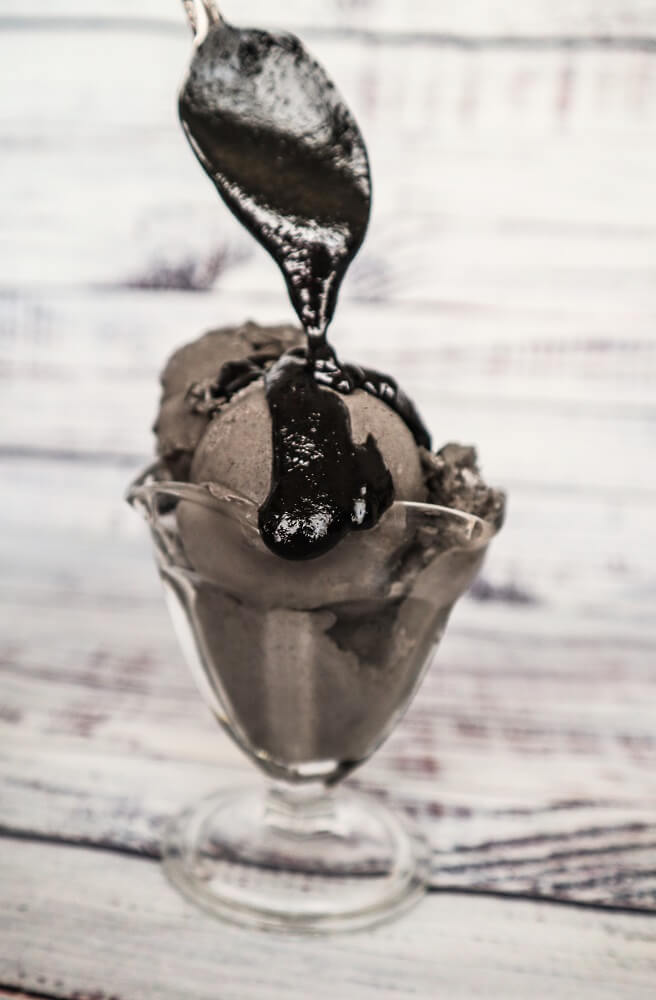 Vegan Black Sesame Maple Ice Cream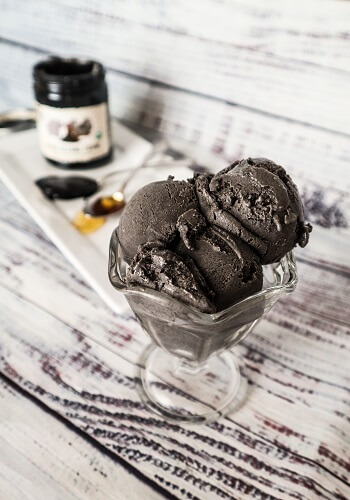 I am a big tahini lover, I like to keep some on hand at all times for recipes both sweet and savory, or just for drizzling over things and snacking on.  We have a giant tub of it in the deli I work in for making things like hummus, and one time my coworker stated that he hated plain tahini, so I proceeded to get a spoon and eat a giant spoonful of it.  Yum, tastes good to me!  I said.  It is after all kind of like peanut butter with a less dominant flavor.  I know some brands can have a little bit of a bitter aftertaste, but even if they do I have come to love tahini of all kinds.  One of my favorite brands is Dastony Tahini from Raw Guru.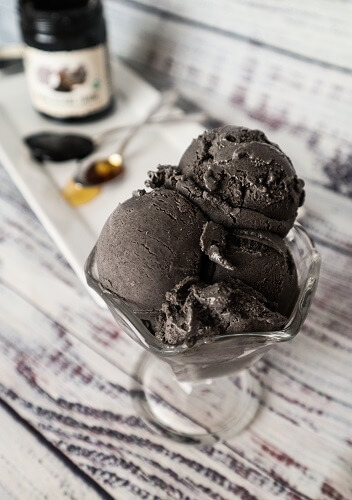 It is the smoothest tahini I have ever tried.  Their regular tahini is really good, but they recently sent me some of their black sesame tahini and it is beautiful! I have used it to make cookies before and they were sooo good.  So I thought, why not try making a black sesame ice cream with it?  I like things like halva which is pretty much straight sweetened sesame, so why not in ice cream with a bit of coconut cream for the base mixed with the tahini then sweetened?  I also added a little maple to it, because I thought it would be a great combo.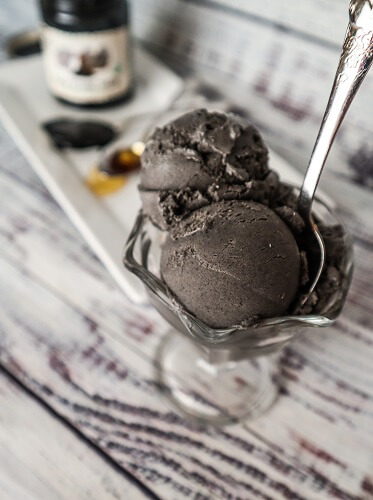 This was a super simple recipe to make which is always awesome as far as I am concerned.  That is if you have an ice cream maker.  If not you can still make it but it is a little more hands on, because it involves whisking it every so often in the freezer. To make the base though, you just blend everything up, pour it into the ice cream maker, and that's it besides just pouring it into the container.  It comes out like a nice soft serve but if you want it more scoopable, you just need to let it sit a few hours.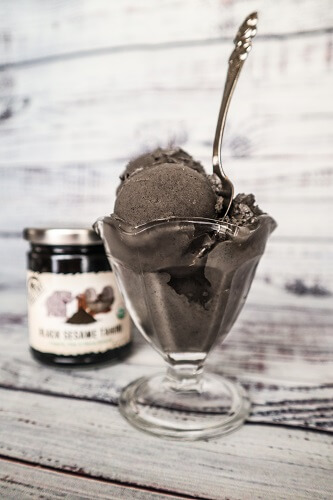 It turned out so good!  The ice cream was silky smooth rich and creamy with a light tahini flavor and a hint of sweet maple!  It had a beautiful color as well thanks to the black tahini!  If you have tahini on hand, and you are in the mood for some ice cream (we are approaching that season), give this a try!  If you don't have black tahini, you can use regular tahini as well, it just won't be this color.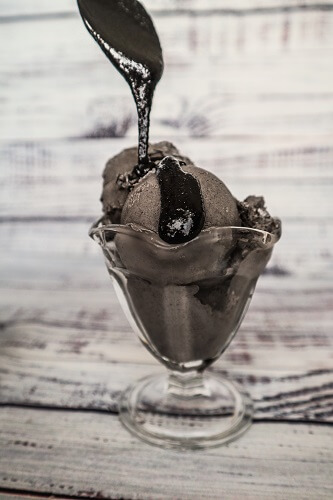 Vegan Black Sesame Maple Ice Cream  
Makes about 3 cups
Ingredients:
1 15 oz can organic full fat coconut milk
1/2 cup maple syrup (or to taste)
1/2 tsp sea salt
2 tsp pure vanilla extract
Directions:
Combine all ingredients in a high speed blender and blend until smooth.
Pour into an ice cream maker and process according to package directions.
Once the ice cream has finished churning, pour it into a freezer safe container with a lid.
Place the lid on, place in the freezer and freeze for about 4 hours or until firm enough to scoop. Enjoy!
*Note, if you do not have an ice cream maker you may also freeze it this way. Pour into a bowl, and place in the freezer. Whisk once every half hour until it has frozen to the consistency of soft serve. Then continue to pour into your freezer safe container as the above directions state.
*If your ice cream gets hard after freezing, let sit out about 15-20 minutes before scooping.
(Visited 2,200 times, 1 visits today)