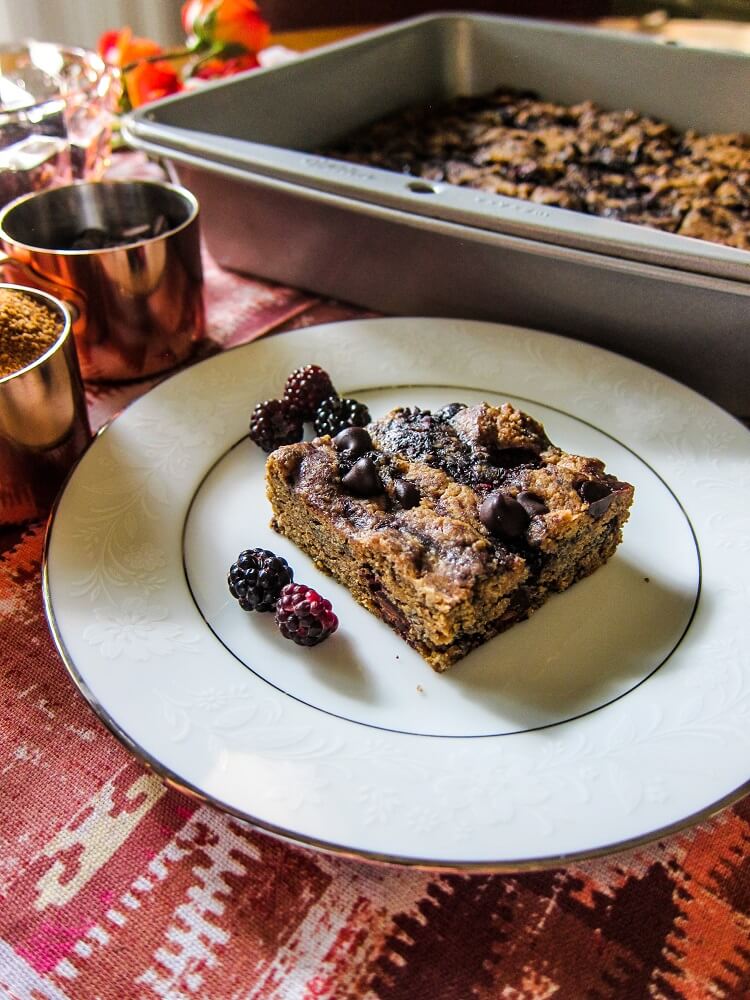 Vegan Black Raspberry Blondies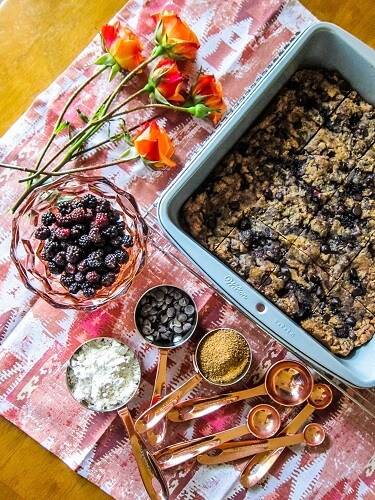 Sometimes on my runs I am in the zone and sorting out my own thoughts, and other times I pay more attention to the beautiful things in nature around me. There sure is a lot of beautiful things to enjoy lately. Like a yard full of different colors of lilies, or the animals that all seem to be out. The best discovery I have made lately though were the wild black raspberries. I have been watching them ripen for the past week and they were finally starting to be ready last weekend.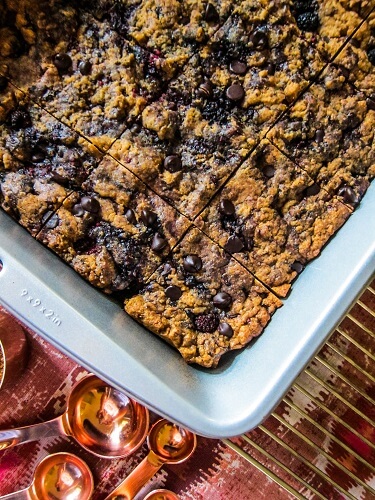 I decided I would go back later and pick some since I don't usually stop during my run. It seems like the raspberries are going crazy this year! There are more than I have ever seen, usually it is a few patches, but this year they are everywhere! Maybe it was the weird weather we had last Winter and the late Spring, but whatever the case, I am happy there are so many. Eric and I picked a bunch, and snacked on a few but I decided that I should make some recipes with them as well. Because why not?! They are super delicious.
So I made some black raspberry blondies. It was between that and brownies, but I am a vanilla girl after all, and I hadn't made blondies in a long time so they won. I love that they are so easy to make, and so shareable too. I made my classic blondies with good quality vegan dark chocolate chips, and stirred in the raspberries. The dough was amazing. Just saying. Dough is my favorite part of the baking process so I had to try some.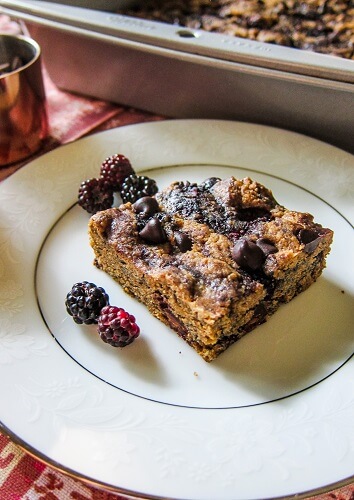 They smelled amazing while baking, and I could not wait to try them. Once they had cooled down and were all ready to go, I was all over them. They turned out super delicious with the rich vanilla cookie dough, dark chocolate chips and jammy black raspberries! I think using them in blondies was definitely the right choice!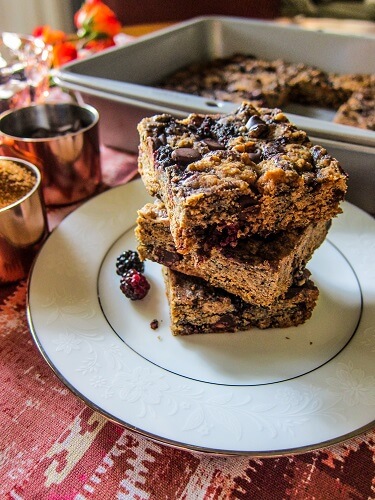 Vegan Black Raspberry Blondies
Makes 16
Ingredients:
1/2 cup coconut oil
1 cup maple sugar or coconut sugar
1 Tbsp ground golden flax seed mixed with 3 Tbsp filtered water
1 tsp pure vanilla extract
1 1/4 cups organic whole wheat pastry flour
1/2 tsp baking soda
1/8 tsp sea salt
3/4 cup vegan dark chocolate chips
3/4 cup black raspberries
Instructions:
Preheat the oven to 350F degrees, and line an 8x8 inch square pan with parchment.
To make the dough, mix together the coconut oil and coconut sugar until well blended with a wooden spoon.
Add the flax and water mixture and vanilla and mix until well blended.
Add the flour, soda, and salt and mix until smooth.
Stir in the chocolate chips and black raspberries (they will get crushed a bit and that's ok).
Press into the bottom of the 8x8 inch pan, and place in the oven.
Bake for 25-30 minutes or until done in the center and lightly brown.
Remove from the oven and let cool before cutting into bars. When ready to cut, just lift them out with the parchment onto a cutting board and cut into 16 bars.
Enjoy!
(Visited 330 times, 1 visits today)