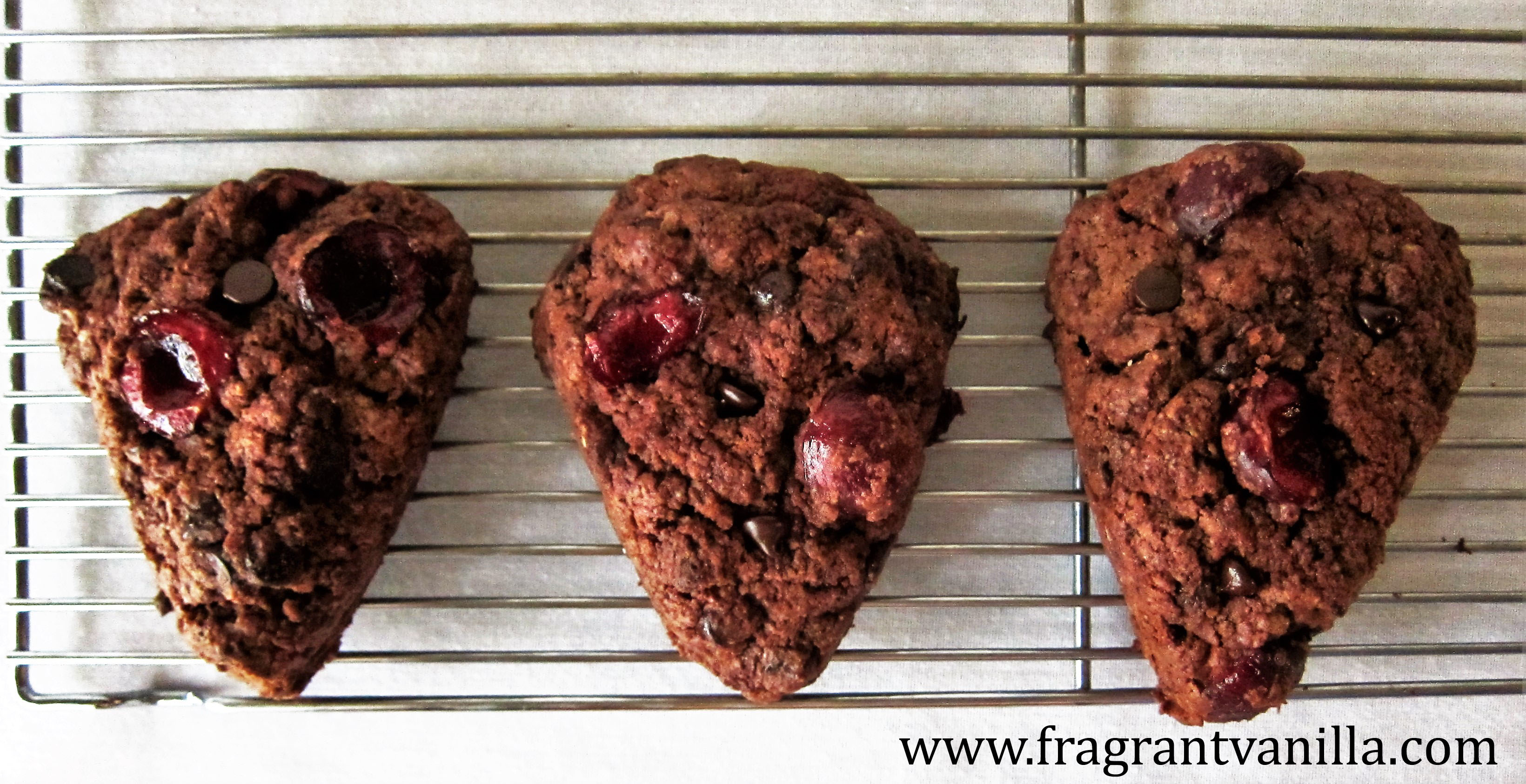 Vegan Black Forest Scones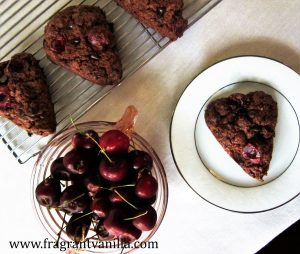 When I was little, I thought cherries were something that you could only get in cans. I also thought that they were naturally fire truck red, and sickeningly sweet.  Something that went on top of your Sundae's just to top it off...but didn't taste all that good when you actually ate them. Needless to say I was never a fan of marschino cherries, or the canned super sweetened cherries that end up in diner pies across the country (that said, if you have a diner and you make pie from real cherries you pitted yourself, you are impressive and special).  My family always used those cherries to top off cheesecake and I thought it was gross.  So, with all of this negative cherry experience and thinking they tasted off (funny how even as a child I did not like fake foods) I was not a fan of cherries.  That is until I had my first real ones when I was a bit older.  I think I was in high school, and my Mom and I bought them at the co op.  Fresh organic cherries, a world of difference from the fake canned ones or cherries in syrup.  They tasted like summer.  Sweet, a little tart and juicy. After that, every Summer I have appreciated cherries.
I do not have a cherry pitter, so I pit them by hand when using them in desserts, but it is always worth it.  My Mom bought a bag and shared some with me last week, and I decided to make some scones with them and share them with her as a thank you.  I was going to make just cherry scones, but then she said, why not black forest?  Black forest stuff is always amazing after all.  Who doesn't like a little chocolate with their cherries?!  So I whipped up a batch of them, which didn't take long at all.  Which is kind of the beauty of scones.  They only take 20 minutes to bake and they are good warm so not a lot of time before you can enjoy them.  I included chocolate chips in them along with the cherries in the chocolate scone base, and they were heavenly. People say scones need eggs, cream, and butter to be good...and I say no way!  Vegan scones are where it is at.  Just as good, better for you and no animals were harmed in the process.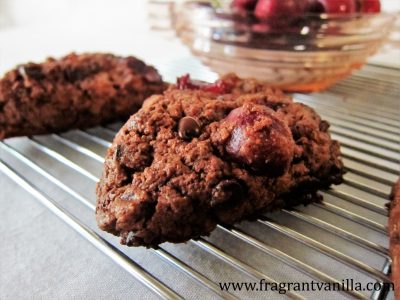 You know what would be really good for next time I make these (or for when you make them since you haven't eaten them yet), to make Black forest shortcakes with berries and coconut cream.  Just an idea for anyone who wants to make this into something a little more elaborate.  I am always thinking about dessert possibilities you know?  Well, I hope you give these a try the next time you have fresh organic cherries, and a free Saturday morning, you will be happy you did!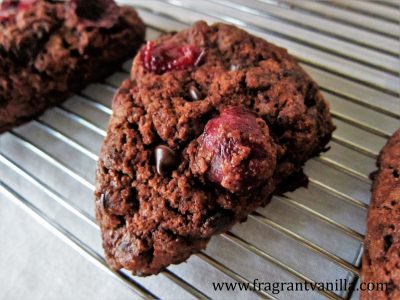 Vegan Black Forest Scones
Makes 8
Ingredients:
3 cups all purpose gluten free flour
1/4 cup unsweetened cocoa powder
1/2 cup coconut sugar
2 1/2 tsp baking powder
1/4 tsp salt
1/2 cup virgin coconut oil, cut into chunks
1 cup cold full fat organic canned coconut milk (whisked until smooth if chunky)
1 Tbsp pure vanilla extract
1/4 cup coconut sugar
1 cup fresh organic cherries, pitted and halved
3/4 cup vegan chocolate chips
coconut milk for topping
coconut sugar for sprinkling
Directions:
Preheat oven to 425F with the rack set at the middle position. Line a baking sheet with parchment.
To a large bowl, add the flour, cocoa powder, sugar, baking powder, and salt. Cut in the coconut oil with a pastry blender or 2 knives until the mixture starts to clump into pea sized pieces. In a small bowl, stir the vanilla into the coconut milk. Add the coconut milk, cherries, and chocolate chips to the dough, and stir a few times, but do not overmix. The dough should hold together when squeezed, but still be clumpy.
Place dough on a piece of parchment, and shape into a circle 1 1/2 inches thick . Cut into 8 wedges and place on a parchment lined baking tray. Brush the tops lightly with the coconut milk (only if they seem dry, you want the sugar to stick), and sprinkle with coconut sugar. Bake for about 20 minutes or until golden brown (after about 15 minutes you may need to reshape with 2 bench scrapers if the scones are spreading, then place back in the oven). Cool on a wire rack.
(Visited 196 times, 1 visits today)