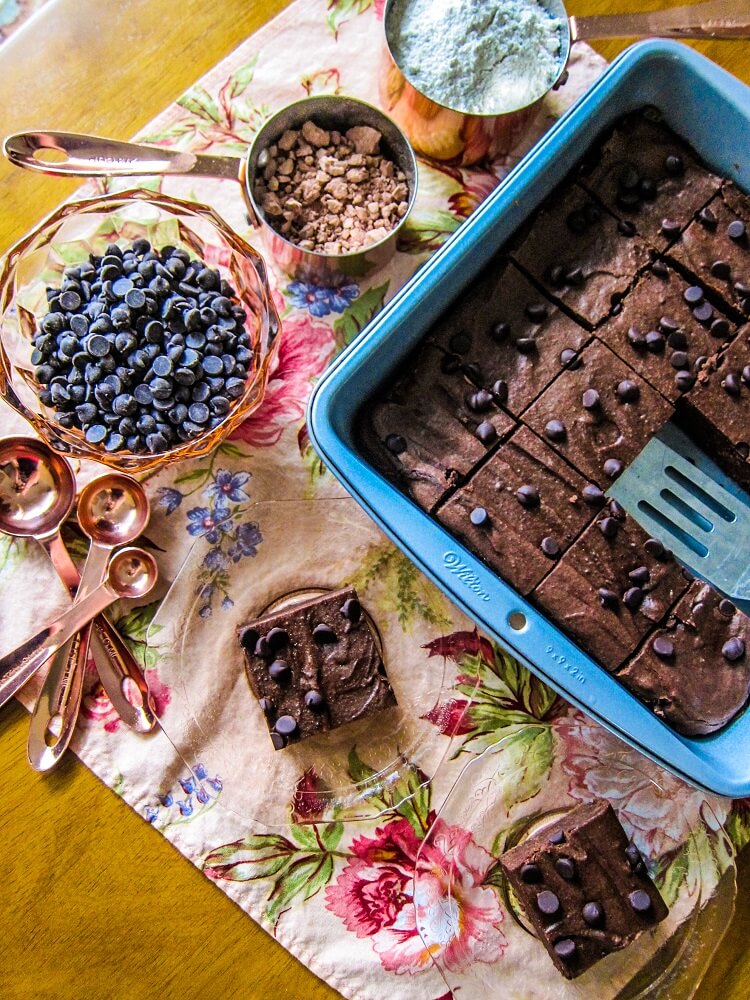 Vegan Black Bean Brownies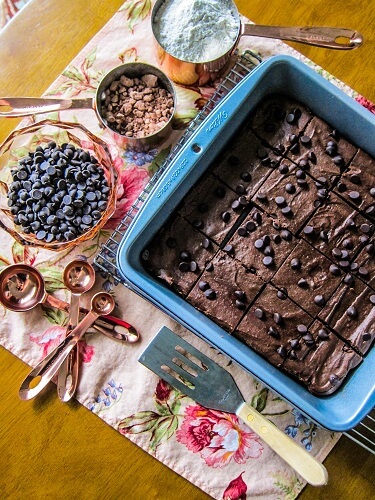 Last weekend my Mom asked if I could make black bean brownies. She had seen a recipe somewhere and it sounded good to her, plus once one of her coworkers had brought some in and she enjoyed them and she thought I might be able to make a vegan version. She isn't vegan but she eats mostly plant based and is always up for healthier versions of things! I love the idea of using black beans in brownies. I have used chickpeas in my cheesecake batter before instead of cashews for a nut free version and to boost fiber and protein and that turned out awesome (you would not ever have guessed that they were in there), so why wouldn't this work?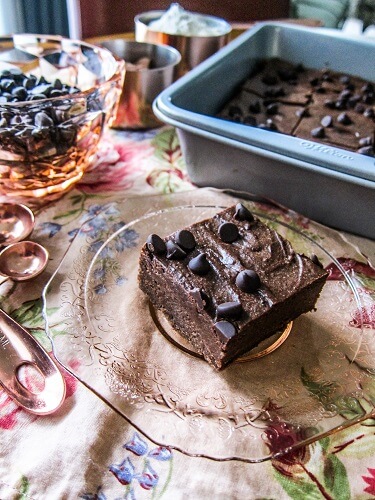 Well, I was slightly nervous, because I was just modifying one of my existing recipes and I didn't want the beans to screw up the moisture ratio and make them too dry, or make them too "healthy tasting". I wanted these to taste like regular rich brownies. So I crossed my fingers, blended the beans in with the oil, and added just a tad more water. No, these are not low fat brownies. I don't tend to like the texture when I have made brownies with apple sauce or something similar so I leave it in. These are after all a treat. I use avocado oil because it remains soft when cooled down, where as coconut oil gets too hard and makes brownies crumbly.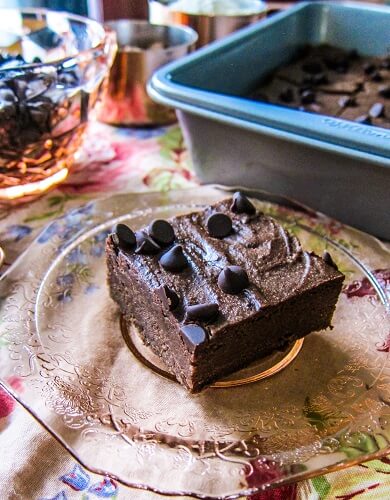 The batter tasted good as I scraped what remained in the bowl after pouring it into the pan to ear it. It tasted like rich and delicious brownie batter and , I could not detect the beans. But would the texture be good and flavor be good after they baked? That was the question. They smelled amazing my home filled with the aroma of really good chocolate cake.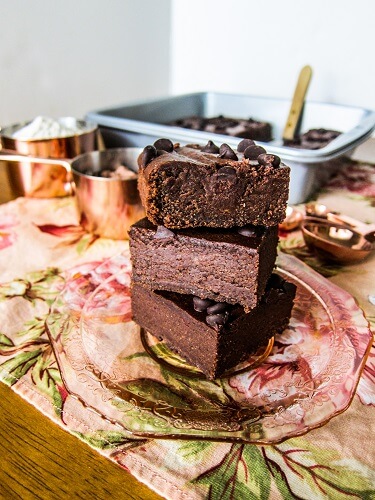 I had to wait overnight for the brownies to cool down since I was making them at night but it was well worth the wait! They were super delicious! Fudgy, rich and filled with chocolate flavor, plus the chocolate chips to add even more goodness. You would never guess that they had beans in them! If you are up for trying something new, give these a try! They will satisfy your chocolate craving, plus give you a little extra fiber in your diet, which we could all use! My Mom loved them by the way, so they were a total success!
Vegan Black Bean Brownies
Makes 16
Ingredients:
3/4 cup avocado oil or olive oil
1 1/2 cups cooked black beans
1 1/2 cups coconut sugar
3 Tbsp ground flax seed
3/4 cup strong brewed coffee or filtered water
1 1/2 cups Bob's Red Mill gluten free all-purpose flour
3/4 cup cacao powder or unsweetened cocoa powder
1/2 teaspoon sea salt
1 1/2 cups vegan dark chocolate chopped or vegan chocolate chips plus more for sprinkling on top
Instructions:
Preheat the oven to 350F degrees, oil and 8x8 inch pan and line it with parchment.
Place the oil, black beans, sugar, flax seeds, and coffee in a blender and blend until smooth. Pour into a bowl.
Whisk in the flour, cacao powder and sea salt and stir until smooth. Stir in chocolate chips.
Scrape the batter into the prepared pan and sprinkle more chocolate chips over it.
Place in the oven, and Bake for about 30-35 minutes or until set (but do not over bake).
Let cool before cutting into 16 bars.
(Visited 1,235 times, 1 visits today)