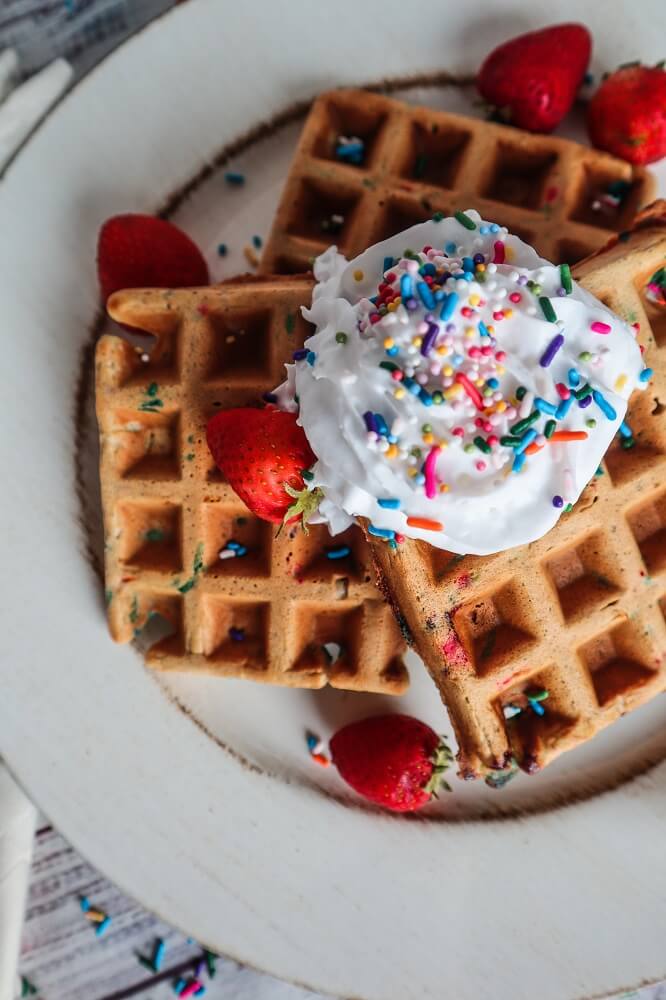 Vegan Birthday Cake Waffles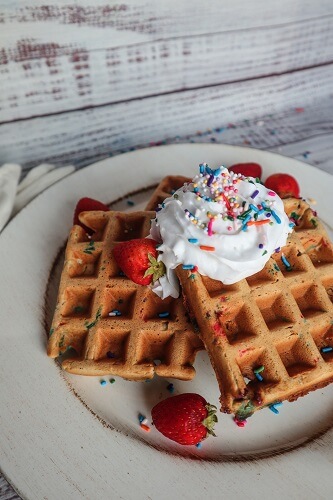 July was my birthday month, so in addition to a cake I made a few other birthday treats like these fun Birthday cake waffles!  Yes, my birthday was actually a few weeks back, but I just got around to typing it up now, and I feel like these can be made even when it is not your birthday as a pick me up!  Who doesn't love delicious waffles on a lazy weekend morning?!  I didn't just make these for myself, I made them for my fiance Eric who had been asking me to make waffles for a few weeks.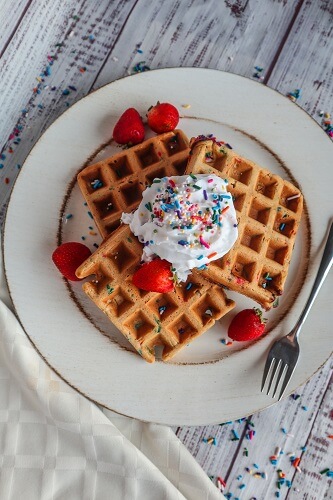 I like waffles, because you can make them any time of the day and they are easy to whip up from ingredients you already have on hand.  I even like them for just dessert as well since I usually make them sweet.  These ones have a vanilla and almond flavored batter, because my Grandma used to like to add almond to her vanilla birthday cakes. I have tweaked this waffle batter to be just how I like it so the waffles come out the right texture.  Since soggy waffles before they even get the syrup is no fun.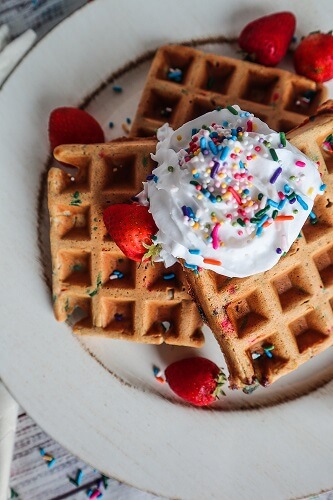 I mixed in sprinkles to make them Birthday cake also, and the batter was delicious!  Yes, I sampled it. They smelled amazing while they were cooking!  Like really good cake, but a lot easier to make!  No cooling required before enjoying either!  I could not wait to try them out!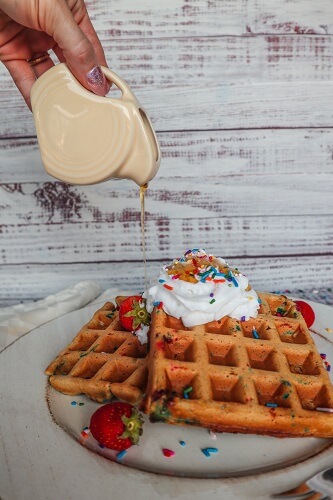 But first, they needed some vegan coconut whipped cream, more sprinkles to make them extra pretty and some maple syrup.  They were perfect!  Light and fluffy on the inside, crispy on the outside, a little sweet, with the scents of vanilla and almond, so heavenly with the toppings!  If you want to treat yourself, give these a try!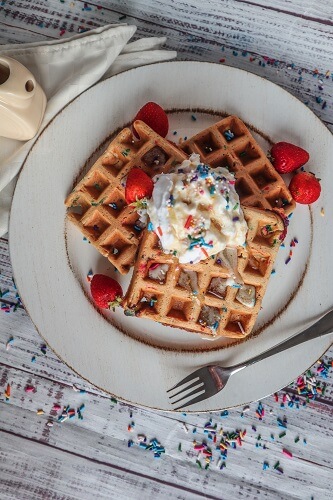 Vegan Birthday Cake Waffles
makes 8 medium sized belgian waffles
Ingredients:
Batter:
2 cups organic whole wheat pastry flour
1/4 cup maple sugar or coconut sugar
1/2 tsp baking soda
1 tsp baking powder
1/2 tsp sea salt
1 tsp pure vanilla extract
1 tsp almond extract
3 Tbsp ground flax seed, whisked together with 1/2 cup filtered water
2 Tbsp avocado oil or another neutral oil
2 cups light coconut milk
2 Tbsp vegan sprinkles
Toppings:
coconut whipped cream 
maple syrup 
vegan sprinkles
Instructions:
To make the waffles, whisk together the flour, sugar, baking soda, baking powder and sea salt in a large bowl.
Then whisk in the flax mixture, oil, and coconut milk together until smooth. Fold in the sprinkles.
Heat your oven to 150F degrees and oil, and pre-heat waffle iron. Once it is heated, pour about 1/3 cup batter onto the waffle iron or until the iron is just covered (but not so much that it will ooze out) and close it.  Cook according to waffle iron package directions.  Remove from the waffle maker and keep warm in the oven while you make the others.  If you have a waffle maker the size of mine (regular belgian waffles), you may have more than 8 waffles.
Serve the waffles with coconut cream, maple syrup and more sprinkles!
(Visited 356 times, 1 visits today)