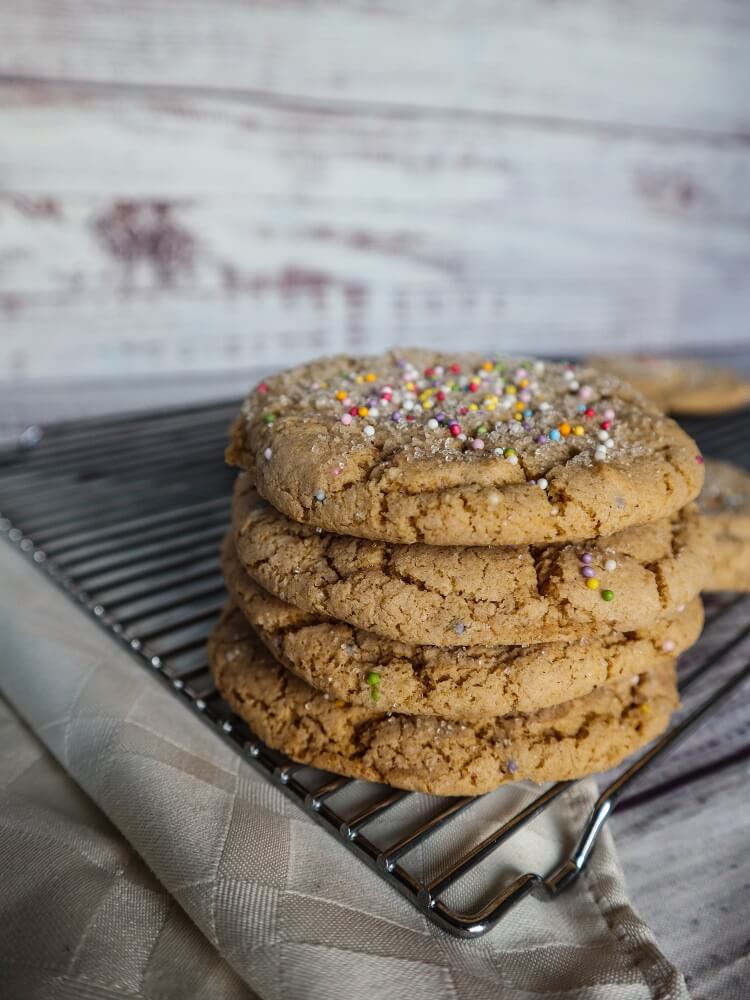 Vegan Birthday Cake Sugar Cookies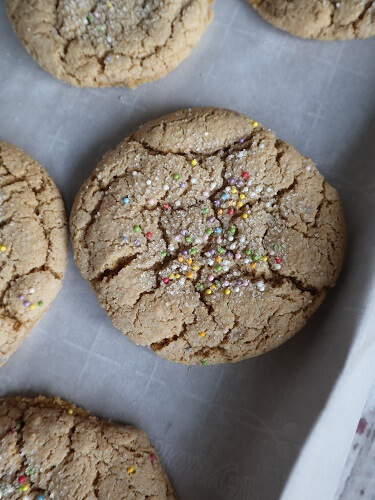 Eric asked if I could make some birthday cake waffles last week, but I said you know what would be better?  Some birthday cake cookies.  I will make the waffles soon, but some sugar cookies with the flavor of birthday cake just sounded good.  No, it is not anyone's birthday not for a few more months at my house.  But who doesn't like sprinkles themed goodies?  So I make them year round.  I might just have to make a funfetti cake for my birthday this year though!  Back to these Vegan Birthday Cake Sugar Cookies though!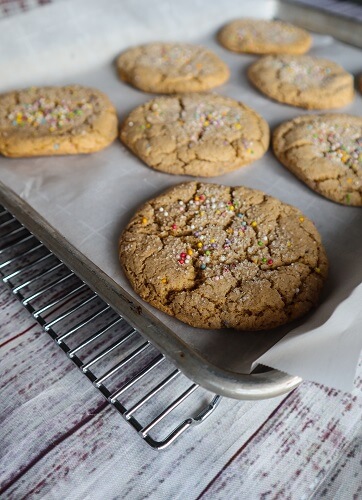 For the dough, I modified the snickerdoodle sugar cookie recipe I make at work.  People seem to love them, and I have to agree they are pretty bomb.  I am going to have to put those on the blog too, but another time.  The cookies stay nice and soft and chewy in the middle and are crispy at the edges, just how I like my sugar cookies.  I swapped the cinnamon sugar coating for sugar and sprinkles, and added almond extract in addition to the vanilla because my Grandma did that in her vanilla cakes, and it reminds me of birthday cake. I also mixed sprinkles into them because why not?!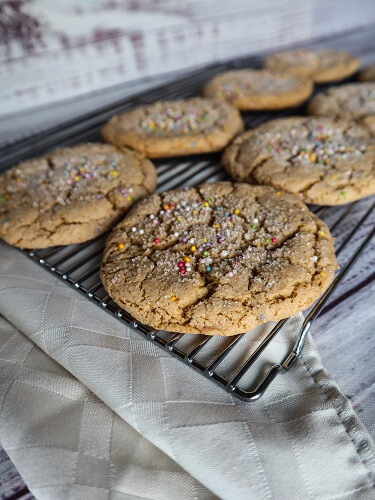 They baked up nicely, just like the other cookies, even though my oven is a little different at home, and the baking time is a  little longer. They smelled amazing as I pulled them from the oven, just like a delicious vanilla birthday cake!  I swear baking things is such a great way to put yourself in a really good mood!  Not only do you get to eat cookie dough, and take in heavenly aromas, you get to eat fresh baked cookies!  Nothing beats that.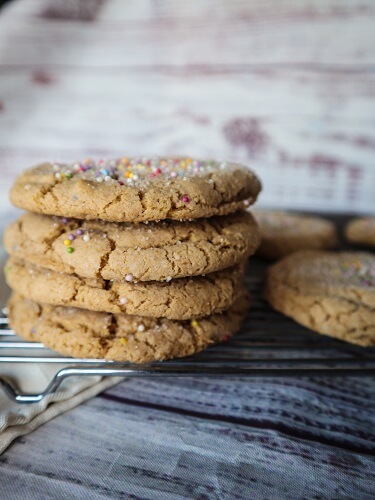 When they were cool enough to try and I got to enjoy one they were sooo good!  Soft and sweet, scented like birthday cake chewy in the middle and crispy at the edges!  Eric even asked for another one after he tried one and he normally doesn't even like sugar cookies.  If you are a sugar cookie fan, definitely give these Vegan Birthday Cake Sugar Cookies a try!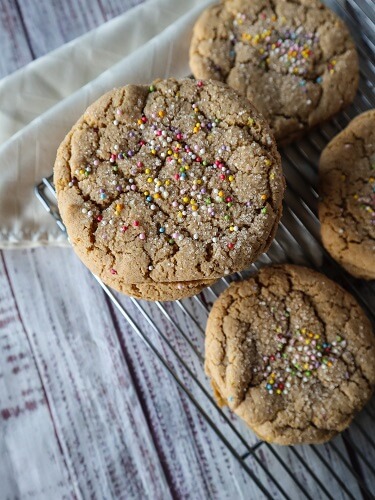 Vegan Birthday Cake Sugar Cookies
Makes 16
Ingredients:
3/4 cup melted coconut oil
1 1/2 cups granulated sugar
1/2 cup applesauce at room temperature
1 tsp pure vanilla extract
1 tsp almond extract
1 tsp sea salt
1 tsp baking soda
1/2 tsp baking powder
2 1/2 cups whole wheat pastry flour or all purpose flour (for a lighter colored cookie)
1/4 cup vegan sprinkles
granulated sugar and additional sprinkles for topping
Instructions:
Preheat the oven to 350F degrees, and line two sheet pans with foil.
In a large bowl, mix together the coconut oil, sugar, apple sauce and extracts until well blended.
Mix in the salt, baking soda and baking powder, then the flour until smooth.
Stir in the sprinkles until they are evenly distributed.
Form the dough into 1 1/2 inch balls, and place on the cookie trays about 2 inches apart.
Press the dough balls down slightly and sprinkle with additional sprinkles and sugar.
Place the pans in the oven and bake for about 7 minutes, then rotate them and bake another 7 or so until the cookies are done and lightly brown at the edges.
Remove from the oven and let cool at least 15 minutes before enjoying.
(Visited 323 times, 1 visits today)