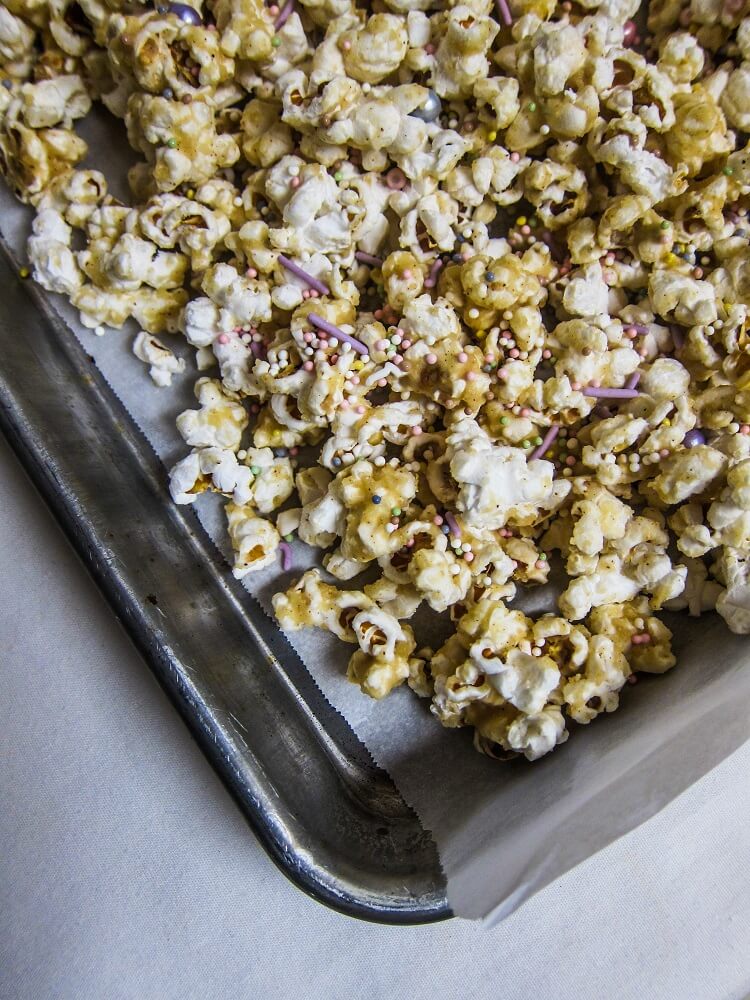 Vegan Birthday Cake Popcorn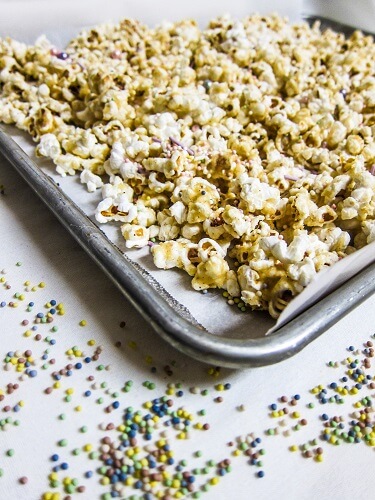 Nothing compares to vanilla Birthday cake as far as I am concerned.  I used to love the boxed funfetti cake mix stuff when I was little, until I started baking my own desserts but then nothing compared to the home made.  I went through a phase in  my early twenties when I baked quite a few vanilla cakes.  The most delicious of which was for an ex boyfriend (boyfriend at the time), a 4 layer beautiful vanilla birthday cake with a vanilla buttercream frosting that took me a really long time to decorate.  I was so proud of that cake!  It was the best tasting cake I had made up to that point, and I used a fancy recipe from Rose Levy Beranbaum's Cake Bible.  It tasted amazing.  But when my ex boyfriend tasted it all he could say was "This doesn't taste like the cake from the grocery store.  I think I like that better."  There is a reason he is an ex boyfriend haha.  That cake was bomb, and he just didn't appreciate the real ingredients.  I think that was the last non-vegan vanilla cake I made because I didn't make any vanilla for a while after that.  But as you know, I still love a good vanilla cake, hence the name of my blog.  I also love making vanilla cake flavored things.  So when I saw some birthday cake popcorn for sale at a store recently I said to myself, I have to make some.  I knew Eric would enjoy it as well since he is obsessed with popcorn so I made a big batch.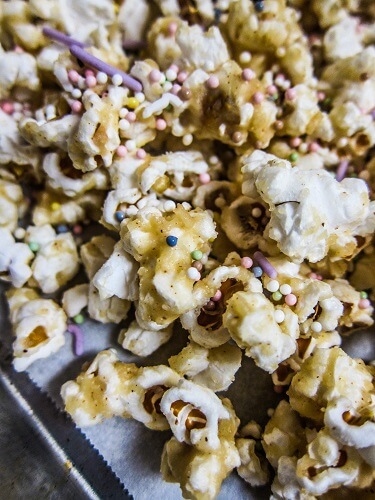 It was easy to make.  First I just needed a base that tasted like vanilla cake batter.  I accomplished this with a mixture of cashew butter and coconut butter sweetened with a bit of maple syrup, some vanilla of course, and then a little almond extract.  I know this is a vanilla cake, but both my Grandma and my Mom would always add a little almond extract along with the vanilla when making a vanilla cake or vanilla sugar cookies (and the frosting).  It just gave it that something extra that made it taste special.  The mixture I made did taste just like cake batter! It was even better once I mixed it with the popcorn!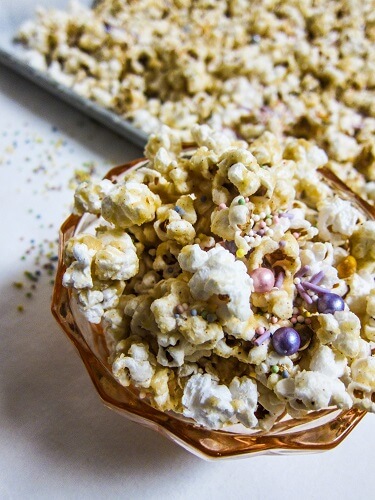 I then had to add sprinkles to make it pretty.  Because it wouldn't be birthday cake popcorn without some celebratory flair!  I know, it isn't anyone's birthday, but why not enjoy some birthday cake any time you want?!  It was super delicious!  It tasted like vanilla birthday cake complete with sprinkles and all, but with the delicious crunch of popcorn plus a hint of sea salt.  Totally crave worthy, but I am always a sucker for a salty, sweet and crunchy combination! If you love vanilla cake as much as I do, give this a try!  It is way better than the gourmet popcorn you can buy at the store.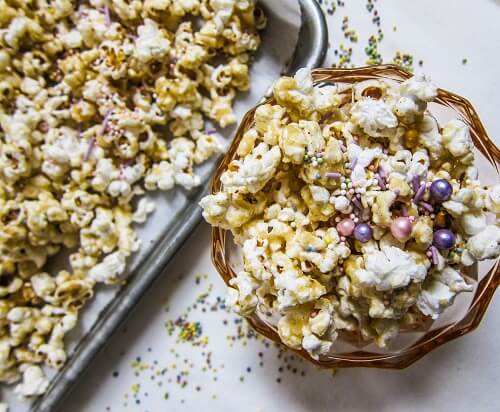 Vegan Birthday Cake Popcorn
Makes 8 cups
Ingredients:
1/3 cup raw cashew butter
1/3 cup coconut butter, warmed to liquid
1 tsp pure vanilla extract
1/2 tsp almond extract
1/4 cup maple syrup (or to taste)
8 cups plain popcorn
1/3 cup vegan sprinkles
Instructions:
To make the coating, whisk together all ingredients but the sprinkles until smooth, then pour over the popcorn in a large bowl.
Toss together until all of the popcorn is coated, and spread out on a parchment lined sheet pan.  Sprinkle with the sprinkles distributing them evenly.
Place the pan in the freezer for 15 min until the coating is hard.  Enjoy!
(Visited 367 times, 1 visits today)