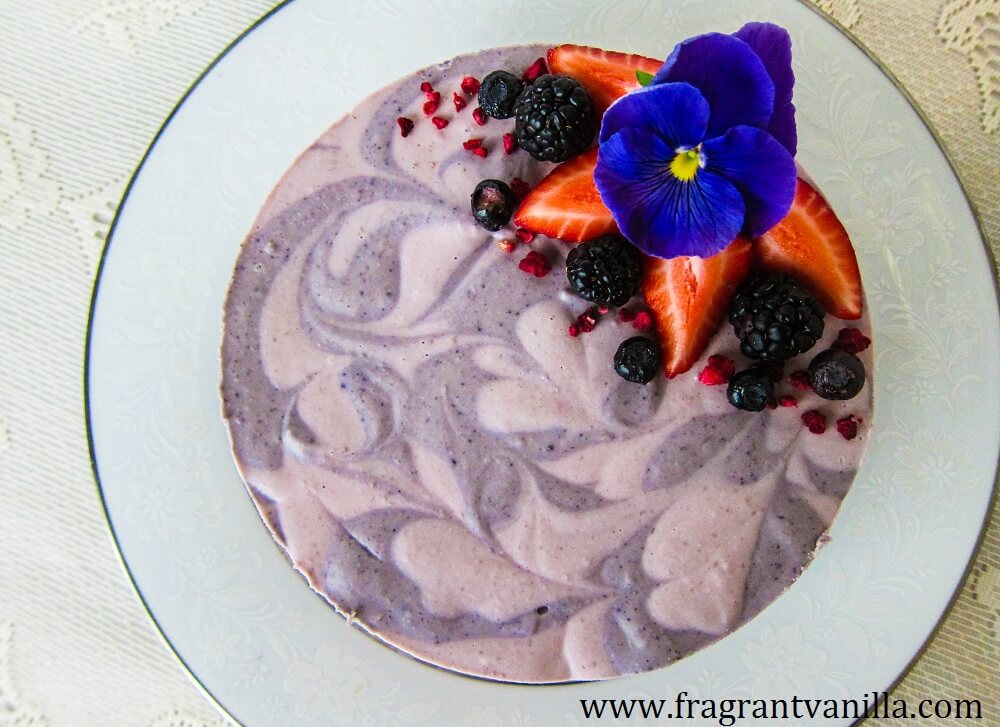 Vegan Berry Swirl Cheesecake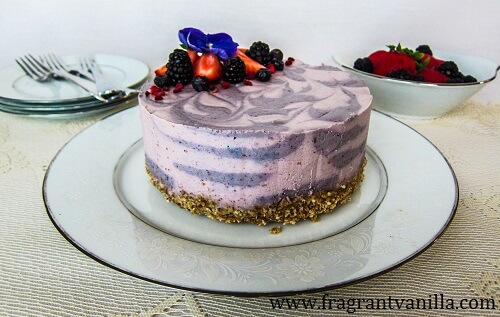 The end of last week, my website went down because someone felt the need to infect it with malware.  Which is really upsetting to me, that someone specifically creates programs to destroy other people's websites.  There are so many nasty people in the world I am always very thankful for the nice ones I encounter.  It was very frustrating dealing with the whole website thing, about 6 phone calls, hours on the phone and more money than I cared to spend over a span of 4 days, it was fixed.  But surprisingly I didn't get too stressed out over it because I feel like I am learning to better cope when I get stressed out through things like prayer, and doing other things I enjoy like art.  Anyways, I am thankful it is back up and working again so that you all can enjoy my recipes.  I felt really bad having to tell people it was not accessible at the time.  With the whole website thing going on, I had a little break from recipes, which was kind of nice but at the same time weird.  I did make one however, a delicious Vegan Berry Swirl Cheesecake!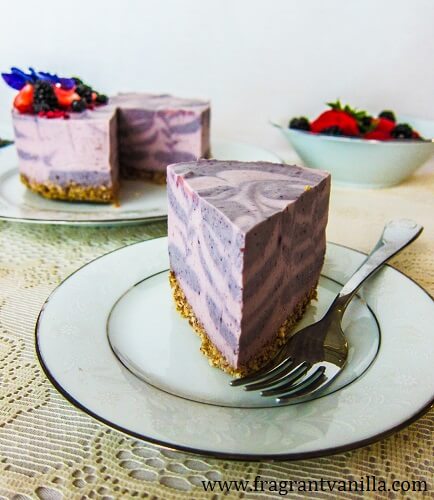 I wanted to make something simple, because I knew I would have a busy weekend otherwise, which is why I decided on a cheesecake.  I had some fresh organic berries that were on sale at the store, and I knew they would be amazing in it.  I have made a lot of raw cheesecakes since I started this blog and this one is sort of similar to one but it has a few non-raw ingredients that are easier to come by.  I used to always use young coconuts in my raw cheesecakes, but this one uses full fat coconut milk instead which is much cheaper.  I mixed it with cashews for the most luscious filling that was so good with the berries!  For the crust, instead of the sprouted buckwheat groats that I use in my raw cheesecakes, I used gluten free rolled oats since I know you all don't want to sprout buckwheat and I didn't have any on hand.  This cake came together in about 30 minutes, and all that was left to do was let it chill.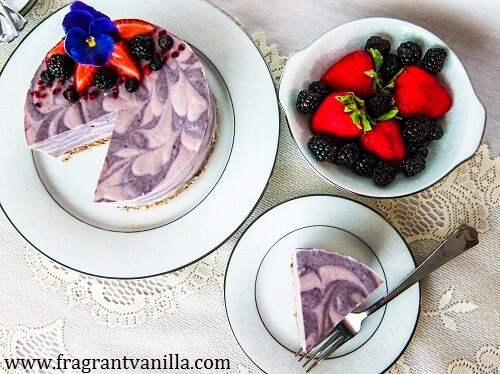 I actually let it chill overnight because it was going to be enjoyed the next day and it was perfect. I had made two different fillings and swirled them together.  One with strawberries and raspberries, and one with blueberries and blackberries.  Once they were all combined, it was pure delicious goodness.  The texture was silky and melt in your mouth, the flavor sweet vanilla with flavorful tart sweet berries.  This would be the perfect thing to make this Summer when fresh berries are plentiful, especially ones from the Farmer's Market.  I can't wait to go there!
Vegan Berry Swirl Cheesecake
Makes one 8 inch cake
Crust:
½ cup finely shredded dried coconut
½ cup gluten free rolled oats
½ cup pitted medjool dates
¼ tsp sea salt
2 Tbsp almond butter
Cake:
1 15 oz can organic full fat coconut milk at room temperature*
1 cup cashew butter at room temperature
2/3 cup maple syrup
2 tsp pure vanilla extract
¼ tsp sea salt
1 cup coconut butter (not oil), warmed to liquid
½ cup strawberries (sliced) and raspberries
½ cup blackberries and blueberries
Instructions:
In a food processor, combine the coconut, oats, dates, and sea salt.  Process until fine, then add the almond butter and process until holding together when squeezed.
Press into the bottom of a greased 8 oz spring form pan lined with parchment paper at the bottom.
To make the filling, combine the coconut milk, cashew butter, maple syrup, vanilla, sea salt and coconut milk in a high-speed blender or food processor and blend until smooth.  Divide between two bowls.
Place the first bowl of filling back into the blender and add the strawberries and raspberries.  Blend until smooth, then pour back into the bowl.  Rinse out the blender.
Add the second bowl of filling back to the blender, and add the blackberries and blueberries.  Blend until smooth.
To assemble the cheesecake, drop the two fillings by the Tablespoonful into the pan over the prepared crust until they are all used up.  Swirl the filling with a knife, then a toothpick to create finer marbling.
Place the cake in the freezer for about 3-4 hours until completely firm, then move to the refrigerator (or, you can just put it straight into the refrigerator if you want to let it sit overnight like I did).
When ready to un-mold, run a knife around the sides to release the cake and carefully remove the pan.  Place on a plate, garnish with berries if desired, and enjoy!
*Make sure your coconut milk is a brand that is plenty rich and has a lot of cream and not lots of water in it.  I prefer to use Thai Kitchen or So Delicious Culinary coconut milk.  If your can is not 15 oz, use 1 1/2 cups being sure to include all the rich part of the milk.
(Visited 270 times, 1 visits today)