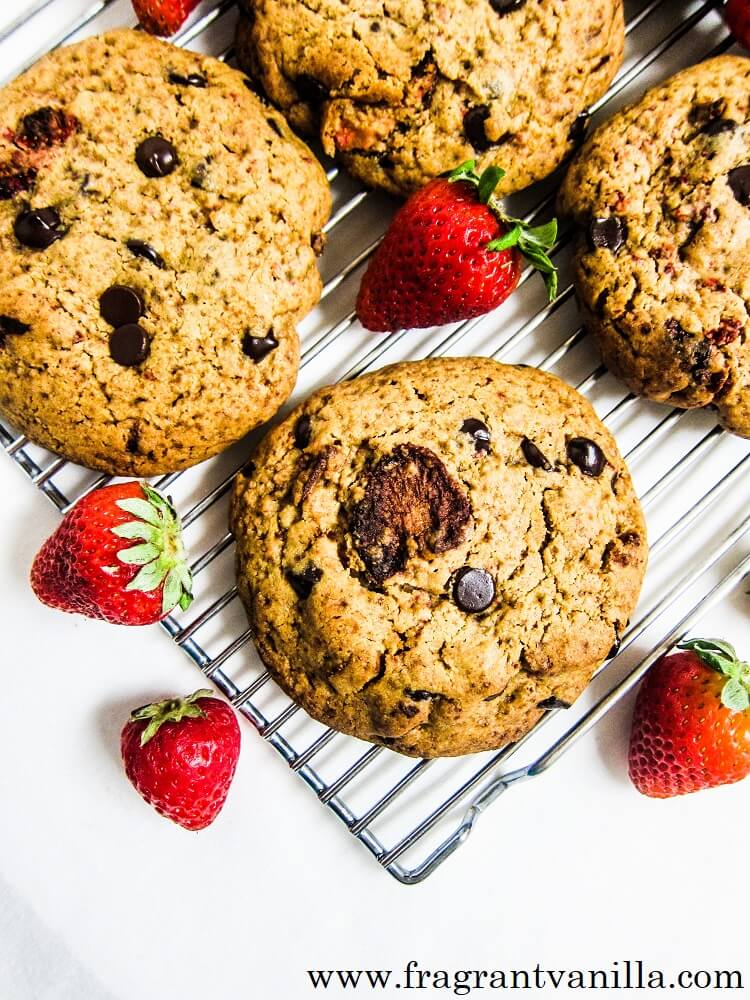 Vegan Berry Chocolate Chip Cookies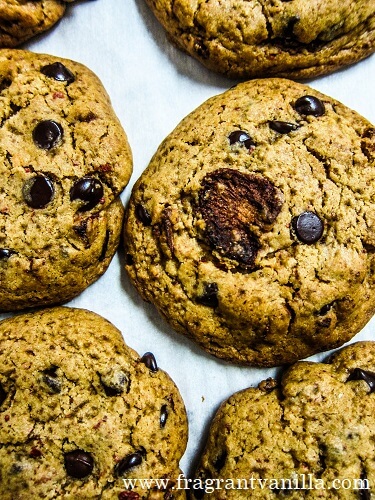 They make giant batches of chocolate chip cookie dough at the deli I work in.  Much larger batches than the rest of the cookies, because they are the most popular and they fly out of the store. I always see that big bowl of cookie dough, then want my own, and occasionally I will go home and make some cookies.  I mean, who doesn't like chocolate chip cookies?  I loved them since I was little, although I am very particular about when I eat them. What I mean by when is the part of the cookie making process.  You see, I love the dough the most.  It is soft and comforting and delicious.  I could eat a whole bowl of dough.  But I suppose that defeats the purpose of cookies.  My second most favorite time to eat them is while they are still warm from the oven.  I love the gooey chocolate chips, and the softer consistency of the cookie before it has completely cooled.  I will eat cookies that have cooled but it is not the optimal time if you know what I mean.  So I am sure to enjoy them throughout the process.  That is why I love being the one making the cookies, instead of just eating them later, so I can do so!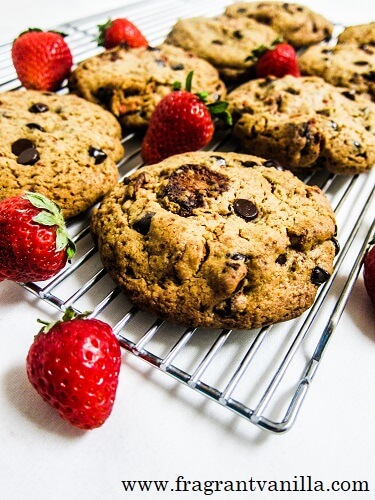 Anyways, I got the idea to make chocolate chip cookies a few days back, because there was that giant bowl of dough at work, and one of my other coworkers said she was going to make some at home too.  I was suddenly thinking that I needed some in my life!  The ones at work aren't vegan, so I was making my own. Plus, I wanted to put a twist on it.  Add delicious berries!  I am craving berries again, we have been deprived of the more fresh ones here in Minnesota since last fall, so I miss them.  I didn't have any fresh ones, so I used freeze dried in this recipe.  One good reason to use the freeze dried is so that they don't add excess moisture to the dough.  The berries are still packed with as much flavor as fresh though, don't worry!  The dough for these tasted amazing.  I had to keep sampling it, because it was one of those addictive things like potato chips or popcorn where I kept going back for more.  Plenty still made it onto the pan though, because I planned on sharing some of these cookies with others so I didn't want to eat too much dough.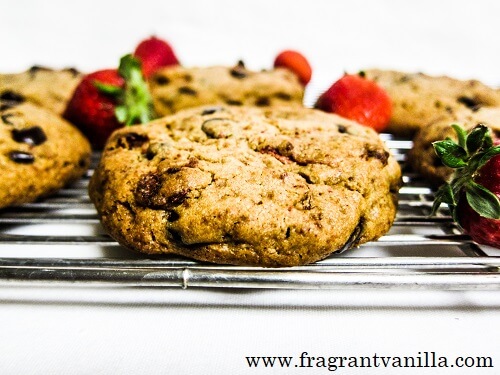 They baked up beautifully and quickly!  From start to finish, it only took me less than half an hour to make them.  Granted I wasn't able to dive in for a few minutes when they came out of the oven, but this is an easy to make cookie.  They are delicious!  Studded with sweet little berries along with the rich chocolate chips!  I recommend enjoying while still warm while the chips are gooey.  If you are looking for a new chocolate chip cookie recipe to try, give this one a go!  They happen to be gluten free and refined sugar free so it is a win all around!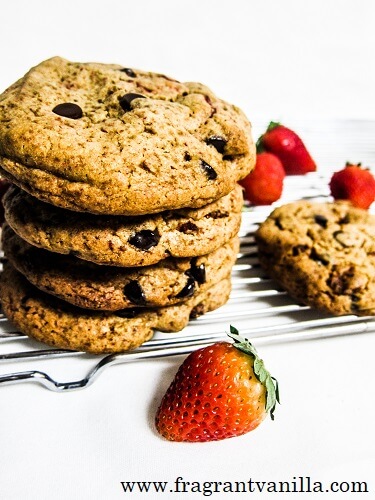 Vegan Berry Chocolate Chip Cookies
Makes 16 large cookies
Ingredients:
 2 Tbsp ground flax seed
1/4 cup plus 2 Tbsp filtered water
1/2 cup virgin coconut oil, warmed to liquid
1/2 cup raw almond butter
1 1/2 cups maple sugar or coconut sugar
1 teaspoon vanilla extract
1 teaspoon baking soda
3/4 teaspoon sea salt
3 cups gluten free all purpose flour
1 cup mini vegan chocolate chips or chocolate chunks
1 cup freeze dried strawberries and raspberries
Directions:
In a small bowl, whisk together the flax seed and filtered water.  Set aside in the refrigerator for 15 minutes.
Meanwhile, in a large bowl, coconut oil and almond butter with sugar and mix until well combined
Mix in the vanilla extract and flax mixture until well combined.  Add the baking soda and salt then the flour, a cup at a time, mixing between each addition, until well combined.  Mix in the chocolate chips and berries. Place in the freezer for about 10  minutes until it is firm enough to scoop (if it is too soft at all, it may not be, in that case proceed with scooping. It just depends on how warm the coconut oil was).
To bake, Preheat your oven to 350F degrees. Line 2 large baking sheets with parchment paper. To Form the cookies take about a 2 inch chunk of dough, form into a ball and on prepared cookie sheets a couple inches apart, and press down just slightly. Bake for about 12-15 minutes, until puffed and just starting to brown slightly.  Remove from the oven and let cool on the pan a few minutes, then remove to a wire rack to cool.  Repeat with remaining cookies and let cool before enjoying.
(Visited 45 times, 1 visits today)