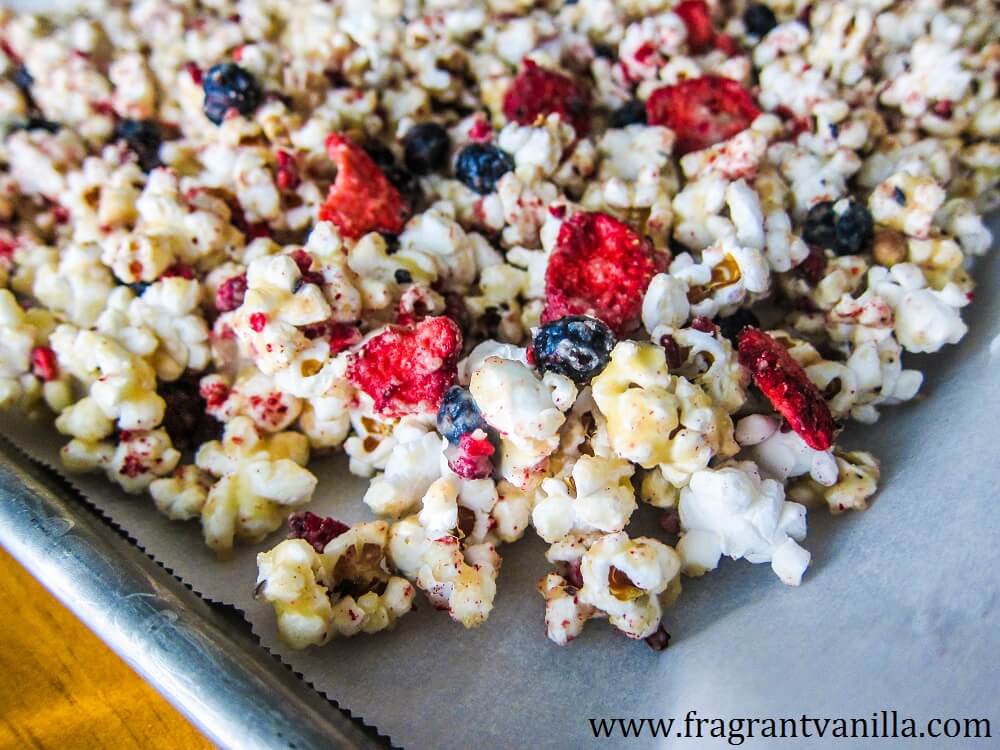 Vegan Berry Cheesecake Popcorn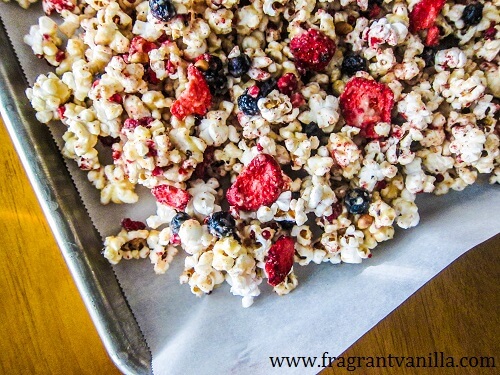 I have been obsessed with all things berry lately.  Mostly fresh berries of course, because they are finally beginning to be flavorful again, coming into season soon, but I will take other berry stuff too.  Like the popcorn I made last week, it was vegan berry cheesecake flavor and it was amazing!  I like to make new and unusual flavors of popcorn, I admit mostly sweet but they all have to have a little salt added too.  I always thought the popcorn at those mall vendors when I was younger smelled good but a lot of it looked artificial.  I probably wouldn't have cared then if it was or not by my Mom wasn't going to buy it for me, she taught me to enjoy real food.  So now, I think it is fun to create delicious popcorn that isn't full of bad stuff.  I came up with the cheesecake flavor because I was in the mood for cheesecake, and my recent berry obsession.  I was just going to make it blueberry cheesecake, but I had other freeze dried berries on hand as well so I went for a triple berry combination.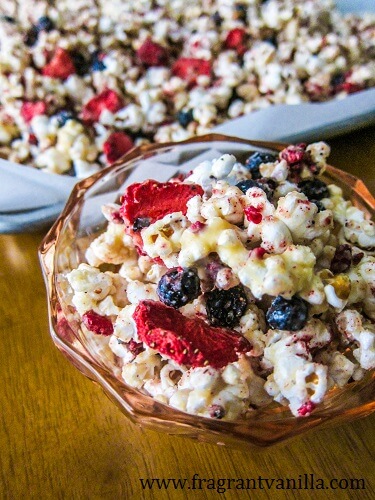 You may  think that freeze dried fruit is just a cheaper stand in for fresh, but seriously it is packed with some really good flavor. I keep it around for when I want to add fruit flavor to things but not moisture.  Like for instance, in a frosting.  When pulverized to powder and added to frosting it tastes wonderful. It worked really well in my popcorn, and made it so it didn't get soggy.  I used a combination of cashew butter and coconut butter to make the "cheesecake" coating and it was super delicious once vanilla and maple syrup were added.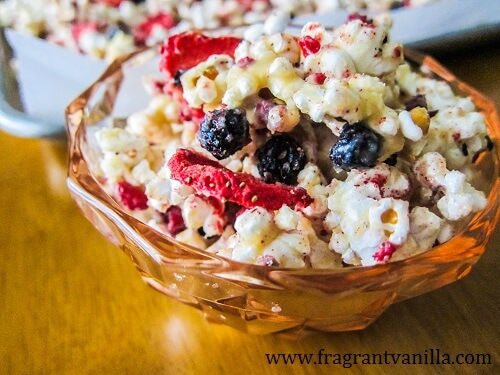 Once the popcorn was all coated and ready to go it was some crave worthy stuff!  Now it obviously doesn't have the texture of cheesecake but it has the delicious flavor!  It is like eating cheesecake, but it has a satisfying crunch and sweet berries!  This has it all as far as a snack goes when you are craving something but don't know what.  It is crunchy, sweet, a little salty, and rich.  Don't buy popcorn at the store, make your own instead!  It is much more fun!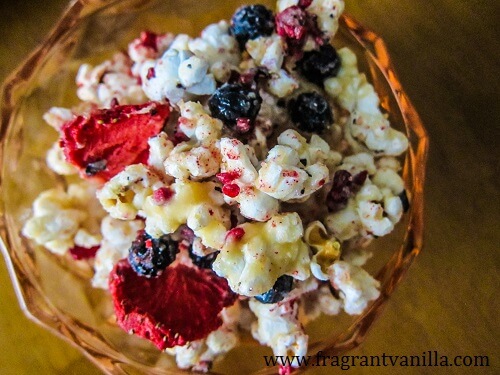 Vegan Berry Cheesecake Popcorn
Makes 8 cups
Ingredients:
1/3 cup maple syrup
1/3 cup raw coconut butter
1/3 cup raw cashew butter
1/2 tsp sea salt
1 tsp lemon juice
1 tsp pure vanilla extract
8 cups plain organic popped corn
1 cup mixed freeze dried berries
Instructions:
In a glass measuring cup (or bowl) whisk together the maple syrup, coconut butter, cashew butter, sea salt and vanilla until well blended.
Pour over the popcorn in a large bowl, along with berries and mix well. Spread out onto a lined sheet pan, and place in the freezer until it is hard.
Enjoy!
(Visited 79 times, 1 visits today)