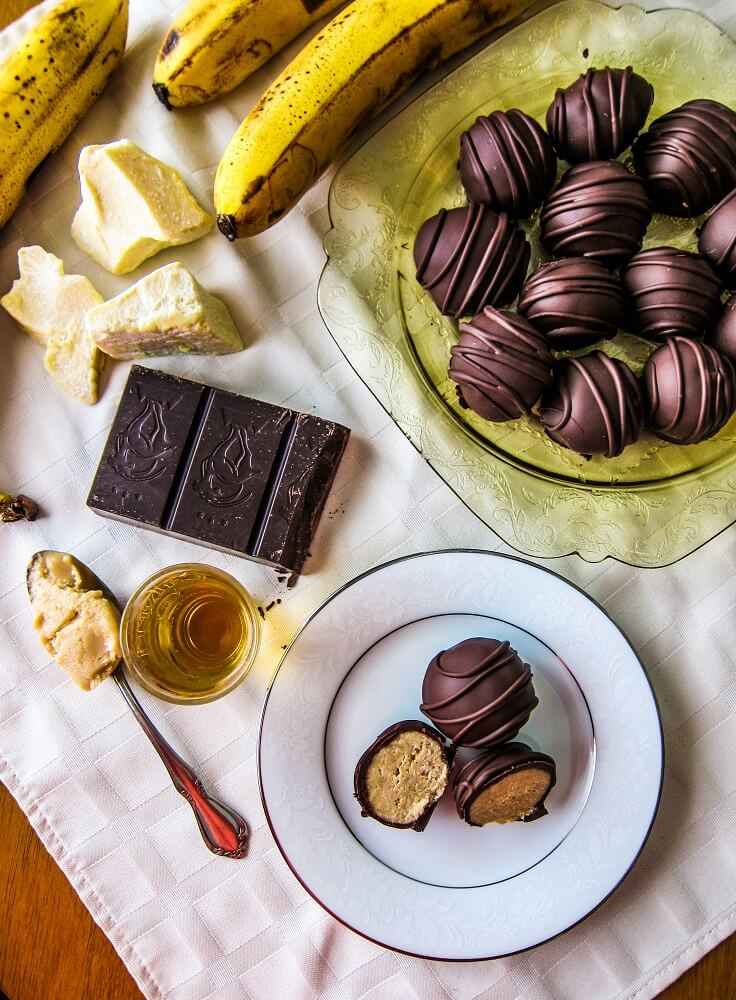 Vegan Banana's Foster Truffles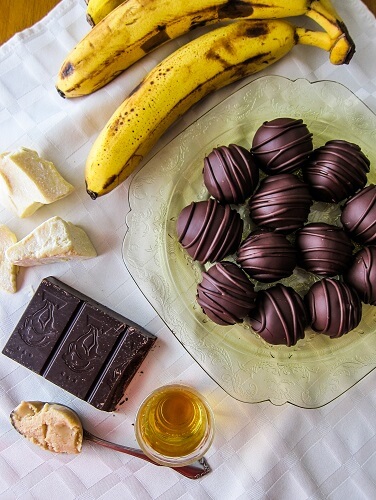 I had a bunch of ripe bananas on hand that I had picked up for free, and although I made some banana cookies, and cut some up for smoothies, I still had some I wanted to use for something besides just eating. I decided to make some banana's foster truffles. I was recently looking through my banana recipes to try and get inspiration and I came across my banana's foster cake and couldn't help but think that flavor combination would be amazing with some chocolate in a truffle, so I went for it.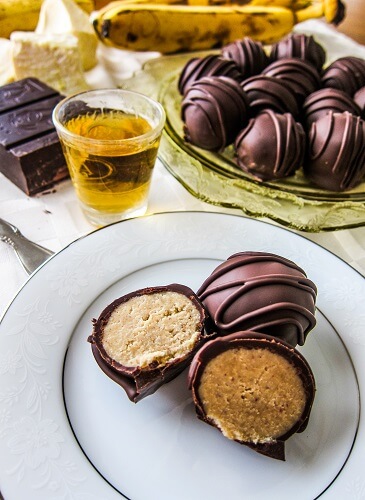 Truffles are always one of my go to quick desserts to make. They don't require a lot of effort besides the dipping and shaping but the whole process is kind of fun and I enjoy the fact that I can eat the extra melted dark chocolate. I mean, that is the whole reason you make truffles and chocolate treats at home right?! At least that is a big part of why I do. Funny story though, years ago I had an aversion to chocolate for a couple of years after being sick a couple of times after having some, and it made me think I was allergic to it because I would get a stomach ache every time after eating it. I didn't eat it for a few years, but then after about 3 I started gradually eating it again and I was fine. Now I make it quite a lot. I just make sure it is really good quality chocolate not any of that fake stuff. I am happy it doesn't affect me adversely now because I love it!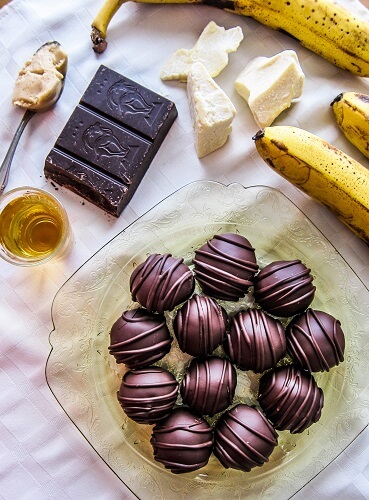 Back to those truffles, I wanted the filling to taste like the banana's foster dessert, which has cooked bananas, so I roasted the bananas in the oven before pureeing them for the filling. Of course I had to add rum as well, as is customary for banana's foster. I wanted them to be a little boozy! I combined that with some cacao butter, cashew butter, and coconut butter to give them an almost white chocolate like base. I sweetened it with a little maple syrup and vanilla to give it a caramel like flavor as well and it was super delicious!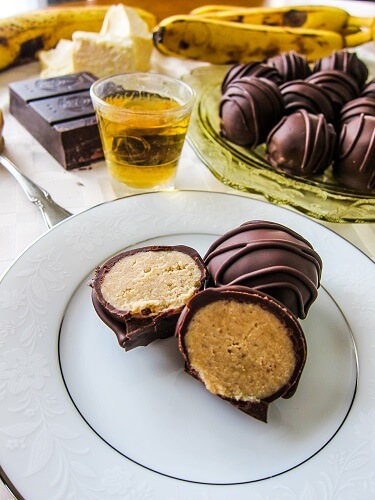 Once it was all chilled, I rolled it into truffle balls and dipped them in good quality vegan dark chocolate! OMG were they ever heavenly. I mean the filling was good on it's own, but even better with the dark chocolate! Trust me, bananas, rum and chocolate are a match made in heaven! If you have some bananas on hand definitely give these a try! You might not even want to share and just keep them for yourself.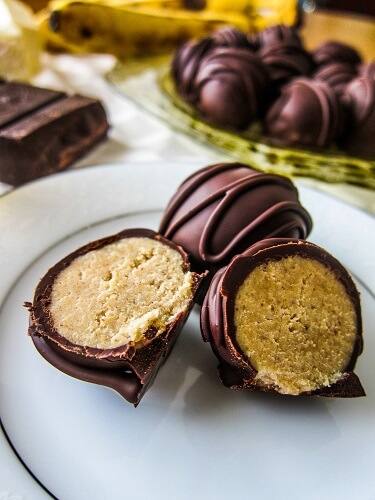 Vegan Banana's Foster Truffles
Makes 16
Chocolate:
2 cups chopped vegan dark chocolate or vegan dark chocolate chips
Instructions:
preheat the oven to 375F degrees, and line a sheet pan with parchment.
Spread the bananas out on the pan, place in the oven and roast until they are starting to caramelize, about 35-45 minutes. Remove from the oven and let cool completely.
Puree bananas in the food processor and then add all of the other filling ingredients and puree until smooth.
Pour into a bowl, and place in the freezer for about 20-30 minutes until it is firm enough to scoop. Scoop into 14 balls, rolling them with your hands. Place on a parchment lined tray, and place back into the freezer until firm, about 30 minutes.
Meanwhile, melt the dark chocolate in a double boiler until smooth.
Once the filling has firmed up, dip each chocolate into the dark chocolate, being sure to let the excess drain off, and place back onto the tray (I like to set mine on a fork to allow it to drain better). Once they are all dipped, set them in the freezer until hardened.
Store any leftover truffles in the refrigerator.
(Visited 521 times, 1 visits today)