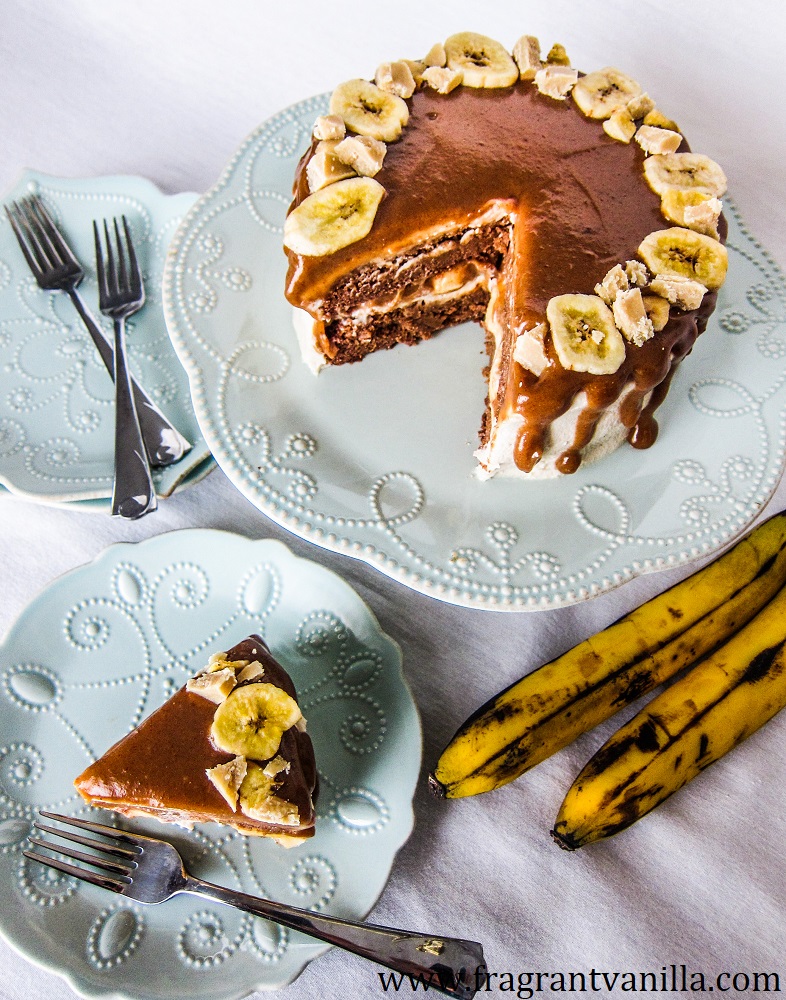 Vegan Banana's Foster Cake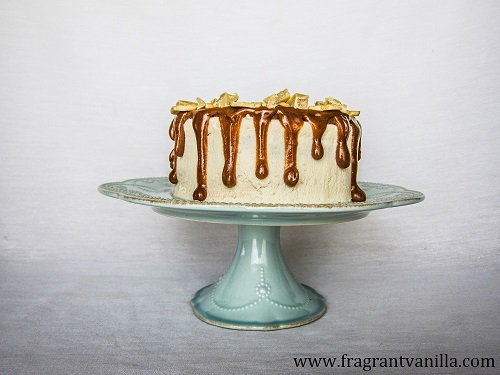 I wanted something spectacular for my New Years dessert this year.  I just made cupcakes for Christmas instead of a layer cake, and although they were really delicious, they just don't have the same pizzazz that a layer cake does.  I thought about going seasonal, and making something snow related, you know, like a white snowball cake or something, but for some reason I decided on a bananas foster cake.  My family has always loved banana cake. My Mom used to bake banana chocolate chip cake and frost it with cream cheese frosting.  It was so good!  Then eventually I found a banana almond layer cake recipe which quickly became the favorite dessert to make for special occasions.  So, banana seemed like a win, since I would be sharing this cake with my loved ones.  The classic dessert bananas foster has bananas and vanilla ice cream,  with a rum brown sugar sauce that is lit on fire before serving.  No lighting stuff on fire would be happening in my kitchen, but I wanted the cake to have all of the same flavors.
I made my classic date sweetened banana cake, because it always turns out nice and moist, but not too dense.  Bonus, the dates give it almost a caramel like flavor.  It smells amazing while baking, like the best banana bread.  Instead of the vanilla ice cream bananas foster has, I made a vanilla "cream cheese" frosting as the creamy element of this cake.  It was luscious, like something you would want to eat with a spoon.  Lastly, I made a rum spiked caramel in place of that sauce that they serve with it.  I didn't light it on fire though, so it was nice and boozy.  It is actually a date caramel, my favorite kind!  Simple to make, and dates are nature's caramel so it is perfect!  It was beautiful spooned over the cake!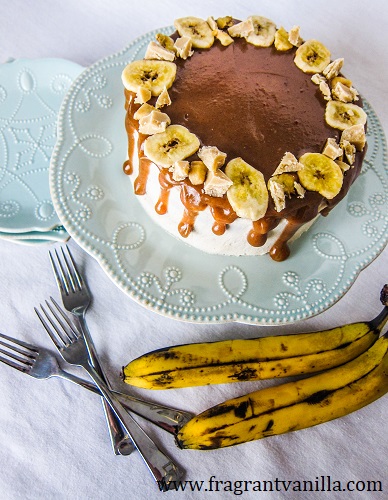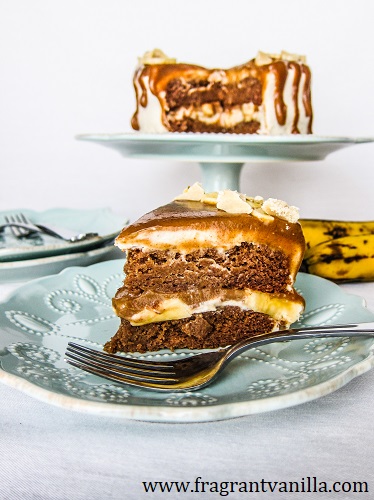 I topped it off with bananas and white chocolate and it was a sight to behold.  I could not wait to taste it.  Well, let's be honest, I mean taste it all together, because I had been tasting the frosting and caramel and cake batter as I went.  It was so heavenly!  The sweet moist banana cake, gooey boozy date caramel, fruity bananas and melt in your mouth frosting.  Just the sort of celebration cake perfect for New Years!  I hope you all have a wonderful 2018!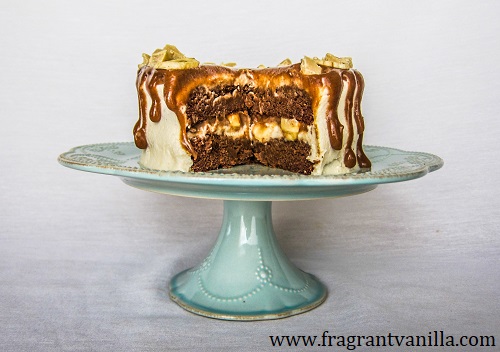 Vegan Banana's Foster Cake 
Makes 1 6 inch 2 layer cake
Ingredients:
2 6 inch cake pans
Cake:
1 1/2 cups Bob's Red Mill gluten free all purpose flour
1 1/2 tsp baking soda
1 tsp baking powder
1/2 tsp sea salt
1/2 tsp cinnamon
1 cup packed soft medjool dates, pitted, soaked in water for 30 minutes and 1 cup of the soaking water reserved
1/4 cup pecan butter or almond butter
1 Tbsp pure vanilla extract
1 cup pureed organic bananas
2 Tbsp apple cider vinegar
Frosting:
1 15 oz can organic full fat coconut milk, chilled
1/2 cup raw cashew butter
1/3 cup maple syrup
1/4 tsp sea salt
1/4 tsp cider vinegar
1 tsp pure vanilla extract
1/2 cup plus 2 Tbsp melted coconut butter (warmed to liquid)
Caramel:
1 cup pitted medjool dates, soaked for 30 minutes and drained
3 Tbsp pecan butter or almond butter
2 Tbsp dark rum (make sure it is vegan on Barnivore)
1/3 cup filtered water (or as needed)
1 tsp pure vanilla extract
1/8 tsp sea salt
For assembly:
2 small bananas, sliced
vegan white chocolate chunks
Directions:
Preheat the oven to 375F degrees and position rack in center of oven. Line two six-inch-diameter cake pans with 2-inch-high sides with parchment paper. Coat parchment paper and pan sides lightly with oil so that the cake doesn't stick and line the bottom of the pan with a piece of parchment fit to the pan.
Whisk flour, baking powder, baking soda, sea salt and cinnamon in a large bowl to blend well.  Set aside.
Place dates, reserved water, nut butter, banana puree, and vanilla extract into a blender, and blend until smooth, then whisk this blended mixture into the flour mixture until well blended. Whisk in the cider vinegar until bubbles form. Transfer cake batter to prepared pans and bake cakes until tester inserted into center comes out clean, about 30 minutes. Cool cakes completely in pan . Cut around sides of pan to loosen. Turn cakes out onto platter; peel off parchment paper.
To make the frosting, combine all ingredients in a high speed blender and blend until completely smooth.  Pour into a bowl and place in the freezer until the consistency of stiffly whipped cream (about 30-45 minutes depending on how warm it has gotten.  Once it is ready place in the refrigerator until ready to assemble.
To make the caramel, combine all of the ingredients in a high speed blender or food processor and process until smooth (adding a little more water if it seems too thick).  Set aside until you are ready to assemble the cake
To assemble, place one cake layer on a plate, and spread about 1/2 cup frosting over it.  Spread a layer of caramel over that (leaving a 1 inch boarder around it from the sides of the cake), cover with a layer of bananas. Place the other cake layer over that, then spread the remaining frosting on the top and down the sides of the cake.
Thin out the remaining caramel slightly with a little water (you can always add more if needed).  Spoon the remaining  caramel over the cake allowing it to drip down the sides. Decorate the top of the cake with banana slices and white chocolate.
***if you would like a 2 layer 9 inch cake, double this entire recipe and bake in two 9 inch cake pans.  It will take longer to bake, about 50 minutes to 1 hour.
(Visited 2,024 times, 1 visits today)