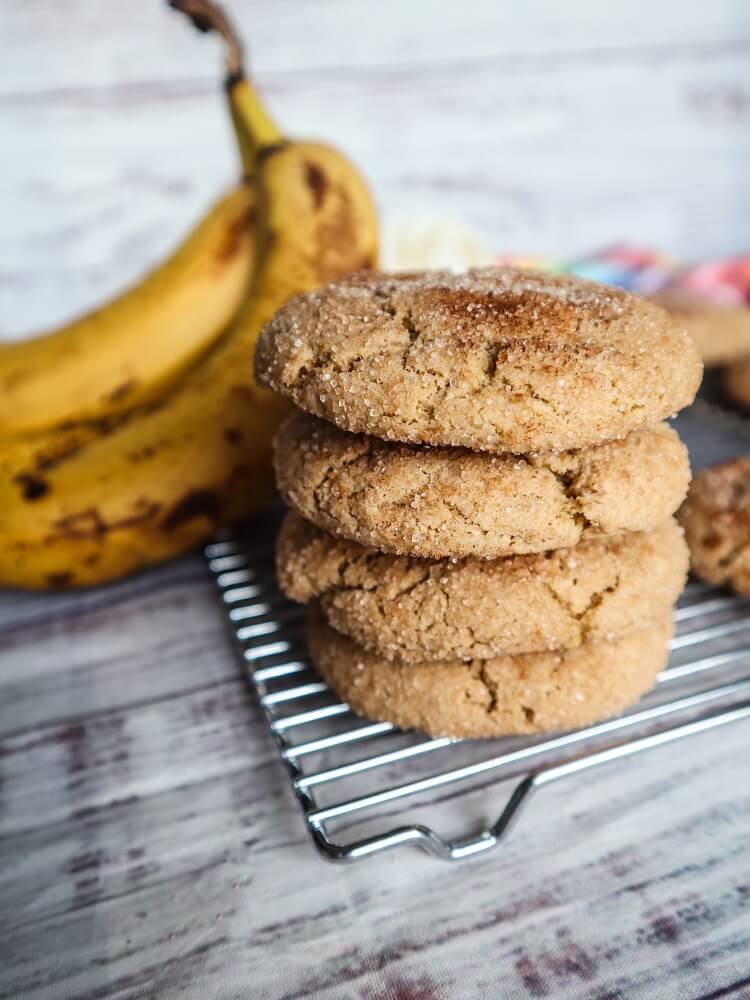 Vegan Banana Snickerdoodle Cookies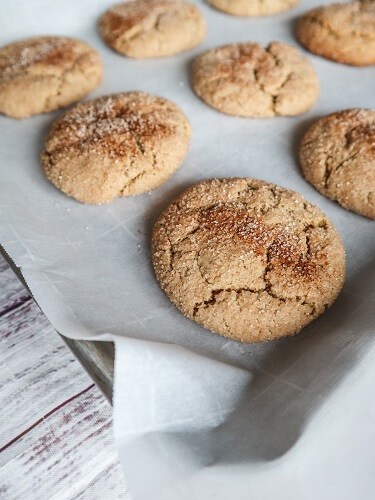 I make vegan snickerdoodles at work, and they are one of my best selling cookies.  I have to say, they would be one of my top choices as well, they are pretty darn delicious with their chewy texture, sweet sugar cookie flavor and aromatic cinnamon sugar coating.  Snickerdoodles weren't something that we made in my family growing up, we usually just made plain sugar cookies (which I also love), so when I first enjoyed a snickerdoodle in high school at a coffee shop I thought it was just heavenly and something that I should try making at home.  So, my friend and I made home made ones when we were having a girls night and they were amazing!  I have since come up with a vegan recipe which is what I make at work, and sometimes at home. Last weekend I decided to make some, but I realized I didn't have any apple sauce (which is the secret ingredient to give them amazing texture), so I decided to substitute mashed banana instead and make Vegan Banana Snickerdoodle Cookies!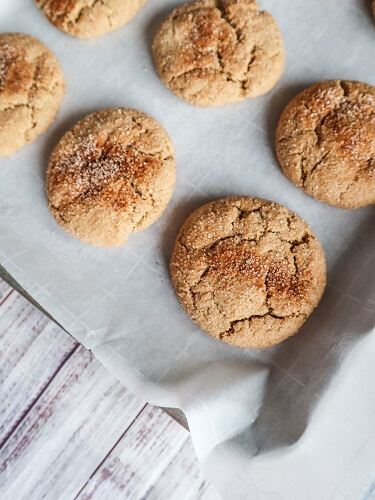 Why not?! After all I love banana and it goes so well with cinnamon.  I improvise a lot when it comes to baking, because I don't want to make extra trips to the store and I like to use what I have.  In this way, a lot of times bananas, apple sauce, mashed sweet potato and pumpkin are pretty interchangeable in a recipe like this so you can go with what you have on hand!  The flavor will be a little different of course, but this time the idea of a banana bread flavored snickerdoodle sounded amazing!
I did swap the granulated sugar in the recipe for brown because I thought it suited the banana better, and I used whole wheat pastry instead of all purpose because that is what I prefer to use at home most of the time.  I honestly don't notice the difference besides color in a cookie recipe between the two anyhow and I try to make my recipes a little healthier at home. Also this is quite a bit scaled down recipe compared to one I would make at work, since I prefer to make smaller batches at home.  This way I don't end up with waaayyy too many cookies that I have to gift to people since my husband and I can't eat more than a normal sized batch and the freezer gets full fast lol.  In case you are wondering, that is where the leftovers from the things I make go so we can enjoy them over time. They stay as fresh as the day I made them that way!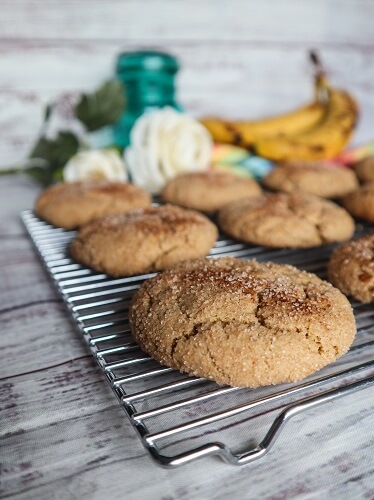 These cookies baked up beautifully!  My kitchen smelled heavenly like the aroma of banana bread and cinnamon!  I could not wait to try one!  Luckily they only had to cool down for a little bit until they were cool enough to sample.  They were soft sweet and delicious, flavored like banana bread with the texture of a snickerdoodle! If you have some ripe bananas on hand definitely give these Vegan Banana Snickerdoodle Cookies a try!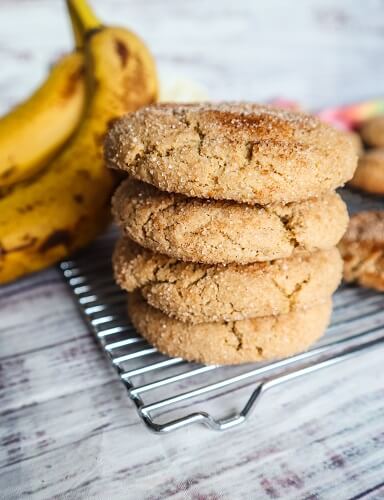 Vegan Banana Snickerdoodle Cookies
Makes 16
Ingredients:
3/4 cup melted coconut oil
1 1/2 cups brown sugar or maple sugar
1/2 cup well mashed banana at room temperature
1 tsp pure vanilla extract
1 tsp sea salt
1 tsp baking soda
1/2 tsp baking powder
2 1/2 cups whole wheat pastry flour or all purpose flour (for a lighter colored cookie)
3/4 cup granulated sugar mixed with 2 tsp cinnamon for coating
Instructions:
Preheat the oven to 350F degrees, and line two sheet pans with foil.
In a large bowl, mix together the coconut oil, sugar, banana and vanilla extract until well blended.
Mix in the salt, baking soda and baking powder, then the flour until smooth.
Place the cinnamon and sugar mixture in a bowl.
Form the dough into 1 1/2 inch balls, roll them in the cinnamon sugar mixture, and place on the cookie trays about 2 inches apart.
Press the dough balls down slightly and sprinkle with additional cinnamon sugar.
Place the pans in the oven and bake for about 7 minutes, then rotate them and bake another 7 or so until the cookies are done and lightly brown at the edges.
Remove from the oven and let cool at least 15 minutes before enjoying.
(Visited 1,019 times, 1 visits today)