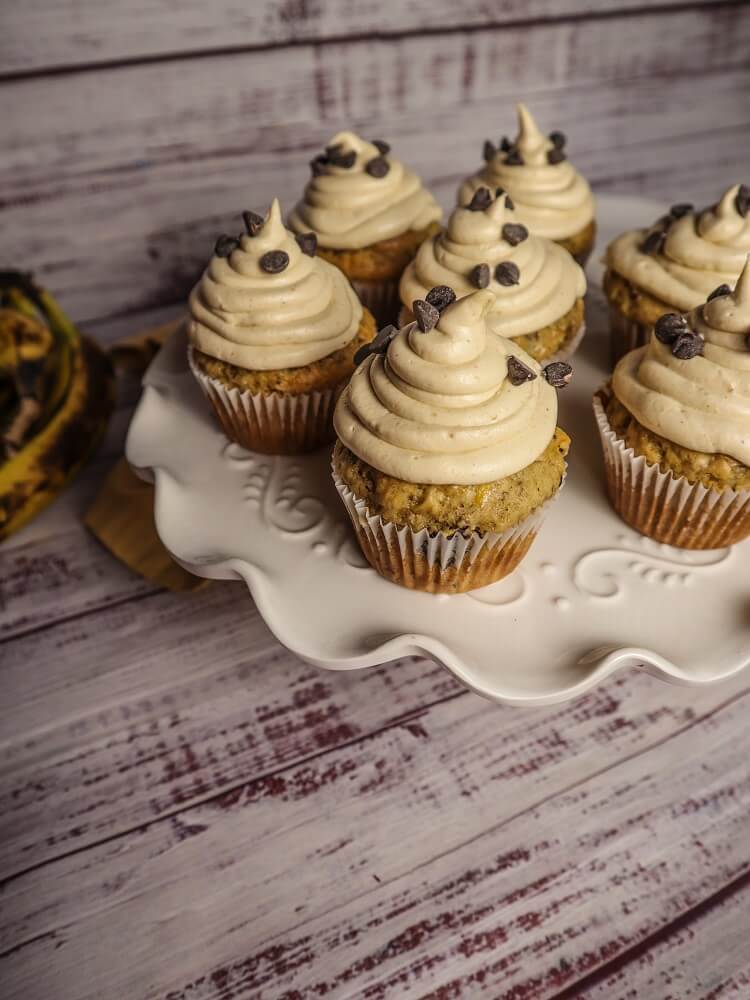 Vegan Banana Peanut Butter Chocolate Chip Cupcakes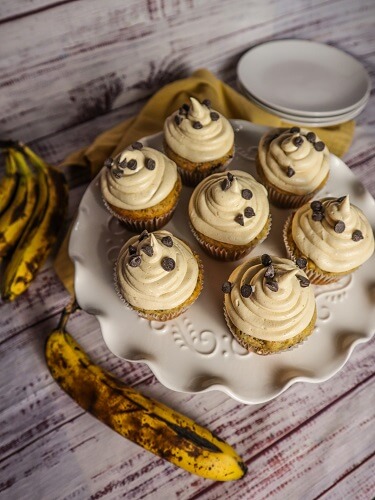 Last weekend I was in the mood for something sweet.  Cake sounded good, but what kind to make?  Well, when I saw the huge pile of bananas on my counter when I got home, I decided something with banana was in order. I had enough bananas in the freezer for smoothies so I needed to use some of these!  I also happened to have some Earth Balance on hand from another cake frosting recipe so I thought I would use that in the frosting as well!  Since I was in a little bit of a time crunch because of getting off work late, it didn't appeal to me to bake a cake that needed to be carefully frosted, so I made cupcakes!  I love cupcakes because they are much easier to make than a whole cake, already portioned out and the frosting ratio is perfect, since I love my frosting! Instead of just plain banana cupcakes with vanilla frosting, I upgraded them to Vegan Banana Peanut Butter Chocolate Chip Cupcakes! With a peanut butter cream frosting.  I love my peanut butter and it is so good with banana and chocolate!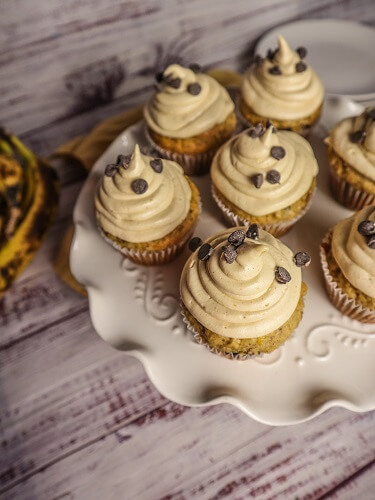 For the cake portion, I used one of my other banana cake recipes as a base, which is a simple mix, pour into the tins and bake sort of thing.  Nothing fussy here!  The batter tasted amazing by the way. Ever since I was a kid and in my Grandma's kitchen when she would bake and I begged to eat the excess batter from the bowl, it is tradition I do that.  I don't like to waste after all and that way I know it is good!  The chocolate chunks were the perfect addition! My kitchen smelled amazing while they were cooling after I removed them from the oven. I feel like baking is sort of aromatic therapy.  I always feel in a better mood when enjoying the aroma of something freshly baked!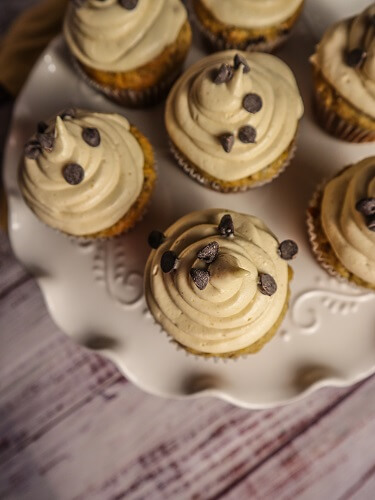 For the frosting, I used a mixture of Earth Balance and my home made smooth peanut butter with powdered sugar, a little milk and vanilla and it was perfect!  It was so delicious, fluffy and sweet like something you would taste on a cake at a vegan bakery!  So, if that is what you are going for then I recommend this frosting!  I know I have a bunch of healthier coconut milk based frostings on my website if that is what you are going for (feel free to search them out if you would rather use those), but I like to make something indulgent from time to time, and my husband likes classic buttercream so I am not going to argue with that!  After all, making your own bakery style cupcakes at home is fun, and less expensive than going out to buy them all the time.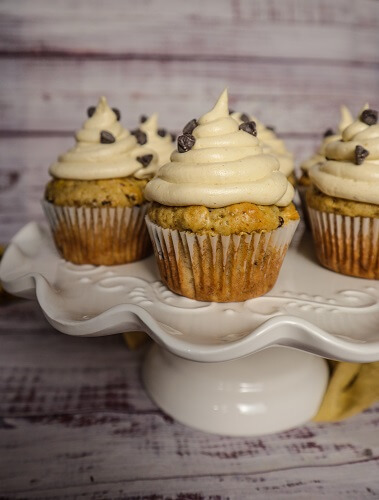 These cupcakes turned out so heavenly! They were soft, and fluffy, sweet with banana flavor and rich chocolate chips, the peanut butter frosting was the perfect thing to top them with!  These are especially good with a cup of good coffee, I enjoyed a few of them that way!  If you have over ripe bananas on hand, definitely give these Vegan Banana Peanut Butter Chocolate Chip Cupcakes a try!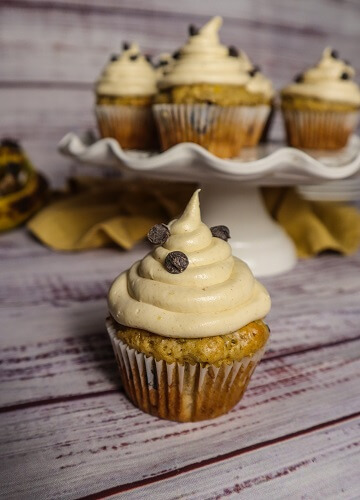 Vegan Banana Peanut Butter Chocolate Chip Cupcakes 
Cake:
1 1/2 cups organic whole wheat pastry flour (or regular AP flour)
1 cup coconut sugar
1 1/2 tsp baking soda
1 tsp baking powder
1/2 tsp sea salt
3/4 cup pureed banana
1/4 cup avocado oil
1 Tbsp pure vanilla extract
1/2 cup + 2 Tbsp plant based milk
2 Tbsp apple cider vinegar
1/2 cup vegan dark chocolate chunks or chips plus more for topping
Frosting:
1 cup vegan butter, I used Earth Balance (at room temperature)
1/2 cup smooth peanut butter
3-4 Tbsp plant based milk (add 3 then if needed add another if frosting comes out too stiff)
1 tsp pure vanilla extract
4 cups powdered sugar
Instructions:
Preheat the oven to 350F degrees and position rack in center of oven.
Line a 16 cup muffin tin with liners.
Whisk flour, baking soda, salt, and sugar in a large bowl to blend well. Whisk banana, oil, vanilla extract, and milk together in small bowl to blend well, then whisk into the flour mixture until well blended. Whisk in cider vinegar until pale swirls form in the batter and it is well combined. Fold in the chocolate chunks.
Transfer cake batter to prepared tins filling them 3/4 full and bake cupcakes until tester inserted into center comes out clean with a few crumbs attached, about 20 minutes (depending on your oven, it could be 25). Remove from oven.
Cool cupcakes completely in pan on rack, at least 1 hour.
To make the frosting, beat the butter  and peanut butter in a large bowl with the milk and vanilla until fluffy.
Add the powdered sugar  1 cup at a time, and beat until completely mixed and light and fluffy (if the frosting is too stiff add that other Tbsp of milk).
When ready to frost, Put the frosting in a pastry bag and pipe over the cupcakes (or alternatively just spread or dallop it on top). Sprinkle with chocolate chips or chunks.
Store any leftover cupcakes in the refrigerator for up to 1 week in a covered container.
(Visited 509 times, 1 visits today)