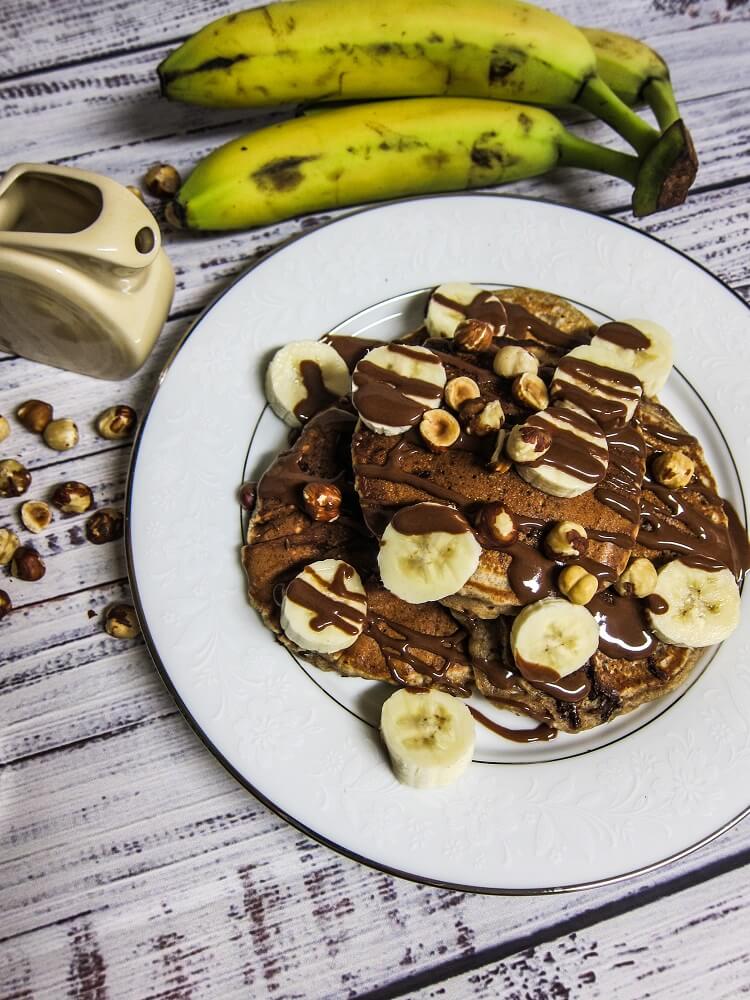 Vegan Banana Hazelnut Chocolate Pancakes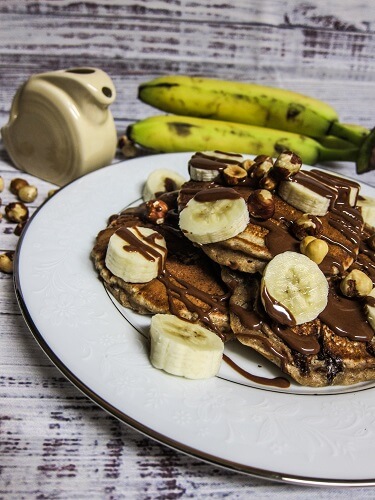 When you get a bunch of free bananas, you make banana goodies. Or freeze them for smoothies, but I already had some in the freezer so I made some banana bread pudding earlier this week, and then these banana hazelnut chocolate chip pancakes this weekend.  I guess I am in the mood for brunchy banana deliciousness.  I haven't made pancakes in at least a few months so it was about time.  I actually decided to make them because I had a hectic long day at work after the holidays playing catch up and pancakes sounded like the perfect thing to calm down with.  There is something comforting about making pancakes and enjoying them in your PJs!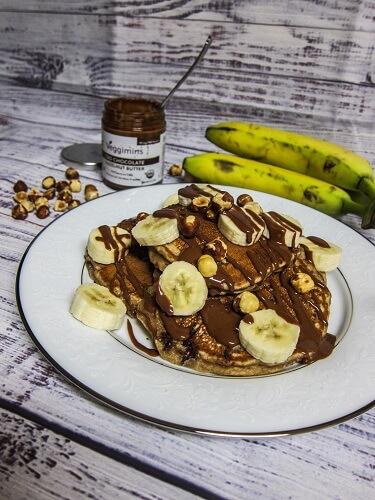 I was going to go with just banana pancakes with caramel or syrup, but then I remembered that I had some Veggimins CBD Chocolate Hazelnut Spread from Raw Guru that I could drizzle over them. So I went with a banana chocolate chip hazelnut flavor combo.  I am one of those people who can't just make plain anything so it isn't surprising.  I love that these pancakes are so quick and easy to make so you can enjoy them fast!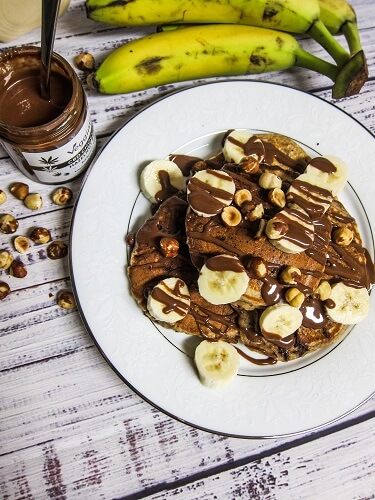 For the base, I used Bob's Red Mill all purpose gluten free baking flour because it is what I happened to have on hand, but you could use whole wheat pastry flour if you don't want them gluten free.  Next I added in bananas and maple syrup for sweetness plus some hazelnut butter for richness instead of oil.  Yes, these are oil free, and you would never guess by tasting them.  Lastly I stirred in some chocolate chips because why not?!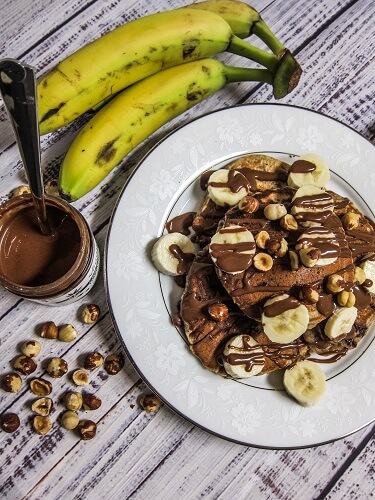 They cooked up beautifully and smelled amazing and I could not wait to try them.  But first, I topped them off with bananas, some chopped hazelnuts and of course the Veggimins CBD Chocolate Hazelnut Spread.  I love that stuff, it is so good, and why not get your daily dose of CBD in chocolate form!  The pancakes were heavenly!  Sweet, filled with banana chocolate and hazelnut flavors and fluffy on the inside with gooey chocolate chips!  If you have some ripe bananas on hand, you know what to make now!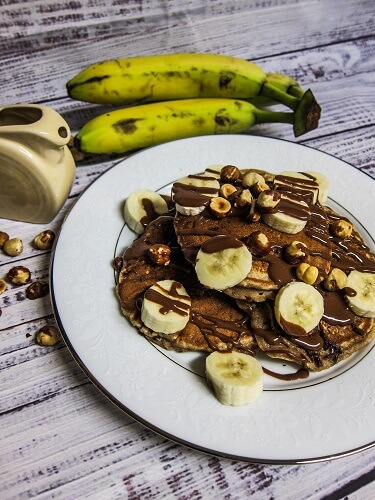 Vegan Banana Hazelnut Chocolate Pancakes
Makes 12
Ingredients:
2 tsp baking powder
1 cup mashed banana
1/2 cup filtered water
1/4 cup hazelnut butter
2 tsp pure vanilla extract
1/4 tsp sea salt
3 Tbsp maple syrup
1/2 cup chocolate chips
Toppings:
Sliced bananas
toasted hazelnuts
Directions:
In a food processor, combine all pancake ingredients (except the chocolate chips) and process until just blended (alternatively you can whisk it if you don't have a food processor), stir in the chocolate chips, pour into a bowl and set aside.
To cook pancakes, preheat oven to 110 degrees. Heat a large ceramic non-stick* pan over medium heat. Once hot, add the batter in 1/4 cup amounts (I did 3 at a time, but it depends on your pan), and let cook for about 2-3 minutes on the first side until set and starting to brown, then flip with a spatula, and cook another 2-3 minutes.
When cooked, place on a plate and keep warm in the oven while you repeat the process with the remaining pancakes.
*If you don't have the Veggimins CBD chocolate hazelnut spread, you can whisk together 1/4 cup hazelnut butter (or almond butter or your choice of nut or seed butter) with 2 Tbsp unsweetened cocoa powder and 3-4 Tbsp maple syrup (or as needed to make it pourable), plus a pinch of sea salt instead.
*Note: If you do not own a non-stick pan, you may need to lightly oil your pan to prevent sticking, if you do not mind these not being oil free.
(Visited 353 times, 1 visits today)