Vegan Banana Chocolate Shortcakes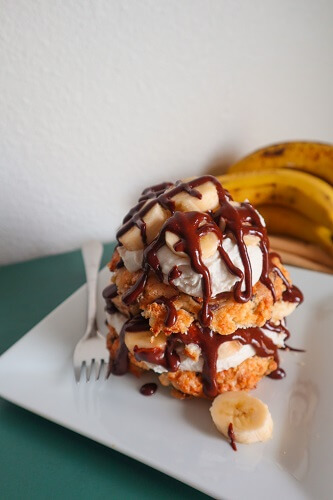 I love a good strawberry shortcake, especially in summer.  Other berry shortcakes are good as well, and I have even made an apple shortcake for fall.  But it occurred to me when I was making some banana scones the other day that I have never seen a banana shortcake!  So I decided to make one last week.  I should explain that the scone dough I make is the same dough I use for my shortcake biscuits. So I just saved one of my banana chocolate chip scones as the biscuit and made them double banana chocolate!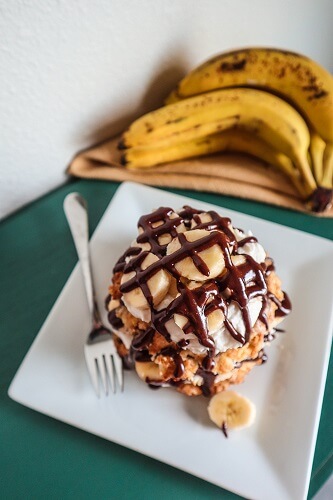 These are some of the most delicious shortcake biscuits I have ever had.  The are not tough or spongy, they are light and tender with a crusty layer on the outside and you would swear they contained butter, but they are rich from the coconut oil.  These ones had vegan chocolate chips and banana slices in them as well!  The filling for these is a little easier than the strawberry ones because the filling doesn't require cooking. I just sliced up some sweet bananas!  Since they are tender and flavorful as is.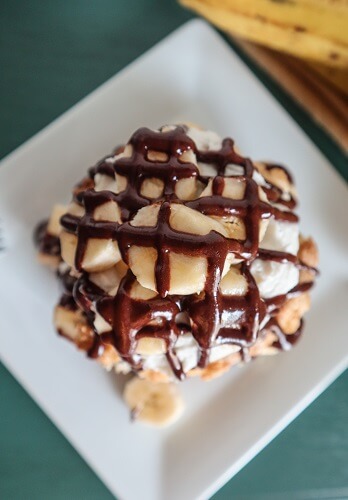 I made some vanilla coconut whipped cream for the filling as well and I knew it would be heavenly with the biscuits and bananas!  But these needed chocolate as well, so I whipped up a quick and easy chocolate sauce!  Once they were all layered and ready to enjoy, I could not wait to try one!  Not that I hadn't been tasting the components 0f them as I went anyway but I knew once they were all together they would be awesome!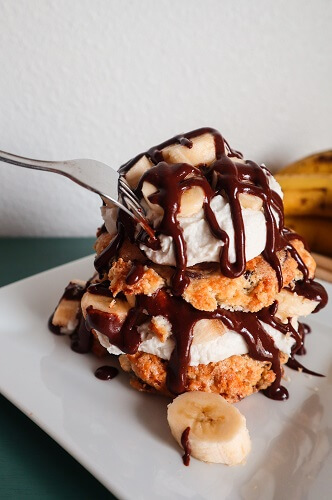 They were totally heavenly!  The rich, buttery scone was perfect with the sweet chocolate sauce, fluffy vanilla scented cream and bananas! I don't know why other people don't make banana shortcakes.  They are super delicious and definitely worth trying if you are a banana fan or have bananas on hand!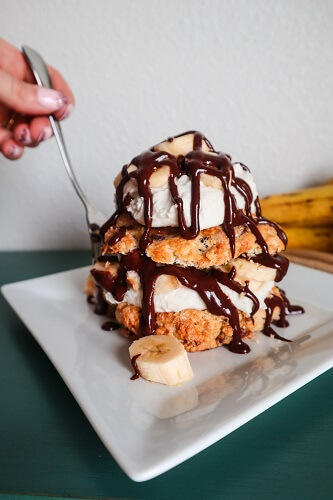 Vegan Banana Chocolate Shortcakes
Serves 4
Ingredients:
Shortcake biscuits:
1 1/4 cups organic whole wheat pastry flour
1/4 cup maple sugar or coconut sugar
1/2 tsp plus 1/8 tsp baking powder
1/8 tsp sea salt
1/4 cup solid coconut oil, cut into chunks
1 banana, sliced
1/4 cup vegan chocolate chips
1/4 cup cold full fat coconut milk (chilled in the fridge is best), mixed well
1 tsp pure vanilla extract
Coconut whipped cream:
1 1 15 oz can full fat organic coconut milk, at room temperature
1/4 cup maple syrup
pinch sea salt
1 tsp pure vanilla extract
1/2 cup plus 2 Tbsp coconut butter (NOT OIL), warmed to liquid
Bananas and chocolate sauce:
1/2 cup almond butter (or your favorite nut butter)
3 Tbsp maple syrup
2 Tbsp cacao powder or unsweetened cocoa powder
1/4 cup filtered water (or as needed)
4-5 large bananas, sliced
Preheat oven to 400 degrees with the rack at the center position.
Meanwhile, to make biscuits, in a large bowl, combine the flour, sugar, baking powder, and salt. Cut in the oil with a pastry blender or 2 knives until the mixture starts to clump into pea sized pieces. In a small bowl, stir the vanilla extract into the coconut milk. Add the milk to the dough, along with the pecans, and stir a few times, but do not over-mix. The dough should hold together when squeezed, but still be clumpy. Place dough on a floured work surface, and pat into a 1/2 inch tall rectangle.  Cut into 4 squares, then shape them into circles and place on a parchment lined baking tray.
Place biscuits in the oven and bake for about 20-25 minutes until starting to brown and done in the middle  (but not over-baked).
Remove biscuits from the oven and let cool.
For the whipped cream, combine all ingredients in a blender and blend until completely smooth. Pour into a bowl and place in the freezer until it is thick like whipped cream (whisking every so often), about 45 minutes to one hour.
To make the fudge, whisk together the almond butter, maple syrup, cacao powder, and filtered water until smooth, adding a little more water if too thick.
To assemble, slice a biscuit in half (carefully), spoon some bananas over it and drizzle with some fudge.  Top with some coconut cream over that and top with another biscuit and more coconut cream, bananas and fudge.  Repeat with the other 4.  Serve!
(Visited 460 times, 1 visits today)