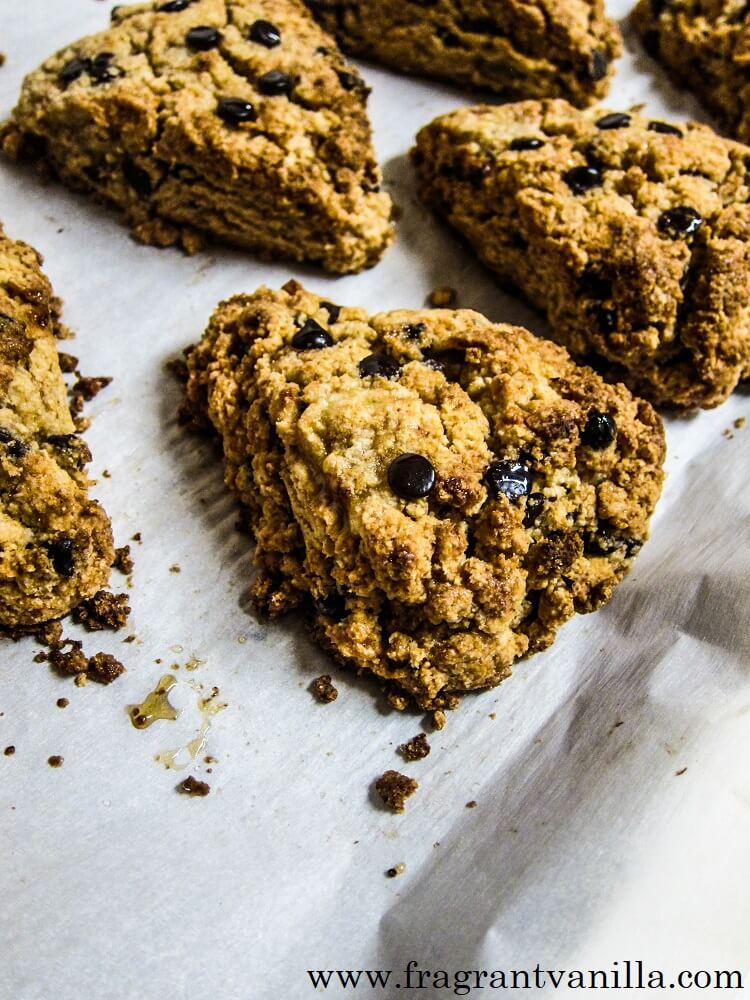 Vegan Banana Chocolate Chip Scones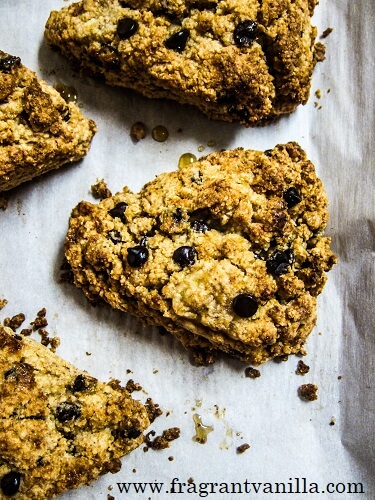 In the deli I work in, they make a lot of baked goods.  My work station is right next to the cooling rack, so I get to enjoy the aroma of freshly baked sweets all day long, and I admit it is certainly a mood booster.  Happy smells.  That is why I love baking so much at home too!  Yes, I know it is surprising that I don't bake at work. I am actually the one who prepares all of the salads for our case and vegetarian and vegan soups and hot bar.  Plus, we don't have any vegan baked goods prepared in house at the time, so I don't eat them anyway.  I am hoping some day we do.  But in the mean time, I can still enjoy the baked goods delicious aroma at work.  Not only that, I am often times inspired to veganize them at home, and then share the recipes with you all!  One of my coworkers makes the most amazing scones. A long time ago I had tried them (before I went vegan, I have worked there 12 years), and they were the most delicious scones ever.  Perfect flaky texture, perfect amount of sweetness and super tender. And, I was lucky enough to have her teach me how to make scones, because she was making a big batch for a party and needed help.  So I learned how to properly mix the dough so that they turn out perfect.  The key is to leave clumps and not over-mix them.  I started making my own at home and they were just as delicious, and later I came up with the perfect vegan recipe.  It really wasn't hard to veganize, swapping the butter for coconut oil, heavy cream for coconut cream, and leaving out the eggs made them even better in my opinion.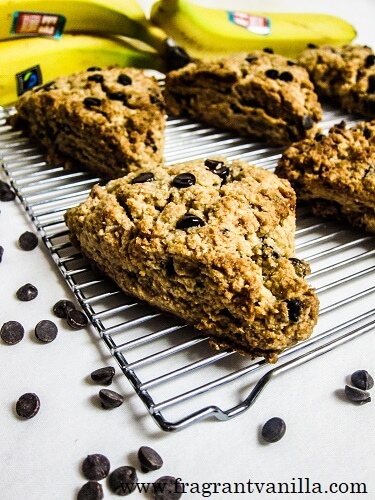 So, the other day, she made banana chocolate chip scones, and there they sat, smelling amazing on the rack next to me.  I had to make a veganized version.  Surprisingly I have never made any banana scones before.  So it was a good time to try it!  I actually ended up making these twice, because the first attempt got over-mixed and slightly over baked.  And, I wanted them to be perfect to make sure they would be good if you all made them.  I make mistakes too sometimes, so don't ever feel bad if you do!  Anyways, back to the scone recipe.  For the base, I used gluten free flour, coconut sugar to sweeten, and a touch of cinnamon and nutmeg.  Once I added in the coconut oil and full fat coconut milk, it was perfect!  Yes, I enjoy eating scone dough too.  Be sure to use full fat coconut milk for these by the way, you want the thick creamy part from the top of the can.  Because this is what replaces the heavy cream in classic scones.  No, these are not fat free, but hey, we all need a little fat sometimes in our diets and these are a treat.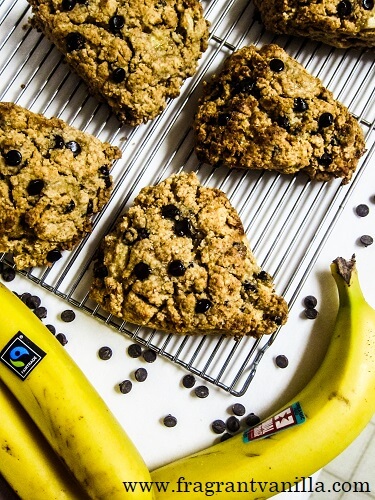 I mixed in the bananas and chocolate chips, and shaped them into little triangles and they looked so good even before I baked them!  They smelled amazing while baking, and I could not wait to try them.  But of course they needed to cool so I had to wait a bit.  But it was so worth the wait!  The scone was tender and flaky, with sweet bits of jammy banana and gooey rich chocolate chips (I had it warm).  I love veganizing recipes!  If you are looking for the perfect thing to bake on a lazy weekend morning, this is it!  After all, the smell of fresh baked goods in the morning will make you feel happy all day.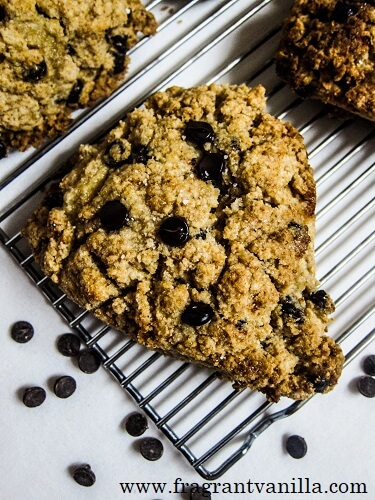 Vegan Banana Chocolate Chip Scones
Makes 8
Ingredients:
Instructions:
Preheat oven to 425F degrees with the rack set at the middle position.
Line a baking sheet with parchment.
In a large bowl, combine the flour, sugar, cinnamon, nutmeg, baking powder, and salt. Cut in the coconut oil with a pastry blender or 2 knives until the mixture starts to clump into pea sized pieces. In a small bowl, stir the vanilla into the coconut milk. Add the coconut milk to the dough, and stir a few times, but do not over-mix. The dough should hold together when squeezed, but still be clumpy.
Fold in bananas and chocolate chips until evenly distributed.
Place dough on a floured work surface, and shape into a 4 inch wide log. Use a bench scraper to cut into 8 triangles.
Place scones on the prepared baking sheet, reshaping slightly if necessary.
Brush the tops lightly with the coconut milk (only if they seem dry, you want the sugar to stick), and sprinkle with coconut sugar.
Place in the oven and bake for about 20 minutes or until golden brown (after about 15 minutes you may need to reshape with 2 bench scrapers if the scones are spreading, then place back in the oven).
Cool on a wire rack.
*If you prefer to make these not gluten free, you can swap the gluten free flour for organic whole wheat pastry flour.
(Visited 388 times, 1 visits today)