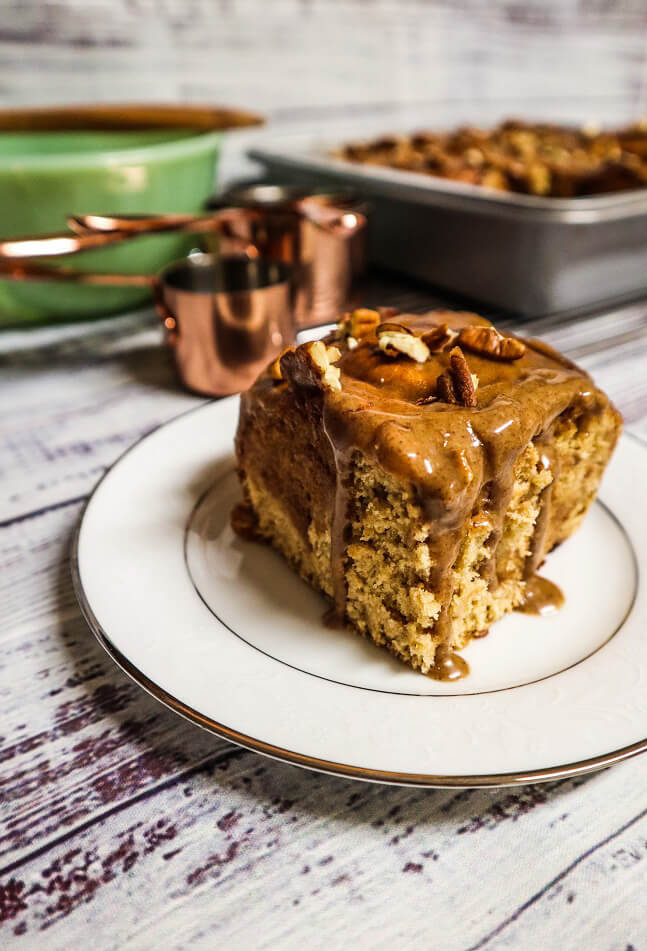 Vegan Banana Caramel Rolls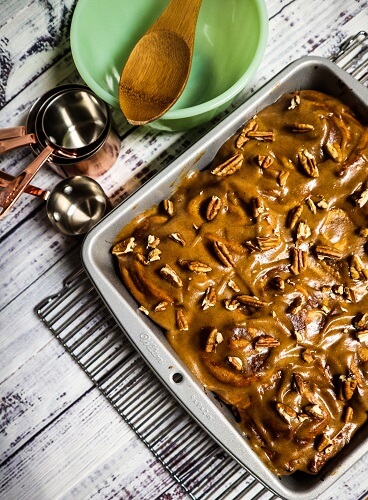 Easter is coming up next weekend, and although it will be a little different this year, me and my family will still be enjoying good food.  Honestly, most years we go out to dinner for Easter, so it will be nice to make some of the traditional things I enjoyed growing up and share with my family.  It has been quite a few years since we cooked for ourselves and enjoyed a meal at home. Growing up, my Mom always hosted Easter, and it will be like old times, except with only 3 people instead of 10.  We are making a veganized version of cheesy potatoes I loved growing up, and I am going to make some maple dijon glazed tempeh instead of the ham we used to have, and a couple of flavorful salads.  Plus, we need some sweet rolls, because those were one of the other favorites we always had.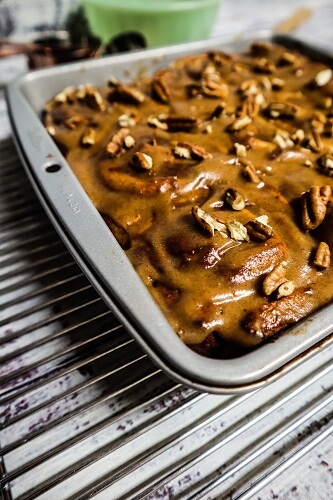 So, last weekend I baked some vegan banana caramel rolls, and I am going to freeze some for us to enjoy next weekend (since I won't have time to make them then). I am still working (I work in a grocery store deli), so even with all of the shut downs it doesn't mean I have tons of extra time. Caramel rolls were one of my favorite things that were served with the Easter meal and my veganized version is just as good!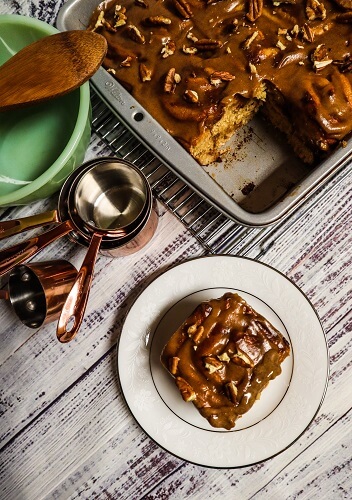 This time I decided to make banana, because banana and caramel go so well together, and also the banana gives them a nice soft texture and a little sweetness. For the dough I used my whole wheat pastry flour as the base, with banana and coconut milk to give it a nice soft texture.  I usually use a flax egg too, but the banana worked just fine to make them tender.  The dough is soft and kneads up nicely.  I find it kind of stress relieving to knead out dough!  I spread a date caramel on the inside so these would be nice and sweet, and still just as delicious as the original but a bit healthier.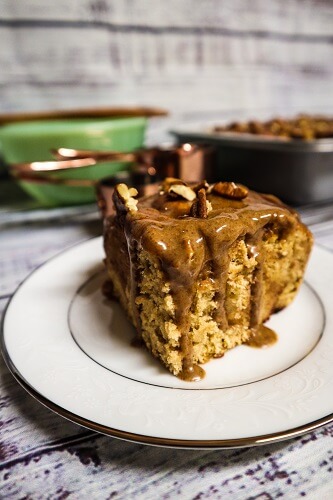 They baked up beautifully, and smelled amazing while baking!  I spread more caramel over them after they baked and could not wait to try one!  These are sooo good warm from the oven!  If you are a caramel roll fan, definitely give them a try!  They would be perfect for your Easter brunch too!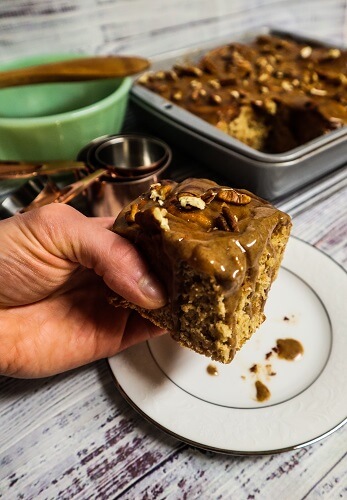 Vegan Banana Caramel Rolls
Makes 12
Dough:
1/4 oz active dry yeast
1/2 cup warm water ( 105-110F degrees)
1/2 cup warm coconut milk (I warmed it up on the stove)
3/4 cup mashed banana
1/4 cup maple sugar or coconut sugar
1 tsp pure vanilla extract
1 tsp sea salt
3 3/4 cups whole wheat pastry flour or as needed
Caramel Filling/Topping:
1 1/2 cups soft, pitted medjool dates (if not soft, soak them in filtered water 30  minutes and drain well before using)
3/4 cup pecan butter (raw cashew butter or almond butter would also work if you don't have pecan)
1/2 cup filtered water (or as needed)
1/4 cup maple syrup
1 tsp pure vanilla extract
1/4 tsp sea salt
Instructions:
To make the dough, combine the yeast and the warm water plus a pinch of maple sugar and stir to dissolve. Let sit 5-10 minutes until it starts to foam.
In a large bowl, combine the coconut milk, banana, maple sugar, vanilla extract, salt and mix together to combine.
Add the yeast, and 2 cups of flour and mix to combine.
Add the remaining 1 3/4 cups of flour and mix until you have a smooth dough (you may need to use your hands at the end to mix it in).
Turn out onto a lightly floured surface, and knead for 5-10 minutes until smooth and supple. If it is too sticky add a little more flour but you want to add as little as possible because if you add too much the dough gets tough.
Place in an oiled bowl, and cover. Let rise for about 1 1/2 hours until doubled in size.
Meanwhile to make the caramel, add all ingredients to a blender or food processor and blend until completely smooth (if it is too thick, add a touch more water, you want it spreadable at this point, but will add more liquid later for topping the rolls with half the mixture).
When it is ready, turn out onto the counter or a board and roll out into a 9 x 15 inch rectangle.
Spread about half the caramel evenly over the dough.
Roll it up, then cut the roll into 12 pieces.
Oil an 8x8 inch square baking pan, and place them in the pan.
Cover and let rise for 45 minutes.
Meanwhile heat the oven to 350F degrees.
When the rolls have risen for 45 minutes, place them in the preheated oven and bake for about 30 minutes until starting to brown and cooked through.
Remove from the oven and let cool 15 minutes.
Whisk a little more maple syrup or water into the remaining caramel if it seems too thick to pour over the rolls.
Pour the caramel over the rolls, sprinkle with the pumpkin seeds and enjoy!
These keep covered at room temperature for up to 3 days, or refrigerated for up to 1 week.
(Visited 1,266 times, 1 visits today)