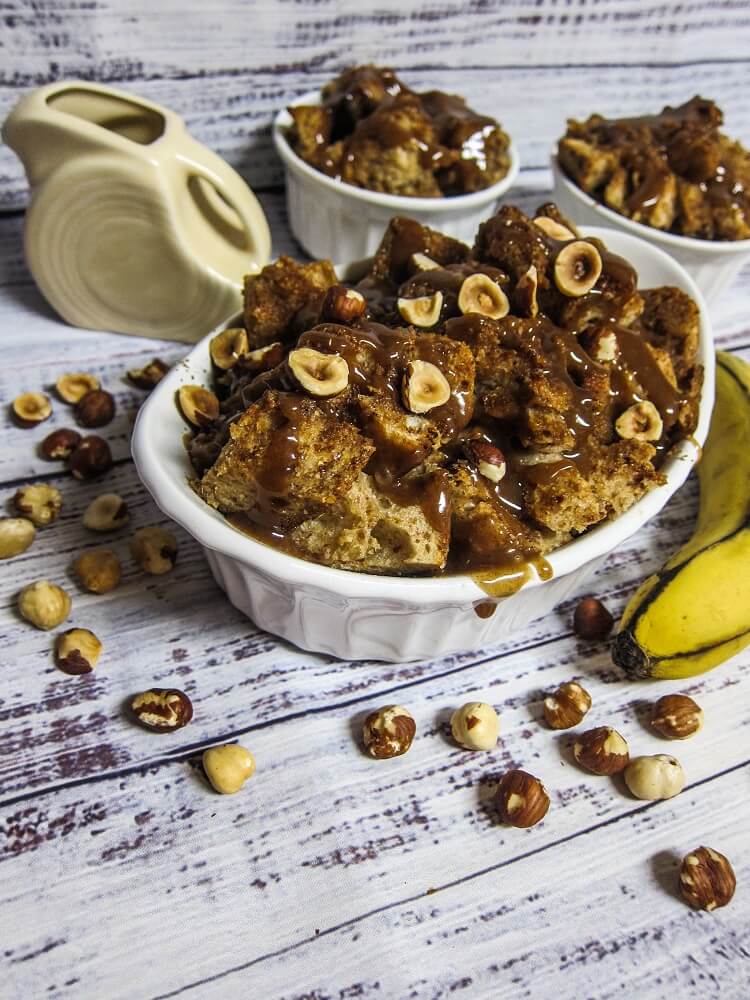 Vegan Banana Bread Pudding with Caramel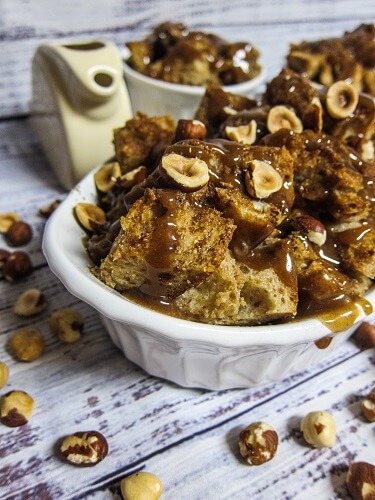 I was gifted some really good sourdough bread and decided that it would be lovely in some bread pudding. I had made some pumpkin bread pudding a few months back with some sourdough bread and it was amazing and I have been wanting to make more ever since.  It was perfect timing!  I didn't want to make it pumpkin this time though.  I figured since I had some really ripe bananas on hand I could make it banana bread pudding!  Bananas are a little bit naturally sweet so I knew they would be the perfect add in.  You would think that I would be all sweet treated out after Christmas but that is not the case.  I always up for vegan desserts!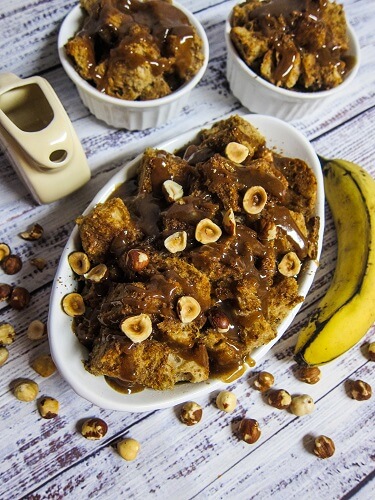 I had the day after Christmas off so it was the perfect time to make the bread pudding.  This is just the sort of thing to make after you sleep in late and have a relaxing morning at home.  I was feeling a bit stressed before Christmas, but I am feeling much better now after being able to relax, sleep in and make some fun things like this bread pudding.  For the soaking base I used oatmilk because that is what I happened to have on hand for making my lattes.  You could of course use your favorite plant based milk, but I recommend using something unsweetened.  If not you could always just cut back on the maple syrup in the recipe.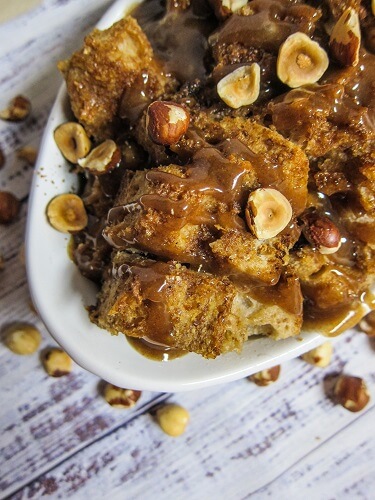 Next I added in banana and some cinnamon and nutmeg to make it a little aromatic plus some maple syrup and vanilla to sweeten.  Not going to lie, I tasted some chunks of the soaked bread and it tasted good even before I baked it!  I mixed in some toasted hazelnuts, poured it into baking dishes and could not wait for it to be done baking.  It smelled amazing.  Like banana bread, but even better.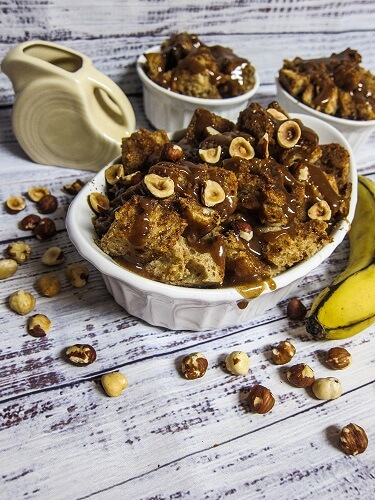 When it came out of the oven, I wanted to top it with something good.  I love when bread pudding has a sauce, so I made a quick and easy gooey caramel sauce to top it with!  It was soooo incredibly good!  This has to be enjoyed warm, and it makes the perfect comfort food dish for a Winter day!  Eric loved it too, and ate even more than I did!  The only thing that would have made it even better is some cool vanilla ice cream on the side (but I didn't have any at the time).  If you have some leftover sourdough bread, definitely give this a try!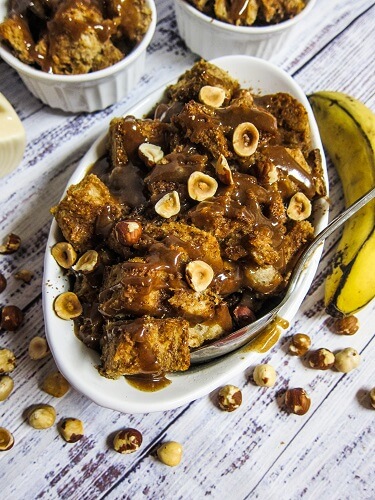 Vegan Banana Bread Pudding with Hazelnuts and Caramel
Serves 4-6
Ingredients:
Bread Pudding:
2 Tbsp ground flax seed, mixed with 6 Tbsp filtered water
1 1/2 cups oat milk (or your favorite plant based milk)
1/2 cup mashed banana
3 Tbsp maple syrup
1/2 tsp cinnamon
1/8 tsp nutmeg
1/4 tsp sea salt
1 tsp pure vanilla extract
6 cups lightly packed cubed sourdough bread
2 Tbsp maple sugar
1/2 cup chopped toasted hazelnuts
Caramel:
1/2 cup hazelnut butter, cashew butter or almond butter
1/4 cup maple syrup
2-3 Tbsp filtered water, or as needed
1 tsp pure vanilla extract
1/8 tsp sea salt
Garnish:
additional toasted hazelnuts
Instructions:
Preheat the oven to 350F degrees, and oil two 1 quart baking dishes (or see bottom of post for other baking dish options).
In a bowl, whisk together the flax seeds and water mixture, oat milk, mashed banana, maple syrup, spices, sea salt, and vanilla until well combined, then add the bread crumbs and toss to coat in the mixture.  Mix in hazelnuts.
Transfer to the prepared baking dishes, (including the liquid, pour it over them). Sprinkle with the maple sugar.
Place in the oven on a tray, and bake for about 25-30 minutes (see bottom for other pan sizes baking times), or until the top is starting to brown and the liquid has absorbed and baked into pudding at the bottom.
Remove from oven.
Whisk together the caramel sauce ingredients, drizzle over the pudding, sprinkle with hazelnuts, and enjoy warm!
For 6 small ramakins: bake 15 minutes
For 1 8x8 inch square pan or 2 quart baking dish: bake 30-40 minutes
(Visited 688 times, 1 visits today)