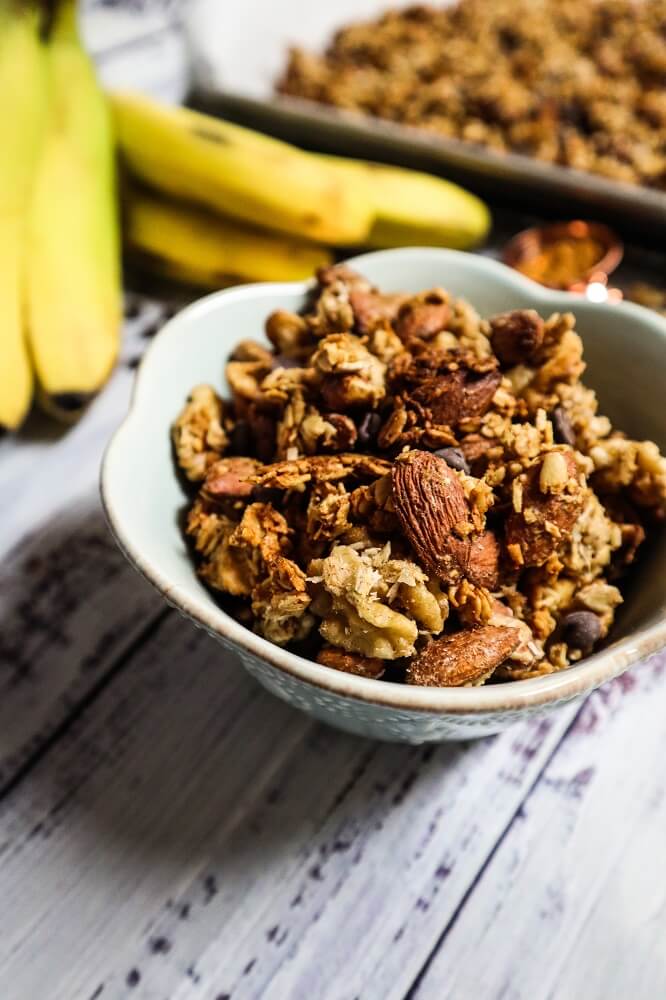 Vegan Banana Bread Granola
Store bought granola has nothing on home made.  It is so much fun picking your own flavors and ingredients.  Although I have my favorites, I try to switch it up a lot according to what I have on hand and try new things.  I always keep a bag of granola in my pantry at all times, so I end up making it a lot.  Last week, I decided to make a banana bread granola.  What I mean by banana bread, is the flavors and ingredients that would be in a good banana bread.  Because banana bread is kind of breakfasty and snacky like granola.  Also I just love all of the flavors in it.
I had all of the ingredients on hand so it was perfect!  I always have a big stock pile of oats because I eat them for breakfast every day anyhow.  I added in walnuts and almonds for the nuts.  Walnuts are traditional in banana bread, at least in my family and I just wanted a variety so I went with the almonds. I also added in coconut for extra sweetness and crunch.  I like a hint of cinnamon and nutmeg in my banana bread as well, because that is what my Mom and Grandma used to add to theirs.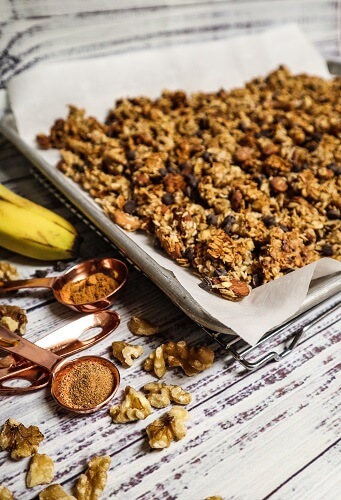 For the coating on the granola, I went oil free, replacing the banana with oil.  I have done this the last few times I made granola (replacing the oil with fruit or veggies).  I used pumpkin and sweet potato before and it worked great so I figured why not banana?  It is a similar texture.  You wouldn't think that it would get crispy but it totally does!  And, you have an oil free crunchy snack!  I figure there is enough richness from the nuts and coconut already.  I sweetened it with maple syrup and added in a bit of almond butter (also in place of some of the oil) as well and it was the perfect coating.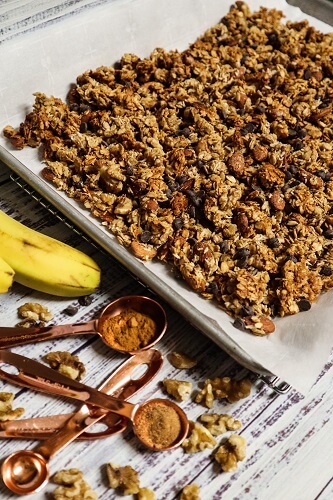 It smelled so good while baking!  Just like banana bread!  I could not wait to try it!  I did try some warm, and it was amazing but I had to wait for it to cool to add my final touch, the vegan dark chocolate chips!  My Mom always put chocolate chips in her banana bread so they were a must for this!  It was sooo good! Crunchy, sweet, a touch of salty, and so addictive.  I could not stop sampling it. Instead of buying granola at the store next time, whip up a batch of your own, it is so worth it!
Vegan Banana Bread Granola
Makes 6 cups
Ingredients:
3 cups organic gluten free old fashioned rolled oats
1 1/2 cups raw walnuts
1 cup raw almonds
1 cups finely shredded, dried unsweetened coconut
1/2 cup mashed bananas
1/4 cup maple syrup
1/2 cup pecan butter or almond butter
1 tsp cinnamon
1/4 tsp nutmeg
1/2 tsp sea salt
1 tsp pure vanilla extract
1 cup vegan dark chocolate chips
Instructions:
Line a large baking sheet with non-stick foil, and spray with cooking spray.
Preheat the oven to 350F and set rack at the medium position
In a large bowl, combine oats, nuts, and coconut, and set aside.
In another bowl, whisk together banana, maple syrup, nut butter, spices, sea salt, and vanilla extract until well combined, then pour over oat mixture and toss to coat until completely blended.
Pour out onto prepared baking sheet, and spread out evenly.
Bake for 35 minutes, stirring about every 10 minutes or so until the granola is evenly browned. Remove from oven and let cool.
Stir in chocolate chips.
Enjoy!
(Visited 501 times, 1 visits today)