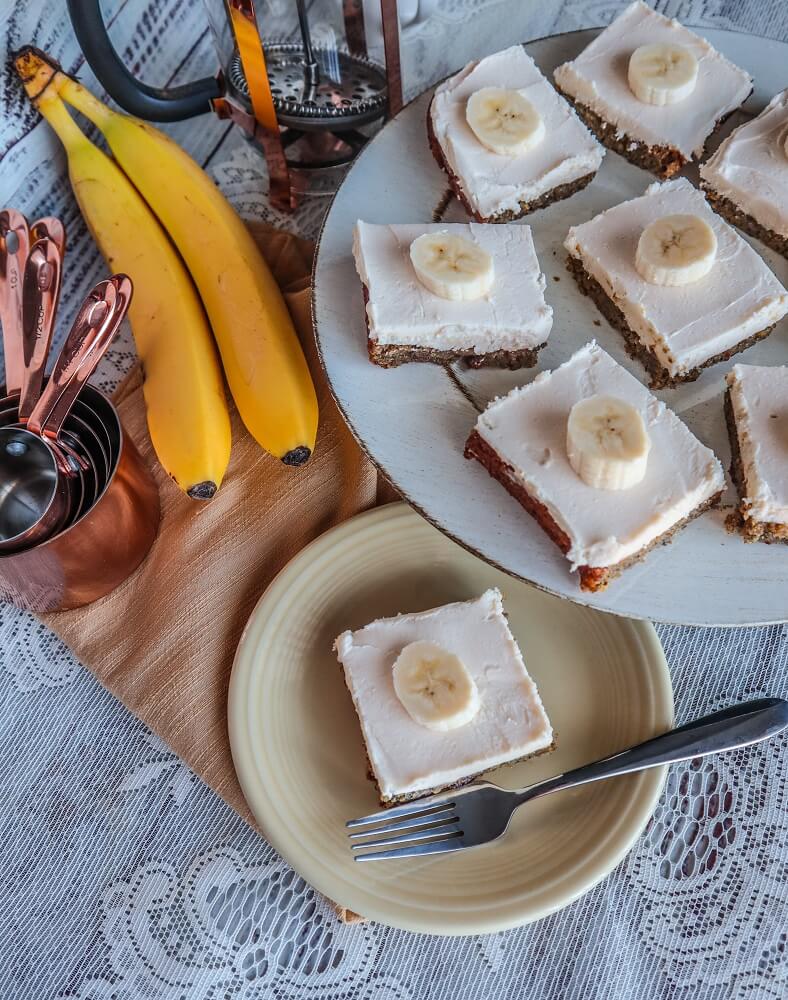 Vegan Banana Bars with Cream Cheese Frosting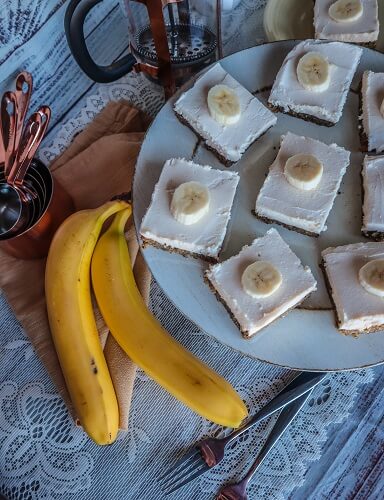 The deli that I work in makes banana bars with cream cheese frosting that are really popular with the customers.  I could not try them however because they are not vegan but they sounded really good to me, so I decided to make my own Vegan Banana Bars with "Cream Cheese" Frosting at home! My Mom used to make a banana cake with cream cheese frosting that I loved as a kid, so I knew these would be really good!  Cream cheese frosting was always my favorite growing up, which is why I have always been a carrot cake fan.  Don't get me wrong, buttercream is delicious but there is just something about that little tang of the cream cheese in the cream cheese frosting that makes that type of frosting so good!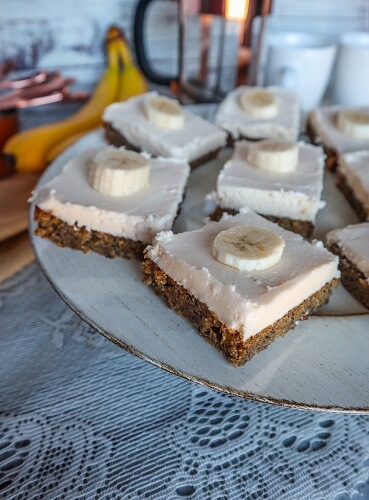 For these bars, I veganized them by replacing the eggs with flax eggs, and the butter with avocado oil which I feel has an almost buttery flavor so it is my favorite to use in baking. I like flax eggs, because I always have flax seeds on hand and they seem to work well in my baked goods.  Most of my vegan cookie recipes at work use them as an egg replacement. I made these a little bit healthier too than usual banana bars, by using whole wheat pastry flour and maple sugar for a bit less processed version.  If you wanted to use granulated sugar and all purpose sugar though, you can use those instead and the bars will be a bit lighter in color (but it won't affect the flavor much).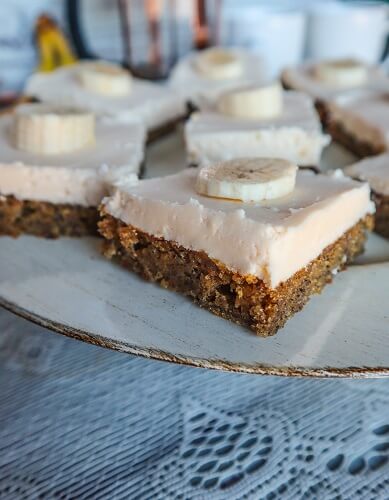 They smelled amazing while baking and I could not wait for them to cool so I could frost them!  I love the heavenly aroma of anything banana!  For the frosting I used vegan cream cheese beat together with a touch of plant based milk, vanilla and powdered sugar.  You could use half vegan butter and half cream cheese, but I actually like more of a cream cheese flavor in my cream cheese frosting, so even before I was vegan I would just use all cream cheese.  If you want it more subtle use 4 oz butter and 4 oz cream cheese instead of the 8 oz cream cheese. Either way it will be delicious!  This frosting was sooo good I could have eaten it with a spoon but I knew it would be even better on the bars.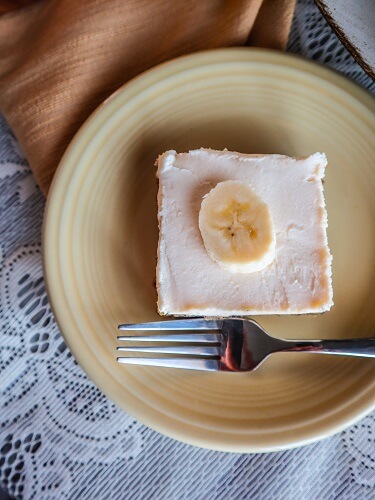 The finished product turned out so yummy!  Soft, sweet banana scented bars with luscious vanilla cream cheese frosting!  The perfect partner for a mid morning cup of coffee which is exactly what I enjoyed mine with!  If you have some really ripe bananas on your counter just begging to be used in something, these Vegan Banana Bars with Cream Cheese Frosting are the perfect thing to make with them instead of the same old banana bread.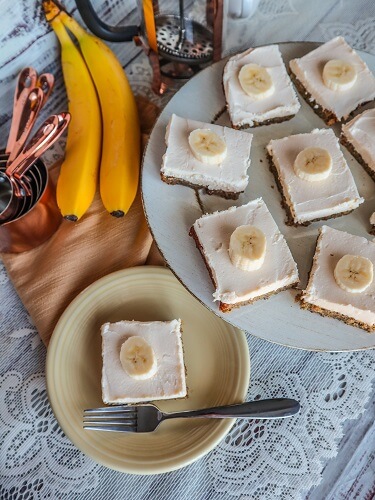 Vegan Banana Bars with Cream Cheese Frosting
Makes 20
Ingredients:
1 cup maple sugar or granulated sugar
1 cup mashed very ripe bananas (2 medium)
1/3 cup avocado oil (or melted coconut oil)
2 Tbsp ground flax seed mixed together with 1/4 cup plus 2 Tbsp filtered water allowed to sit 5 minutes
1 cup organic whole wheat pastry flour
1 teaspoon baking powder
1/2 teaspoon baking soda
1/2 teaspoon ground cinnamon
1/4 tsp ground nutmeg
1/4 teaspoon salt
Frosting:
8 oz vegan cream cheese, at room temperature
1 Tbsp plant based milk
1 teaspoon vanilla
2 1/2 cups powdered sugar
Instructions:
Preheat oven to 350F degrees, and oil and line a 9x13 2 inch high pan.
In a large bowl, whisk together the sugar, bananas, oil and flax mixture until smooth.
Whisk in the flour, baking powder, baking soda, cinnamon, nutmeg and sea salt.
Spread the batter out in the prepared pan, and bake for 25-30 minutes until the bars are baked in the center and a toothpick inserted into it comes out clean. Remove from the oven and let cool completely.
To make the frosting, beat the cream cheese, butter, milk and vanilla until smooth in a bowl with an electric mixer. Beat in the powdered sugar 1 cup at a time until smooth.
Spread the frosting over the bars, cut into 20 bars, and serve!
(Visited 628 times, 1 visits today)