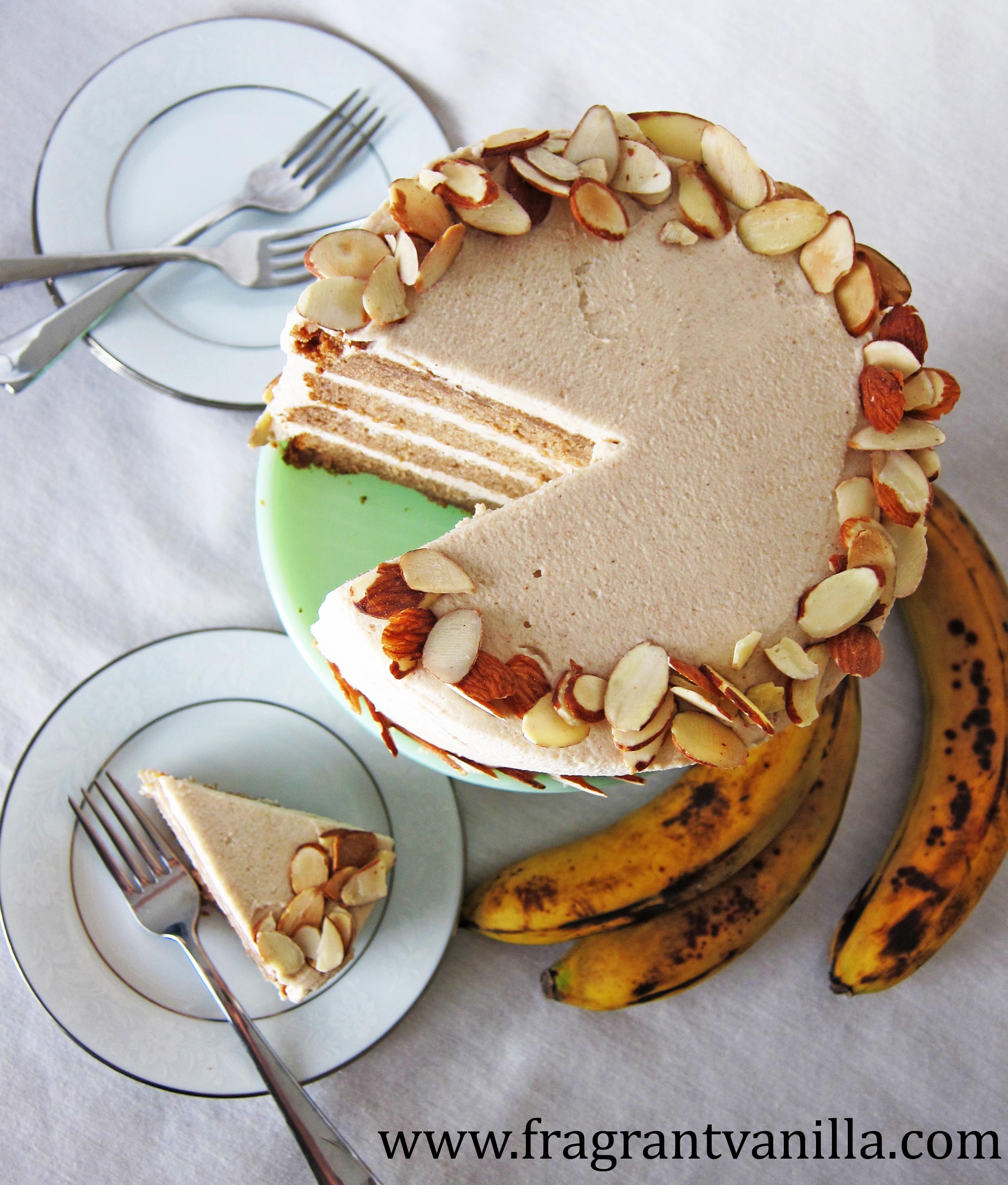 Vegan Banana Almond Cake with "Cream Cheese" Frosting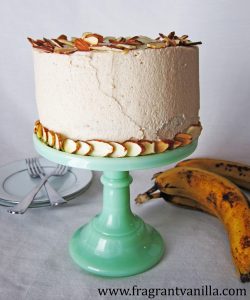 Back when I was in college, I discovered this awesome cake recipe that quickly became a family favorite, requested for many special occasions.  It was a banana almond cake, with moist almond cake layers, and a luscious cream cheese frosting.  It was really good.  The only problem was, it had loads of refined sugar and dairy in it.  I have since made a vegan version, but it wasn't much healthier, because it used processed foods like pre-made tofu cream cheese and still refined sugar.  That was about 6 years ago, and I don't know why I haven't remade it since then with healthier ingredients, but I decided that it was time.  I had some ripe bananas I had gotten from the discard box at work, and so it seemed like the perfect thing to make!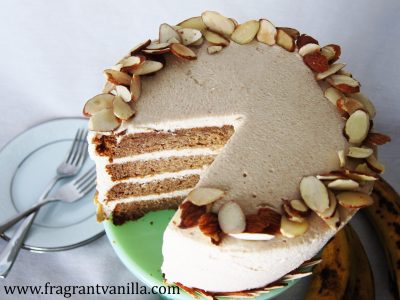 I kept the cake moist and delicious by using bananas and dates to sweeten it.  The original cake had lots of brown sugar, which gave it kind of a caramel flavor, so the dates were a perfect swap.  I actually prefer them in my cakes even over coconut sugar sometimes because of the flavor they give the cake, and the added moisture.  Because dry cake is never a good thing.  I added almond to the cake portion in the form of almond extract and almond butter.  The original cake had oil, but I like nut butters in my cakes instead of oil most of the time.  The cake batter tasted wonderful, and the cakes while baking smelled amazing!  Like really good banana bread!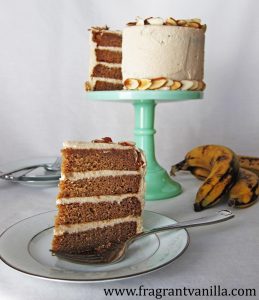 The frosting was composed of mostly coconut, with some almond butter in place of the usual cashew butter I use in my vegan "cream cheese" frosting.  It had to have a dash of almond extract as well, which was a distinctive part of the original cake. This frosting tastes so much better than the original cream cheese frosting to me though, it is just the right amount of sweet, not so sweet my teeth hurt and my tummy aches after eating it.  The finished cake was super delicious!  I like it even better than the other two versions of this cake that I have made.  If you have over ripe bananas, and are craving something sweet...now you know what to make!
Vegan Banana Almond Cake with "Cream Cheese" Frosting
Makes 1 6 inch 2 layer cake
Ingredients:
2 6 inch cake pans
Cake:
1 1/2 cups quinoa flour (or all purpose gluten free flour)
1 1/2 tsp baking soda
1 tsp baking powder
1/2 tsp sea salt
1 cup packed soft medjool dates, pitted, soaked in water for 30 minutes and 1 cup of the soaking water reserved
1/4 cup organic almond butter
1 Tbsp pure vanilla extract
1 cup pureed organic bananas
2 Tbsp apple cider vinegar
Frosting:
1 15 oz can organic full fat coconut milk, chilled (be sure to use a brand that is mostly cream, 3/4 of the can or so or it will not work in this recipe.  I like Thai Kitchen Brand)
1/2 cup raw almond butter
1/4 cup maple syrup
1/4 tsp sea salt
1/4 tsp cider vinegar
1 tsp pure vanilla extract
1 tsp pure almond extract
1/2 cup plus 2 Tbsp melted coconut butter (not oil, warmed to liquid)
Directions:
Preheat the oven to 375F degrees and position rack in center of oven. Line two six-inch-diameter cake pans with 2-inch-high sides with parchment paper. Coat parchment paper and pan sides lightly with oil so that the cake doesn't stick and line the bottom of the pan with a piece of parchment fit to the pan.
Whisk flour, baking powder, baking soda, and sea salt in a large bowl to blend well.  Set aside.
Place dates, reserved water, almond butter, banana puree, and vanilla extract into a blender, and blend until smooth, then whisk this blended mixture into the flour mixture until well blended. Whisk in the cider vinegar until bubbles form. Transfer cake batter to prepared pans and bake cakes until tester inserted into center comes out clean, about 30 minutes. Cool cakes completely in pan on rack, about 1 hour. Cut around sides of pan to loosen. Turn cakes out onto platter; peel off parchment paper, then slice in half horizontally to make 4 layers.
To make the frosting, combine all ingredients in a high speed blender and blend until completely smooth.  Pour into a bowl and place in the freezer until the consistency of stiffly whipped cream (about 30-45 minutes depending on how warm it has gotten.  Once it is ready place in the refrigerator until ready to assemble.
To assemble, place one cake layer on a plate, and spread about 1/2 cup frosting over it.  Place the other cake layer over that, then repeat.  Add another cake layer and repeat, then top with the top cake layer. Spread the remaining frosting on the top and down the sides of the cake.
***if you would like a 4 layer 9 inch cake, double this entire recipe and bake in two 9 inch cake pans.  It will take longer to bake, about 50 minutes to 1 hour.
(Visited 2,203 times, 1 visits today)