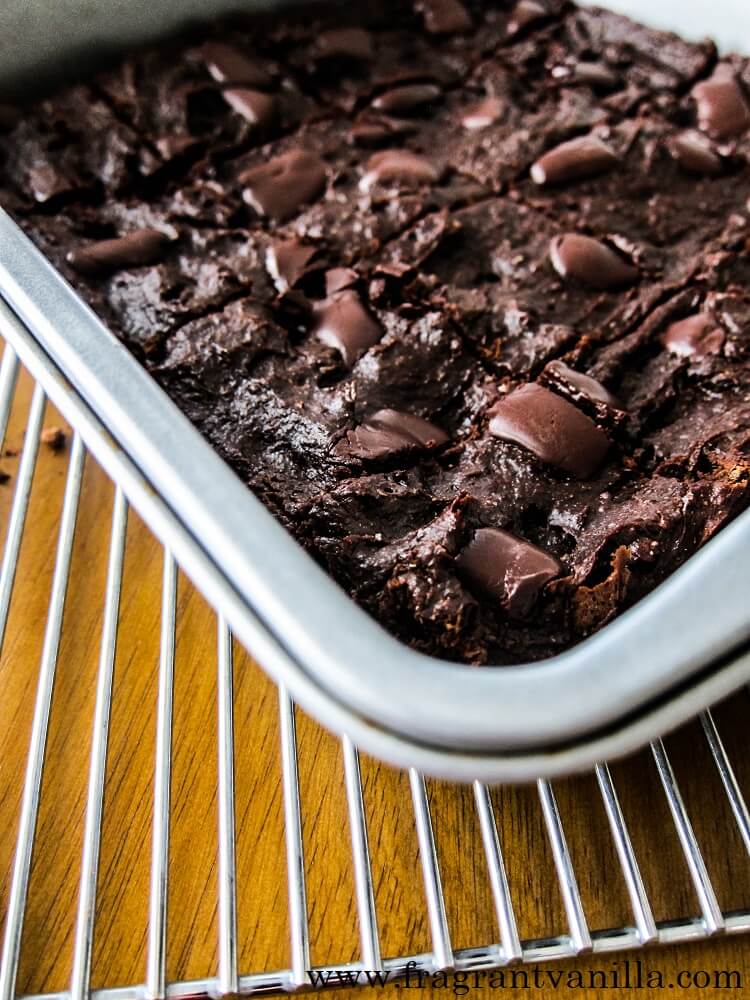 Vegan Avocado Brownies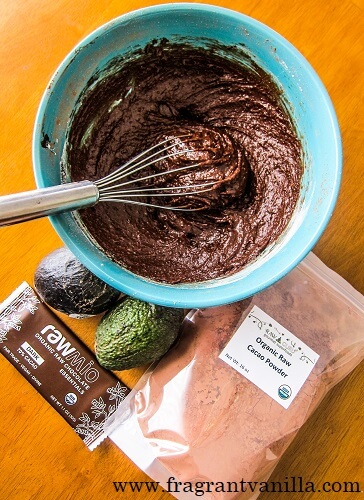 Brownie baking is the perfect activity for your day off.  Especially if it has been a particularly stressful, or the weather outside is crappy.  I mean, one can not possibly be in a bad mood while baking brownies.  The whole process is enjoyable.  Eating the last bit of batter leftover in the bowl, taking in the heavenly aroma of the baking brownies, and of course devouring them when it is all over.  Makes me happy!  So, that is just what I decided to do last weekend.  I have been wanting to make avocado brownies for a while now, so that is what I made!  I have made a chocolate avocado cake before and it turned out awesome, so why not brownies?!  And I figure they will be perfect for people who are oil free as well, since the avocado is the healthy fat in these.  Plus, Raw Guru was kind enough to send me a lovely care package including some raw cacao powder and Rawmio Essentials dark chocolate so I couldn't wait to use them in something.  If you have never heard of them, definitely check out their website, it is filled with good things like superfoods, chocolate, nuts, nut butters etc.  I have loved everything I have tried from them, especially their nut butters (since I am obsessed with nut butter).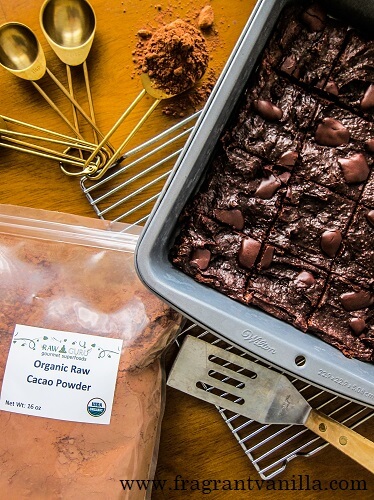 Anyways, back to those brownies.  In the event that you have some over ripe avocados laying around, these would be the perfect solution to use them up.  Not that it happens often, because they are usually devoured in my house, but I ended up with 2 bags last week so I had a lot.  The brownies are pretty simple to make, you just need to blend up some ripe avocados and whisk in all of the other ingredients.  That is the thing I like about brownies, they are easy.  The batter is like rich chocolate cake batter, I should know I sampled enough of it!  I used coconut sugar to sweeten them, and these actually happen to be gluten free so they are better for you than regular brownies.  Not to mention the heart healthy fats that they contain.  They bake up in about 35 minutes and you are on your way to chocolate heaven!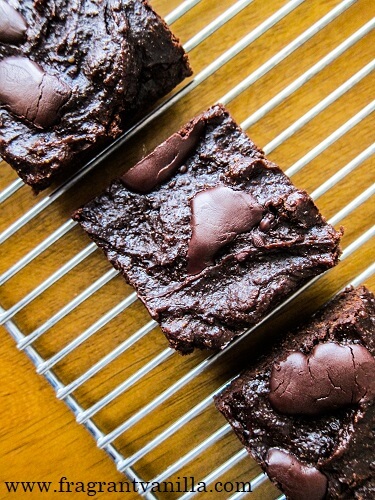 I chopped up the Rawmio Essentials chocolate and scattered it on top of the brownies, because why not have gooey chocolate chunks?!  I like my brownies to be extra chocolaty. They baked up nice and fudgy just how I like them and I couldn't wait to give them a try!  They were rich and delicious thanks to the avocado, none of that dry cakey stuff going on.  I am definitely a center brownie piece person, the fudgiest part the better.  If you are in search of healthier brownies, or just an avocado lover like me that is always finding new ways to use them, give these a try!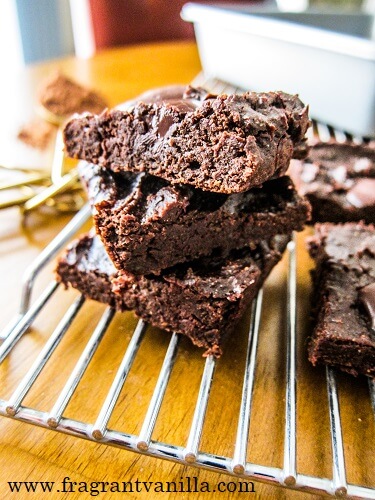 Vegan Avocado Brownies
Makes 16
Ingredients:
Brownies:
1 cup plus 2 Tbsp avocado puree
1 1/2 cups coconut sugar
1/2 cup plus 1 Tbsp filtered water mixed with 3 Tbsp ground flax seeds
3/4 cup cacao powder or unsweetened cocoa powder
1/2 teaspoon sea salt
3/4 cup chopped vegan dark chocolate or chocolate chips
Directions:
To make the brownies, pre-heat the oven to 350F degrees.
Whisk together the sugar and avocado puree until well combined and the sugar is starting to break down. Add the flax mixture and and beat until smooth. Add the flour, cacao powder and sea salt and beat until smooth.
Scrape the batter into a greased 8x8 inch pan. 
Sprinkle with chocolate chunks. Place in the oven, and Bake for about 30-35 minutes or until set (but do not over bake).
Let cool before cutting into bars.
(Visited 96 times, 1 visits today)