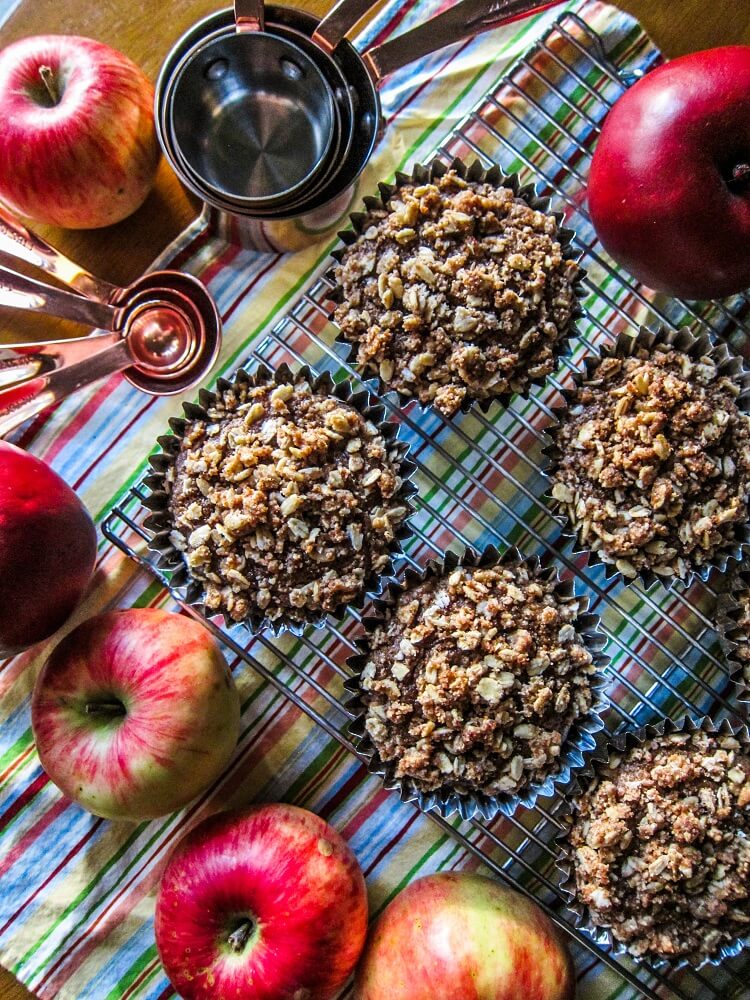 Vegan Apple Streusel Muffins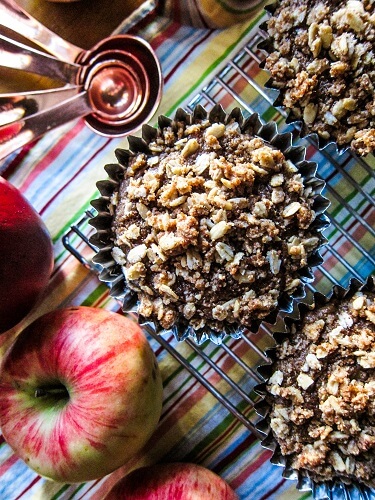 I made apple scones earlier last week, and when I still had apples on hand, I decided that I needed to make some more apple goodies. I usually make apple crisps and apple pies and that sort of thing but this time muffins sounded good. I don't make them often after all, and I was craving some. Also, I don't think I have made apple muffins before. I was dreaming up some fragrantly spiced, sweet muffins packed with apple flavor and topped off with a crunchy streusel. I needed to make that happen.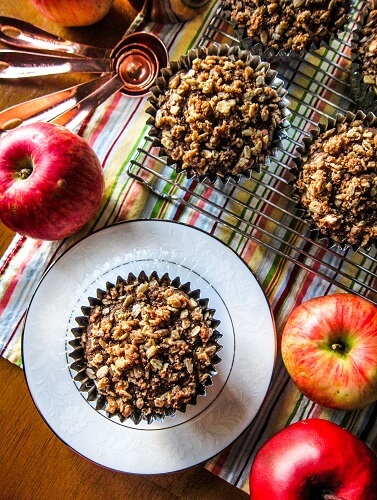 So, I blended up a few of my apples into some apple sauce, and used those for most of the wet ingredients in the muffins. They were sweet tart apples, so the flavor was perfect. I also added in some almond butter and a flax egg, and they provided just enough richness that you would never know these are oil free. Also, I added plenty of cinnamon, ginger and nutmeg and the spices went beautifully with the apple. I did not make these gluten free, because I had whole wheat pastry flour on hand but if you need to make them gluten free, I recommend using Bob's Red Mill gluten free all purpose baking flour. I have used it in the past swapped with the regular flour and it works perfect!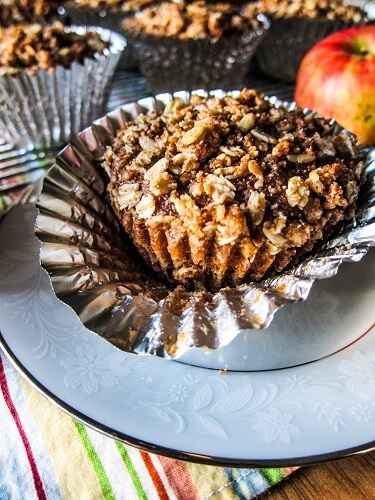 Lastly I topped them off with a crunchy oat streusel, because it is one of my all time favorite things especially on things that are spiced, and to top off muffins or a coffeecake. They smelled amazing while baking. Like that smell of the cinnamon apple doughnuts that wafts through the air at the apple orchard. I could not wait to try one! They were super delicious! Soft and sweet with a tender not heavy crumb and the lovely scent of fall spices.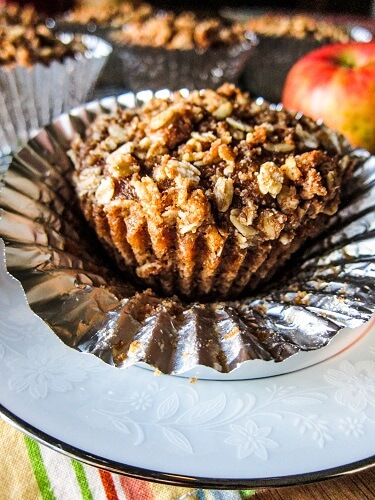 The streusel was crispy and the perfect pairing with it. I shared some with my Mom and she said they were some of the best muffins she ever had. That is a huge compliment considering she is not a muffin person usually. If you have apples or apple sauce on hand, definitely give these a try! They would be the perfect thing to bake on a cool fall morning and we are not far off from that!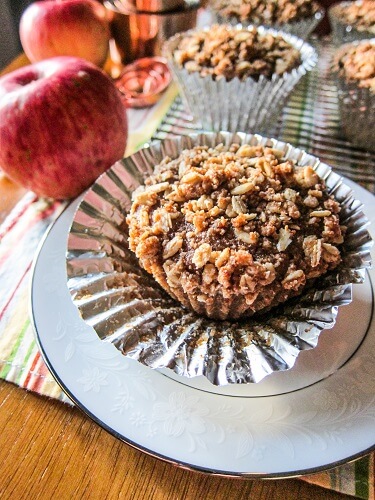 Apple Streusel Muffins
Makes 16
Ingredients:
1 cup coconut sugar
3/4 cup almond butter
1 cup organic apple sauce
1 ½ Tbsp ground flax seed mixed with 4 ½ Tbsp filtered water
1 1/4 cups organic whole wheat pastry flour
2 tsp ground cinnamon
1 tsp ground ginger
1/4 tsp nutmeg
½ tsp sea salt
½ tsp baking soda
1/8 tsp baking powder
Struesel:
1/4 cup plus 2 Tbsp organic rolled oats
3 Tbsp organic whole wheat pastry flour
1/4 cup coconut sugar
pinch sea salt
1/4 cup almond butter
Instructions:
Preheat the oven to 350F degrees, and line 16 muffin tins with liners.
Whisk together the coconut sugar, apple, almond butter and flax mixture in a large bowl.
Add the flour, spices, sea salt, baking soda and baking powder and whisk until smooth.
Spoon into the muffin tins.
Mix the streusel ingredients together with your fingers until they start to clump together. Sprinkle over the muffins.
Place in the oven and bake for about 25 minutes or until a toothpick inserted into the center comes out almost clean with a few moist crumbs attached.
Let cool on a rack for at least 20 minutes before enjoying.
(Visited 367 times, 1 visits today)