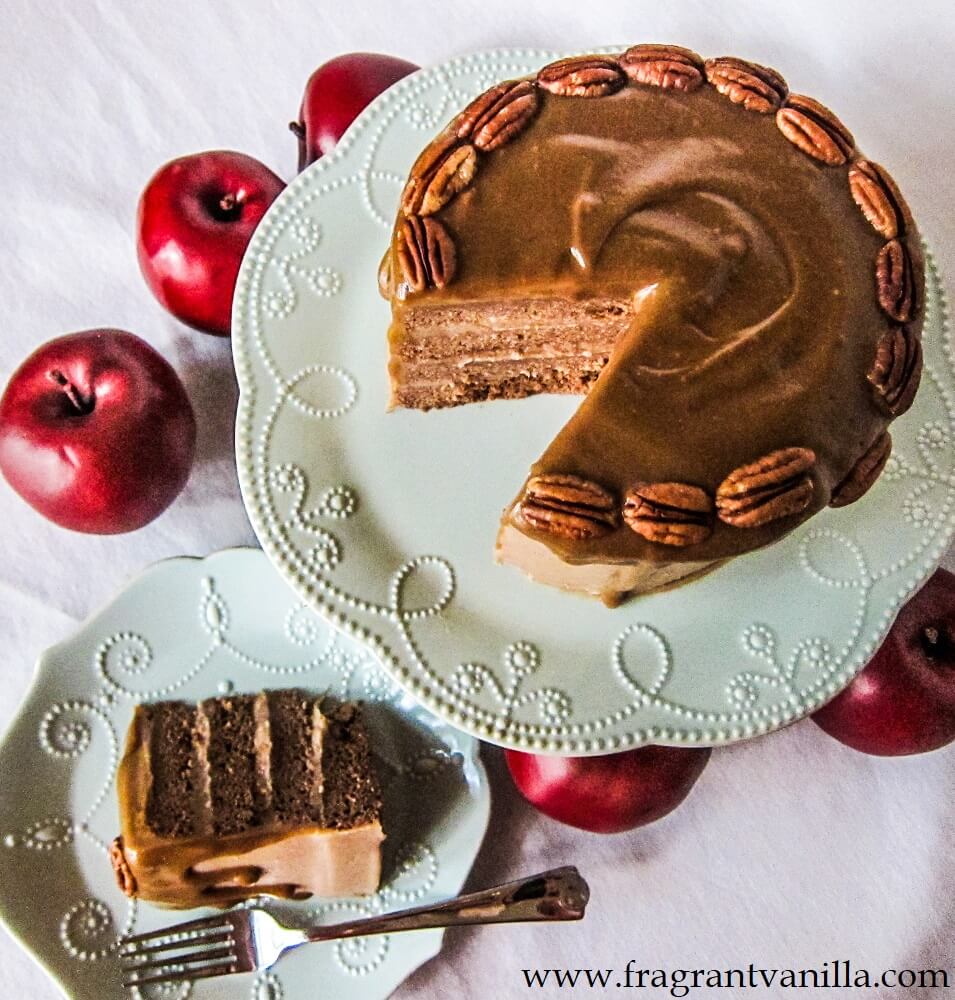 Vegan Apple Spice Cake with Caramel Frosting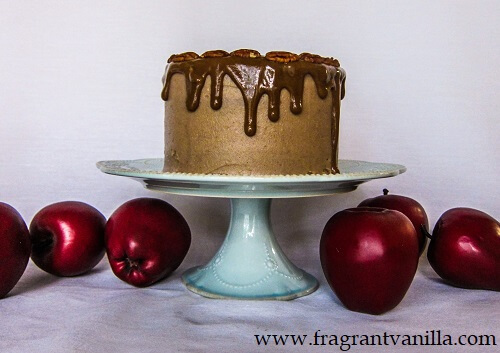 Last week was 90 degrees here, so not very Fall like at all.  In fact, Eric and I went for a walk, and it was so humid you would swear it was July, and he found some ripe raspberries still on the bush!  They are never usually around after the end of July, so that was interesting!  He said they were really good, maybe all of this warmth is extending the season.  I am still in the mood for Fall though, and this week it is cooling down finally.  I love the cool Fall weather, running through the crunchy leaves, pumpkin spice and baking apple desserts.  So, I baked a Vegan Apple Spice Cake with Caramel Frosting last weekend because even though it didn't feel like Fall I wanted to enjoy all of the Fall things. Plus, I had a bunch of apples at home just waiting to be used in a recipe!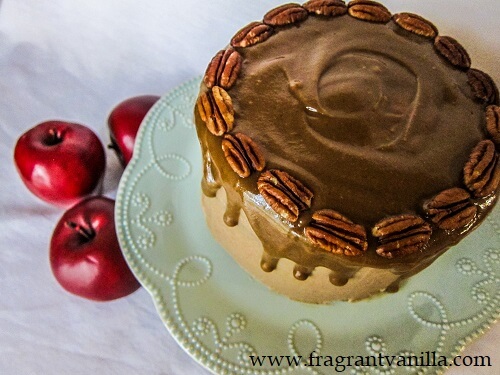 Apple spice cake is one of those easy things to bake this time of the year. My Mom used to make it using applesauce, but pureed fresh apples work just as well.  This cake base is date sweetened, and between the apples and dates it is jut the right amount of sweet.  I spiced it lightly with cinnamon, nutmeg, ginger, and cardamom and it smelled amazing while baking. That is one of my favorite parts of Fall, the delicious aromas.  Apple pie, spice cakes, pumpkin desserts...they all smell amazing, and it makes me happy.  The cake baked up beautifully, moist, yet soft and not too heavy.  I wanted a smooth gooey caramel frosting to top it off.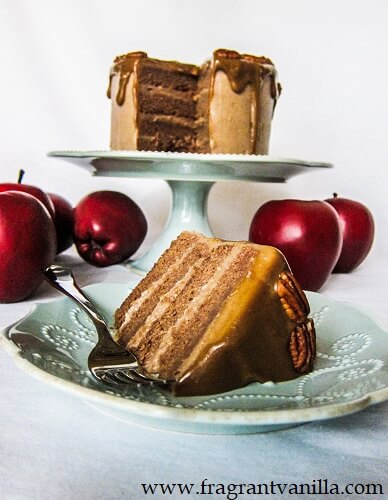 Instead of just using all dates, I decided to use a base of cooked white fleshed sweet potatoes with them to create smooth rich frosting with volume and just the right amount of sweetness.  Don't worry, you can not tell it is sweet potatoes, it just comes out like the most delicious luscious caramel frosting!  The cake tasted amazing.  The soft cake scented with Autumn spices and the gooey frosting were just what I was hoping for!  If you have lots of apples and are looking for something to make with a few of them give this cake a try!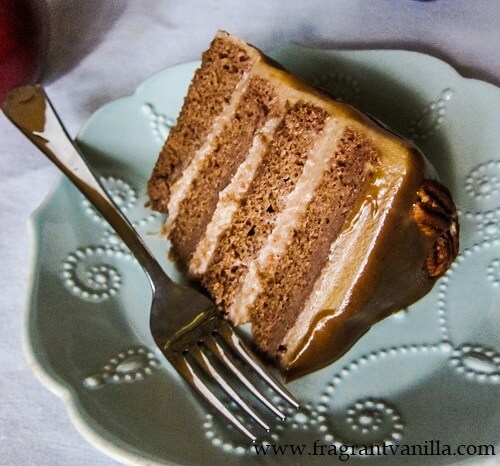 Vegan Apple Spice Cake with Caramel Frosting
Makes 1 6 inch 2 layer cake
Ingredients:
2 6 inch cake pans
Cake:
1 1/2 cups quinoa flour (or Bob's Red Mill gluten free all purpose baking flour)
1 1/2 tsp baking soda
1 tsp baking powder
1/2 tsp sea salt
2 tsp cinnamon
½ tsp nutmeg
1 tsp ground cardamom
1 tsp ground ginger
1 ¼ cups packed soft medjool dates, pitted, soaked in water for 30 minutes and 1 cup of the soaking water reserved
1/4 cup almond butter
1 Tbsp pure vanilla extract
1 cup pureed ripe apples
2 Tbsp apple cider vinegar
Frosting:
3 cups cooked sweet potatoes (the white fleshed variety)
1 cup soft, pitted medjool dates
1/4 cup filtered water (or as needed)
1/2 cup raw almond butter
1/2 cup maple syrup
1 tsp pure vanilla extract
1/4 tsp sea salt
Directions:
Preheat the oven to 375F degrees and position rack in center of oven. Line two six-inch-diameter cake pans with 2-inch-high sides with parchment paper. Coat parchment paper and pan sides lightly with oil so that the cake doesn't stick and line the bottom of the pan.
Whisk flour, baking powder, baking soda, cinnamon and sea salt in a large bowl to blend well.  Set aside.
Place dates, reserved water, almond butter, apple puree, and vanilla extract into a blender, and blend until smooth, then whisk this blended mixture into the flour mixture until well blended. Whisk in the cider vinegar until bubbles form. Transfer cake batter to prepared pans and bake cakes until tester inserted into center comes out clean, about 30 minutes. Cool cakes completely in pan on rack, about 1 hour. Cut around sides of pan to loosen. Turn cakes out onto plates, and peel off parchment paper. Slice each in half horizontally so that you have 4 layers (being really careful, because it is delicate).  Set aside, covered so that it doesn't dry out.
To make the caramel frosting, combine all ingredients in a high speed blender until smooth (add a little more water if too thick).  Set aside.
To assemble, place one cake layer on a plate, and spread about 1/2 cup frosting over it.  Place the other cake layer over that, then spread more frosting, over it like the last layer.  Repeat with another layer, and top off with last piece of cake.  Spread the remaining frosting on the top and down the sides of the cake.
(Visited 815 times, 1 visits today)