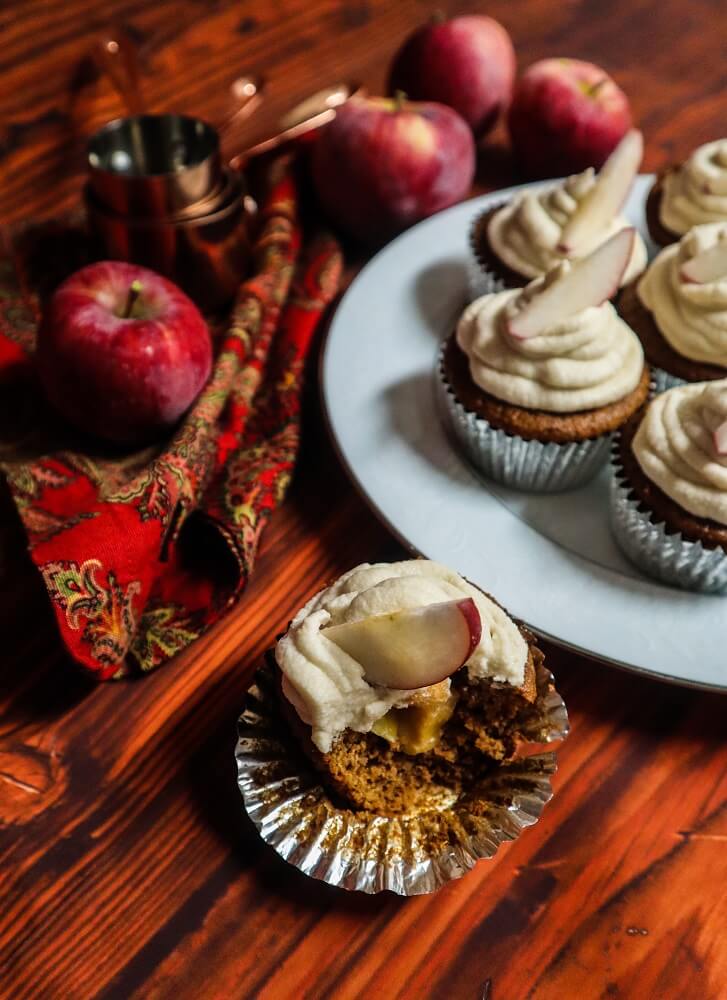 Vegan Apple Pie Cupcakes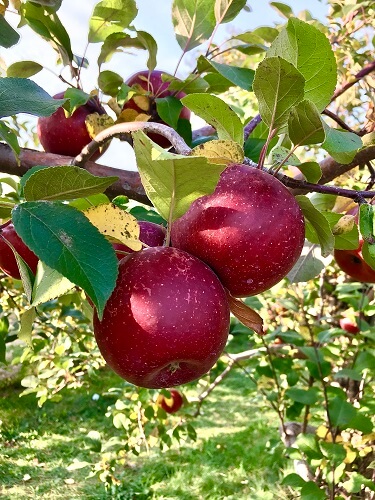 The weather has been fabulous here lately, and I have really enjoyed getting out and enjoying the fall colors and activities.  Last weekend we went for a hike along the St. Croix and then made a stop at Pleasant Valley Orchard to do some apple picking.  I normally do this earlier in the season but it has been a hectic year so we waited until later.  But it worked out because the drive was lovely!  It was the perfect day to be at the orchard, nice and sunny and moderate temperatures.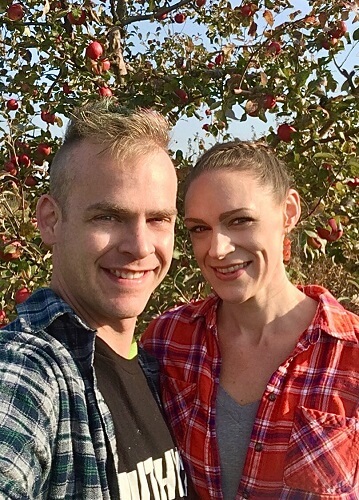 Last year when we went it was a chilly rainy day so we felt lucky this year!  We picked a bunch of honeycrisp and haralson apples, which was what was available that day and they happen to be our favorites.  They were developed here in Minnesota, so maybe I am biased, but they are also the perfect balance of tart and sweet which makes them perfect for baking with!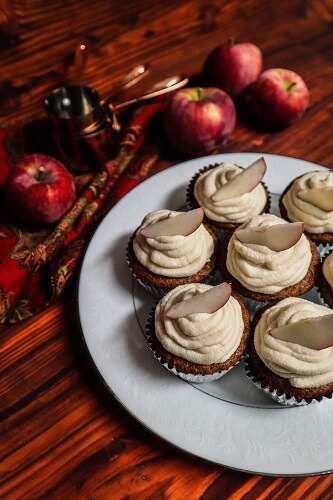 I decided to make some apple pie cupcakes with them.  I recently saw a non vegan recipe for some and  decided I needed to make my own.  I haven't made cupcakes in a while, and filled cupcakes sounded even better.  Anything apple right now makes me happy!  It is a little longer process since you have to make the filling and not just a frosting but it is totally worth it and the perfect day off activity if you feel like spending time in the kitchen.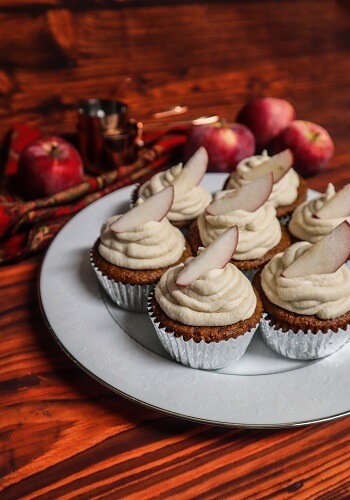 For these, I used my vanilla cake base made with a bit of applesauce.  You don't need to buy applesauce either, just take one of your apples, cut it into pieces and throw it in the blender until it is finely pureed. That is what I do!  This cake batter is really easy to make too, no fussy instructions with that, just mix, pour into the tins and bake! For the filling I just cut the apples small and cooked them with a bit of maple syrup and cinnamon and they were perfect!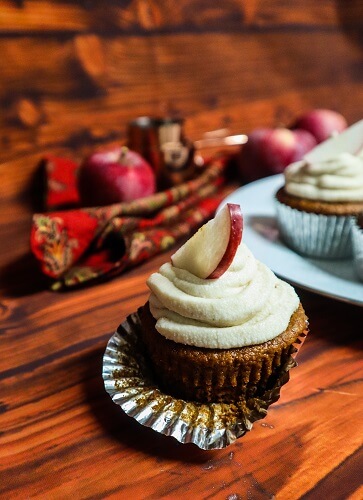 Lastly the cupcakes needed a cream cheese style frosting because I love that with apples or on an apple cake!  I used a combination of coconut cream and cashew butter to make it nice and rich tasting.  These turned out sooo good!  The apple filling tasted just like apple pie and it was perfect with the soft sweet cake and dreamy cream cheese frosting!  If you are looking for an apple baking project, definitely give these a try!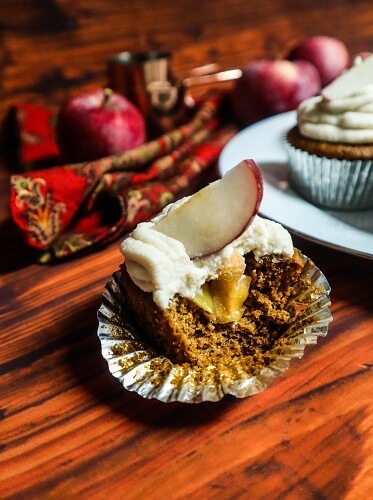 Vegan Apple Pie Cupcakes
Makes 8
Ingredients:
Cake:
3/4 cup organic whole wheat pastry flour
3/4 tsp baking soda
1/2 tsp baking powder
1/2 tsp cinnamon
1/4 tsp nutmeg
1/4 tsp sea salt
1/2 cup maple sugar
1/2 cup full fat coconut milk (the thick kind, I prefer Thai Kitchen brand) at room temperature
1/2 cup apple sauce
1 tsp pure vanilla extract
1 Tbsp cider vinegar
Filling:
2 small tart sweet organic apples (such as honeycrisp), diced into 1/2 inch pieces
1 Tbsp maple syrup
1/4 tsp cinnamon
2 tsp lemon juice
1 tsp cornstarch
Frosting:
1 cup canned full fat coconut milk (you want to use a brand that is at least 3/4 of the can thick cream or it will not work for this recipe, I like Thai Kitchen brand)
1/4 cup cashew butter
2 Tbsp maple syrup
1/8 tsp sea salt
1/4 cup plus 2 Tbsp melted coconut butter (not coconut oil), warmed to liquid
Instructions:
Preheat the oven to 350F degrees and position rack in center of oven.
Oil 8 muffin tins or line them with paper liners.
Whisk flour, baking soda, cinnamon, nutmeg, sea salt, and sugar in a large bowl to blend well.
Whisk coconut milk , apple sauce and vanilla together in small bowl to blend well, then whisk into the flour mixture until well blended.
Whisk the cider vinegar into the batter.
Transfer the cake batter to prepared tins.
Place in the oven, and bake until tester inserted into center comes out clean with just a few moist crumbs attached, about 17-20 minutes.
Remove from the oven and let cool completely.
Meanwhile to make the apples, combine the apples, maple syrup, and cinnamon in a pot and cook over medium heat until the apples have softened, about 15 minutes.  Mix together the lemon juice and cornstarch and cook until the sauce around the apples thickens.  Let cool.
Use a teaspoon to scoop out about a large teaspoon of cake from the middle of each cupcake, and fill with the cooked apples.
To make the frosting, combine all ingredients in a high speed blender and blend until completely smooth.  Pour into a bowl and place in the freezer until the consistency of stiffly whipped cream (about 30-45 minutes depending on how warm it has gotten).  Once it is ready place in the refrigerator until ready to frost.
When ready to assemble, place the frosting in a pastry bag and pipe over the cupcakes.
Enjoy! Refrigerate cupcakes if you have leftovers.
Cupcakes keeps stored in the refrigerator, covered for up to 1 week.
Notes:
If you would rather use coconut sugar or even just granulated sugar for this, either will work in place of the maple sugar.
This cake can be made gluten free by swapping out the whole wheat pastry flour for Bob's Red Mill gluten free all purpose baking flour (this is a brand I have used before and have tested it in cakes with great results).
(Visited 836 times, 1 visits today)